Gonzaga Prep boys advance to Tacoma, survive strange game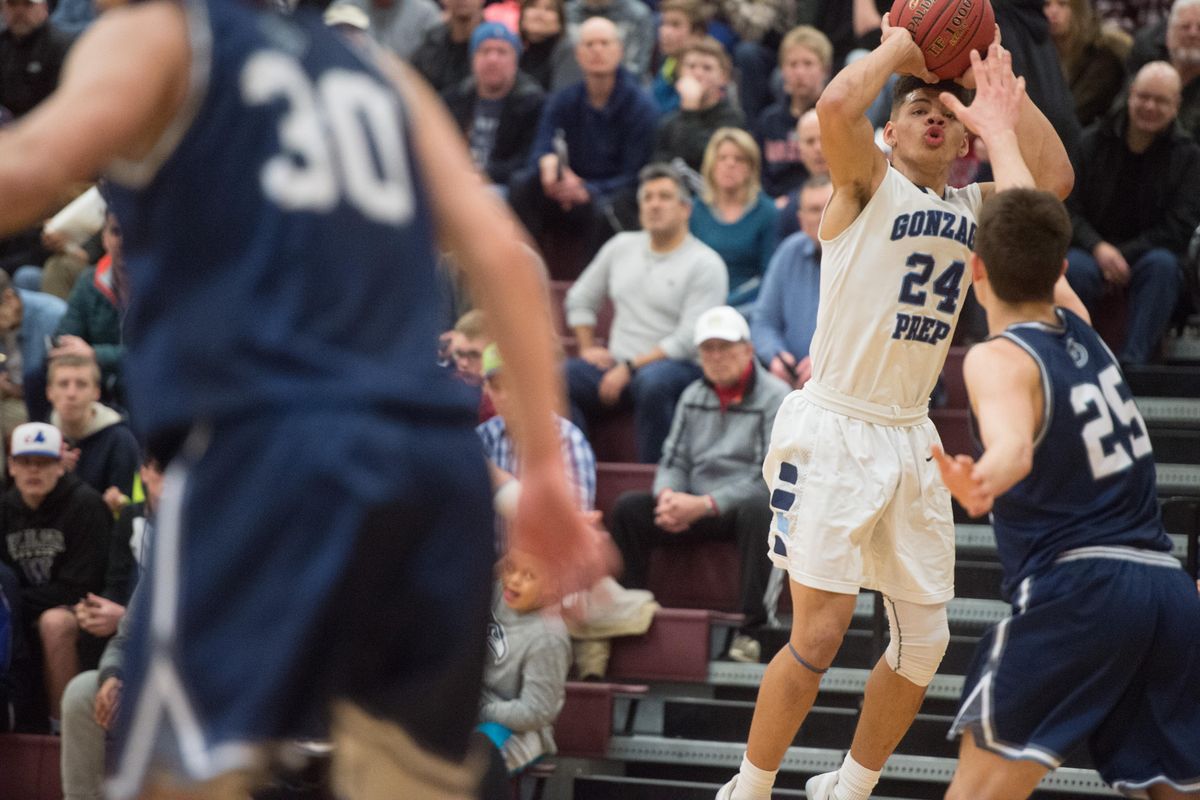 Gonzaga Prep sophomore sensation Anton Watson isn't a super hero.
When Watson is out of the game, though, the Bullpups are mortal – a much different team than when the 6-foot-7 forward is flying around dunking, swatting and scoring baskets, many times at will.
Watson had to sit out 11 minutes because of foul trouble, including the second quarter, but No. 2-seeded Gonzaga Prep survived an odd game to top the No. 7 Glacier Peak Grizzlies 58-44 in a 4A regional game Friday at University.
G-Prep (23-1) third at state a year ago, advances to the State 4A quarterfinals Thursday at the Tacoma Dome under the new format. The Bullpups will await the winner from a loser-out game Wednesday.
G-Prep was sloppy on offense and defense in the first half. Complicating matters was the fact the Bullpups shot 4 of 17 in the first quarter and Watson picked up two fouls and sat out the second.
Adding to G-Prep's first-half misery was the Grizzlies' Bobby Martin, who made 4 of 5 3-point attempts and had 18 points. He finished with 32 of Glacier Peak's 44, but the points were much more contested in the final two quarters.
"They came out and really dictated the physicality and the style of play," G-Prep coach Matty McIntyre said of the Grizzlies.
The Bullpups benefited from having Watson on the court most of the second half. He scored eight of his team-high 17 points in the third quarter, six during a 10-0 surge that gave G-Prep a 37-30 lead.
"Anton's a big piece to the puzzle," McIntyre said. "There was no rhythm to the first half and Anton makes up for a lot of mistakes. The most frustrating part is we weren't executing our game plan. We weren't dictating where the ball was going, the kind of shots we were taking. That was the most frustrating thing – whether Anton was in or out."
A 3-pointer by Martin to end the third pulled the Grizzlies within 37-35.
After sitting out the final 2:18 of the third, Watson played the entire fourth and his presence was immediately felt. He made two free throws and hit a 3-pointer as the Bullpups extended the lead to 47-36.
G-Prep made a couple of uncharacteristic turnovers, allowing Glacier Peak to pull within 49-42 with 1:35 left. But the Bullpups made 7 of 7 foul shots in the final 1:25 to make what was essentially a tight game appear lopsided.
Sam Lockett stepped up and hit four 3-pointers for the Bullpups, finished with 14 points and six rebounds.
"Sam in a lot of ways makes us go," McIntyre said. "People, I think, don't think Sam can shoot … but he's proving them wrong. He's relentless. He's definitely a spark plug and raises the energy level. He makes the defense go."
"Anton is our go-to guy because all of our offense usually comes from the inside," Lockett said of Watson. "Once we get it inside-out, that's how we get the best shot."
---