Concert review: Blake Shelton's voice shines brightest at Arena show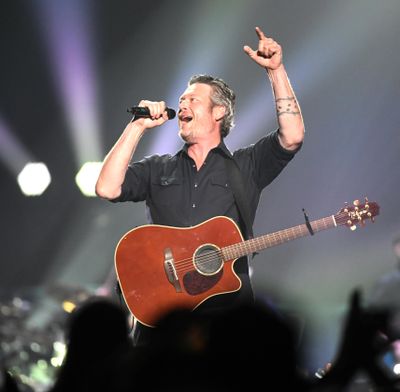 Talk about an entrance.
Blake Shelton emerged on the stage, surrounded by computer-generated images of a raging tornado, and the storm's energy carried him throughout the show.
Shelton, the country star with 10 studio albums and 36 singles, played Spokane Veterans Memorial Arena before more than 5,000 screaming fans on Friday night.
His charisma and carefree smile lit up the stage from the first notes he sang. "All About Tonight," one of Shelton's most recognizable hits, set the tone for the night. His vocals during the live performance surpassed the recording, and there was a careful balance between the band's intensity and Shelton's voice.
Playful and well-received banter characterized his interactions with the audience.
"I don't want to freak anybody out but I think there's something between us," he said. "I don't want that to sound weird but I think we have a connection Spokane."
Later, he offered relationship advice, and critiqued the audience's "nasally" singing voices as if they were contestants on his NBC vocal competition "The Voice."
The audience roared after each song in Shelton's two-hour set, which made him chuckle and claim that country music "is supposed to be boring." He could not have been more wrong. Most of the star's fans enthusiastically sang every lyric to his songs. A catwalk separated two floor sections and Shelton used it to his advantage, interacting with fans and grabbing their hands.
He might have claimed his act was a bore because excessive flashiness did not detract from his voice. There were no gimmicks, no dazzling theatrics, and no backup dancers in tight clothing.
The romantic ballad "Who Are You When I'm Not Looking," from Shelton's 2011 album "Red River Blue," was his most heartwarming number of the night. His only aids were the band and images of candles projected behind him. Tender vocals took care of the rest.
Afterward, he continued on the love song vein, and sang "My Eyes" from his 2013 album "Based on a True Story," and "Gonna" from his 2014 album "Bringing Back the Sunshine." At this point, he asked the audience to sing along with him because "the songs would suck live unless they helped him out."
Shelton did not need assistance carrying the sensual, flirtatious tracks, and his commanding voice drowned out the audience.
One might have thought Shelton's best performance of the night would be his rendition of boy-meets-girl country song "Sure Be Cool if you Did" from "Based on a True Story," where he strummed his own guitar while expertly singing challenging and wordy vocals.
But the audience received a treat.
Shelton's band retreated into the darkness and he returned to his roots. He sang three early songs, including "The More I Drink," "Nobody But Me," and "Austin" while sitting on a stool and playing his acoustic guitar. This portion of the show was vulnerable and real, an unlikely combination in many live performances.
The ache and sorrow in his voice pierced the crowd's energy from the moment he began singing the lyrics of the 2001 hit "Austin": She left without leavin' a number / Said she needed to clear her mind / He figured she'd gone back to Austin / 'Cause she talked about it all the time.
Cheers filled the arena. Fans had been chanting the song title right before Shelton strummed the opening chords.
He shared in the audience's enthusiasm at the end of the night.
"This is what I dreamed of my whole life," he said. "A night like this with country music freaks all over."
---