News > Spokane
Investigator who learned Spokane NAACP leader Rachel Dolezal was white says police Chief Frank Straub didn't hire him
UPDATED: Sat., Feb. 25, 2017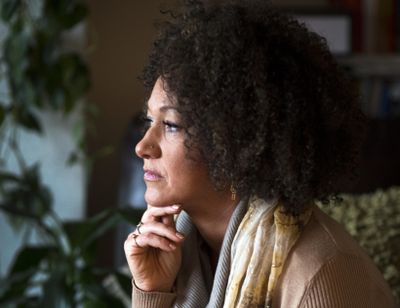 The private investigator who discovered information that led to former NAACP Spokane chapter leader Rachel Dolezal's family identifying her as white has denied he was hired by then-police Chief Frank Straub.
"The chief never hired me. I never met with him, never took a dime from him," Ted Pulver said Saturday, rebutting an interview with Dolezal published in the British newspaper the Guardian tying the investigation to Straub.
Mary Schultz, the Spokane attorney representing Straub in a lawsuit against the city alleging an unfair firing, also denied the allegations.
"Didn't happen. Not any of it," Schultz wrote in an email.
The article, which features an excerpt of Dolezal's soon-to-be-published memoir, indicates without attribution that Straub – who is not mentioned by name – wanted the former civil rights leader off the city's civilian ombudsman commission, which examines alleged police misconduct. The article reports Straub hired Pulver – who is also not mentioned by name – to "dig up dirt."
Dolezal was chairwoman of the ombudsman commission until she was removed from the position by the Spokane City Council in June 2015 following the revelations that she had misled the public about her race.
The Guardian report also states white supremacist groups placed a noose on the porch of Dolezal's North Idaho home in 2011 and left hate mail in her mailbox. Those claims are apparently tied to police reports that were made at the time, though law enforcement never made any arrests in those cases or tied them to white supremacist groups.
Pulver declined to say who hired him to look into Dolezal's background, but stated unequivocally it was not Straub, who later was forced out of the police department by Mayor David Condon following opposition from police brass and allegations of sexual harassment.
"I think she's just shooting in the dark," Pulver said of Dolezal, noting he'd been contacted by a film crew working on a project about Dolezal and that he was concerned the wrong motives were being ascribed to his investigation.
Pulver provides the city of Spokane's public defender office with services on a contract basis in addition to his work for several private clients. He said he came to the police departments in Spokane and Coeur d'Alene with information that cast doubt on claims Dolezal made about apparent hate crimes, but saw little enthusiasm for authorities to follow up.
"If anything, he was an obstacle," Pulver said of Straub.
In her interview with the Guardian, Dolezal said she is penniless, living on food stamps and expects to be out on the street by next month. She also denies doing anything wrong, including marking down on employment forms with the city of Spokane and other public entities that her race is a mix of black, white and Native American, a claim her parents in Montana denied when stories began to break in June 2015 casting doubt on her racial identity.
Dolezal resigned from her post as NAACP chapter president in the days following the revelations. The City Council then voted to remove her from the ombudsman commission amid allegations of harassment and manipulation of meeting minutes. Charges of abuse against her biological brother were also dropped a month later, after Dolezal's family implied in TV interviews she may have orchestrated the charges.
Local journalism is essential.
Give directly to The Spokesman-Review's Northwest Passages community forums series -- which helps to offset the costs of several reporter and editor positions at the newspaper -- by using the easy options below. Gifts processed in this system are not tax deductible, but are predominately used to help meet the local financial requirements needed to receive national matching-grant funds.
Subscribe now to get breaking news alerts in your email inbox
Get breaking news delivered to your inbox as it happens.
---