Sports > Gonzaga basketball
Rem Bakamus has filled unique role, created following as reserve for Gonzaga since 2012
Sat., Feb. 25, 2017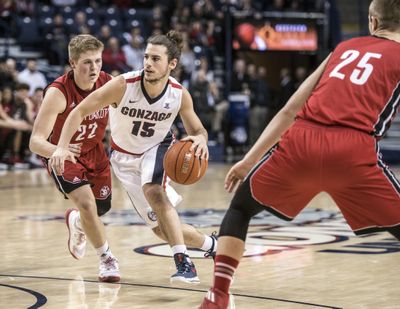 Senior Night will never be easy. Rem Bakamus knows that much.
The redshirt senior has witnessed plenty of players bid farewell to the Kennel during the last home game. He said goodbye and watched so many of the past Zags savor their last moments on the court inside the McCarthey Athletic Center since the end of his first season in 2013.
Now it's Bakamus' turn to say goodbye.
"I'm going to be sad, I'm not going to lie," he said.
Gonzaga basketball has been a substantial part of Bakamus' life for the past five years. Since 2012, Bakamus has created himself a fan base that most college players can't find while sitting on the bench.
He created a substantial following with his humorous posts on social media, his game-opening handshakes that are unique to each starter, and even made a buzz about his long hair – something Bakamus said he'll be glad to cut off at the end of the season.
But not a second sooner.
"I'm very superstitious, so I don't want to chop it off now," Bakamus said.
Especially since the Zags have continued to stay atop the polls – a good note to end a college career on, most could argue. But Bakamus would rather not let the fun end.
"Anytime you take that out of the equation, it's going to be a little shock to my system, I think," Bakamus said. "But I've soaked up every moment, every minute, and made sure that I enjoyed every step of the way so when this time comes, I won't be looking back and regretting anything."
Ahead of Thursday night's matchup at San Diego, Bakamus had played 91 minutes in four seasons wearing a Zags uniform. But the guard said he wouldn't trade his time on the GU sidelines for a starting spot on one of the Division III schools or junior colleges that showed interest in him during his final year of high school.
"It does take a special person like Rem to take a backseat – to understand you're probably not going to play, but still be a great teammate," said Gonzaga assistant coach Tommy Lloyd.
Lloyd, who has been a longtime friend of Bakamus' father Bill, told Bakamus while he was still in high school about the chance to be a walk-on at Gonzaga for the 2012-2013 season after the team lost a number of seniors the previous year.
Bakamus decided to jump on the opportunity to play for a bigger school with more chances to travel and learn from some high-level athletes and coaches.
So in 2012, Bakamus moved from his hometown in Longview, Washington, to play in the Kennel on the opposite end of the state. Throughout the past five years Bakamus has continued to wear the red and blue and play for Gonzaga head coach Mark Few, knowing that his No. 15 would not show up on the scoreboard for more than a minute or two each game – if at all.
But that's never been an issue because his role has always been different than most players on the team. Lloyd said it was always a goal to get Bakamus to become a "functional practice player," someone who could keep up with the big guys in the court in between games.
Since his freshman year when Bakamus was "way over his head," Lloyd said the guard has come a long way as an athlete, progress that can be difficult to follow as a fan who has only seen Bakamus play an average of 1.9 minutes in 47 games.
"You get no outside appreciation from the public. They don't get to see practice. They don't get to see how far he's come as a basketball player," Lloyd said.
Bakamus is graduating this year with a bachelor's degree in sports management and public relations, with a minor in promotions. His plans are to stay in Spokane and continue to work for Scorebook Live, a relatively new company that streams live game updates for primarily local youth teams. He works to help the company pull in more teams for the site and has assisted in live streaming and team updates on social media.
Bakamus said his dream when he was 5 years old was not to be working for a company specializing in game streaming – the hope was to be a professional basketball player. As he got older, he decided to narrow those plans to possibly starting for a college team.
But Bakamus never dreamed he would have the chance to put on the uniform of the No. 1 team in the country.
"The experience is greater than anything I could have got anywhere else. It was definitely worth it to come here. I learned so much in my time," Bakamus said. "I definitely made the right decision."
Local journalism is essential.
Give directly to The Spokesman-Review's Northwest Passages community forums series -- which helps to offset the costs of several reporter and editor positions at the newspaper -- by using the easy options below. Gifts processed in this system are not tax deductible, but are predominately used to help meet the local financial requirements needed to receive national matching-grant funds.
Follow along with the Zags
Subscribe to our Gonzaga Basketball newsletter to stay up with the latest news.
---