Sports > Gonzaga basketball
TV Take: Announcers, like Gonzaga, have an off-night in The Kennel
Sat., Feb. 25, 2017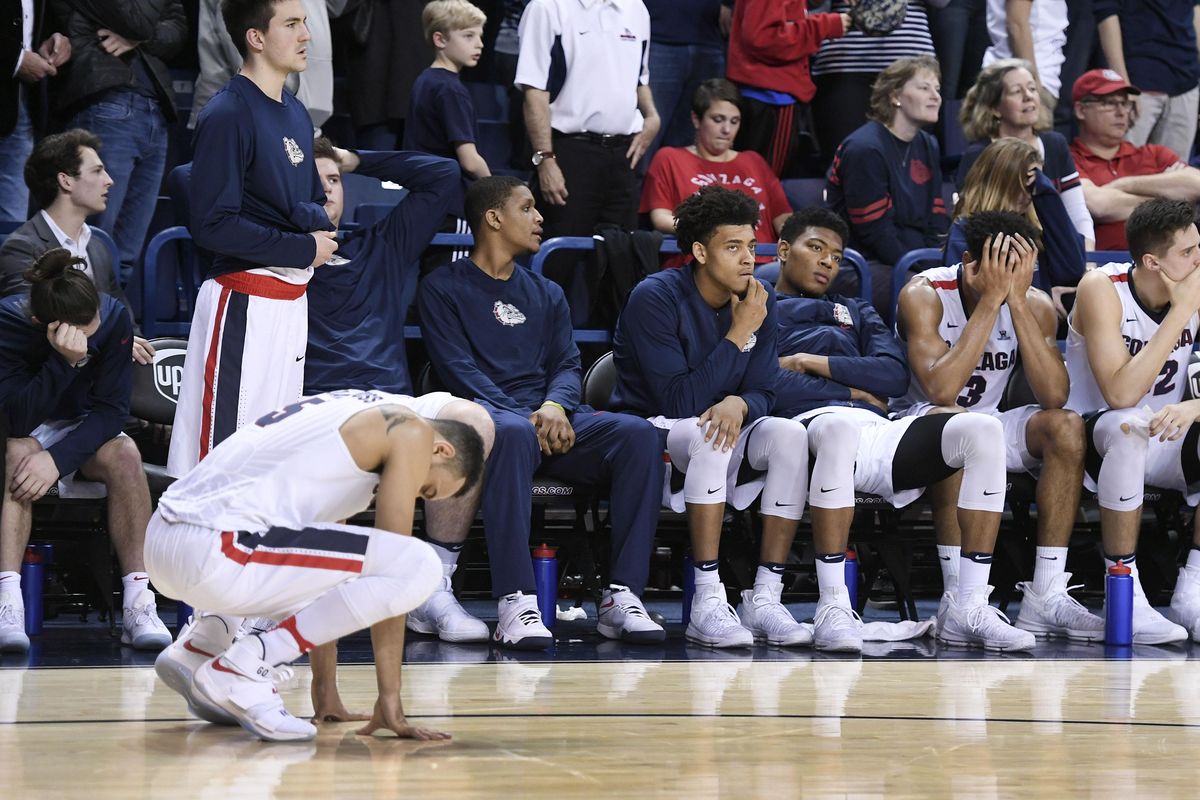 The Gonzaga bench and guard Nigel Williams-Goss, left, on the court, feel the pain of their first loss in the finals seconds against BYU, Feb. 25, 2017, in the McCarthey Athletic Center. (Dan Pelle / The Spokesman-Review)
It was supposed to be a coronation for the kings of college basketball, 2017 edition.
Instead, for the second time in three years, BYU crashed Gonzaga's Senior Night party, this time while the Zags were ranked No. 1 in the nation and trying to post a 30-0 regular season record.
And, as the Cougars' 79-71 upset in the Kennel unfolded Saturday night on ESPN, those watching at home had to deal with translating what we were hearing from the television set.
A lot of it was like Gonzaga's final few possessions: sloppy and mistake-filled.
Play-by-play announcer Eric Rothman and his partner, analyst Adrian Branch, were about as trustworthy with their facts and Josh Perkins was with the ball. And had about as many turnovers.
It started early, when Gonzaga seemingly put the Cougars away with an 18-2 opening punch. Midway through, Rothman called it an 11-2 run for BYU. Maybe he was just being prescient.
Because the Cougars did fight back, slowly cutting into GU's lead. And Branch began to repeat one of his favorite mantras on this night.
According to Branch, who also teamed with Rothman on Gonzaga's 10-point win in Provo earlier this month, BYU coach Dave Rose told him "I want to hang around, withstand the emotional charge."
The Cougars did, despite early foul trouble. And it was one of those fouls, late in the half, that seemed to perplex Rothman.
With a little over a minute before intermission, a whistle blew and Rothman thought it was the third on BYU freshman big Yoeli Childs. It wasn't. The foul was on little-used Davin Guinn. But Rothman never corrected himself. And Branch spoke on the effect it could have.
And, when Childs picked up his real third foul five minutes into the second half, Rothman still didn't correct his mistake.
Later, as BYU star Eric Mika – 29 points and 11 rebounds – was called for his first foul with 7:42 left, a two-hand intentional takedown of Przemek Karnowski, Branch focused on how the call would help GU, who trailed by one at the time.
"He's a nice free throw shooter," Branch said of the senior.
Karnowski is a lot of things but a nice free throw shooter? He's gotten better this season but is still at 60.6 percent for the season. He made one of two, his first point since early in the game.
Then he scored less than a minute later on a post move.
"His first point in almost 29 minutes," Rothman exclaimed. Uh, there was just the free throw, Eric.
And math is hard too, as Branch showed at halftime, saying BYU was on pace to get to its average of 80 points per game. The Cougars had 35 at intermission. But maybe he was prescient as well.
That's not to say Rothman and Branch didn't mirror Gonzaga's play in another way. They did have their good moments.
When the Zags jumped out to a 16-2 lead and BYU called time out, Rothman wisely kept quiet, allowing the crowd noise to tell the story heading into the break. It's a lost touch these days.
But Branch went the other way, and while doing so let us behind the curtain some.
"We are taught to repeat our best stuff," he said early in the second half, "so lets repeat our best stuff."
He did. Often.
He harped on BYU being "young," because their top six players are all freshman and sophomores. But he never mentioned that almost all are the same ages as Gonzaga's juniors and seniors.
He repeated Rose's hope of keeping it close over and over. He talked about the historic chance GU had, to finish the regular season 30-0.
And as Mika and Nick Emery egged on the Kennel Club down the stretch – in the final minute Emery turned and clapped in front of the crowd, forcing referee Shawn Lehigh to direct him back on the court – he praised the emotion and, surprisingly, the trash talking.
When it was over and Gonzaga's late mistakes had let a chance at 30-0 slip away, Branch summed up the night. With another unforced error.
"A magical night by BYU," he said, "a proud performance to negate a historic 18-0 start by Gonzaga."
Local journalism is essential.
Give directly to The Spokesman-Review's Northwest Passages community forums series -- which helps to offset the costs of several reporter and editor positions at the newspaper -- by using the easy options below. Gifts processed in this system are not tax deductible, but are predominately used to help meet the local financial requirements needed to receive national matching-grant funds.
Follow along with the Zags
Subscribe to our Gonzaga Basketball newsletter to stay up with the latest news.
---