News > Spokane
Fairchild AFB named after distinguished Air Force general
Sun., Feb. 26, 2017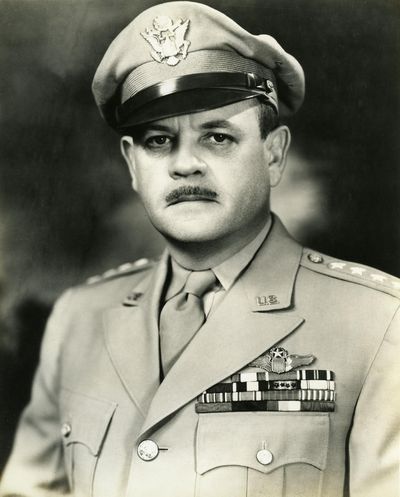 General Muir S. Fairchild, a Bellingham native, had a long and storied military history before he died suddenly on March 17, 1950, while serving as vice chief of staff of the U.S. Air Force.
Moves were quickly made to rename Spokane Air Force Base in Fairchild's honor later that year and a public dedication ceremony attended by his widow and other family members was held on July 20, 1951. A Spokesman-Review story said the ceremony was attended by "the largest gathering of top ranking Air Force officers ever here at one time."
A flyover of military planes at the end of the ceremony included three B-36 Peacemakers, the new plane that was replacing the B-29 at the base. Another B-36 that arrived at the base that day was so fresh from the assembly line that the plane didn't have its Air Force markings painted on yet, according to news archives.
Numerous dignitaries and elected officials attended the dedication, where Fairchild's widow hosted a garden reception. A newspaper story detailed what she and her daughter were wearing and described the general's widow as "petite, gracious and charming."
According to his official Air Force biography, Fairchild was born in 1894 in Bellingham and joined the Washington National Guard in 1916. After a year he became a flying cadet and in 1918 he began flying bombing missions with French forces while he was on detached duty. He was awarded the Distinguished Flying Cross for his participation in the Pan-American goodwill flights.
Fairchild attended multiple schools, including the Air Corps Tactical School, the Army Industrial College and the Army War College. In 1939 he was appointed director of the Department of Air Tactics and Strategy at the Air Corps Tactical School. He was named the first secretary of the newly formed Air Staff in 1941 and in early 1946 he was named commandant of the Air University at Maxwell Air Force Base in Alabama.
He was made vice chief of staff of the U.S. Air Force in May 1948 with the rank of four-star general. He held that position until his death.
Local journalism is essential.
Give directly to The Spokesman-Review's Northwest Passages community forums series -- which helps to offset the costs of several reporter and editor positions at the newspaper -- by using the easy options below. Gifts processed in this system are not tax deductible, but are predominately used to help meet the local financial requirements needed to receive national matching-grant funds.
Subscribe to the Coronavirus newsletter
Get the day's latest Coronavirus news delivered to your inbox by subscribing to our newsletter.
---