News > Spokane
City Hall will be asked to approve $1.75 million in funding for Ridpath Hotel rehab
Feb. 27, 2017 Updated Tue., Feb. 28, 2017 at 12:46 p.m.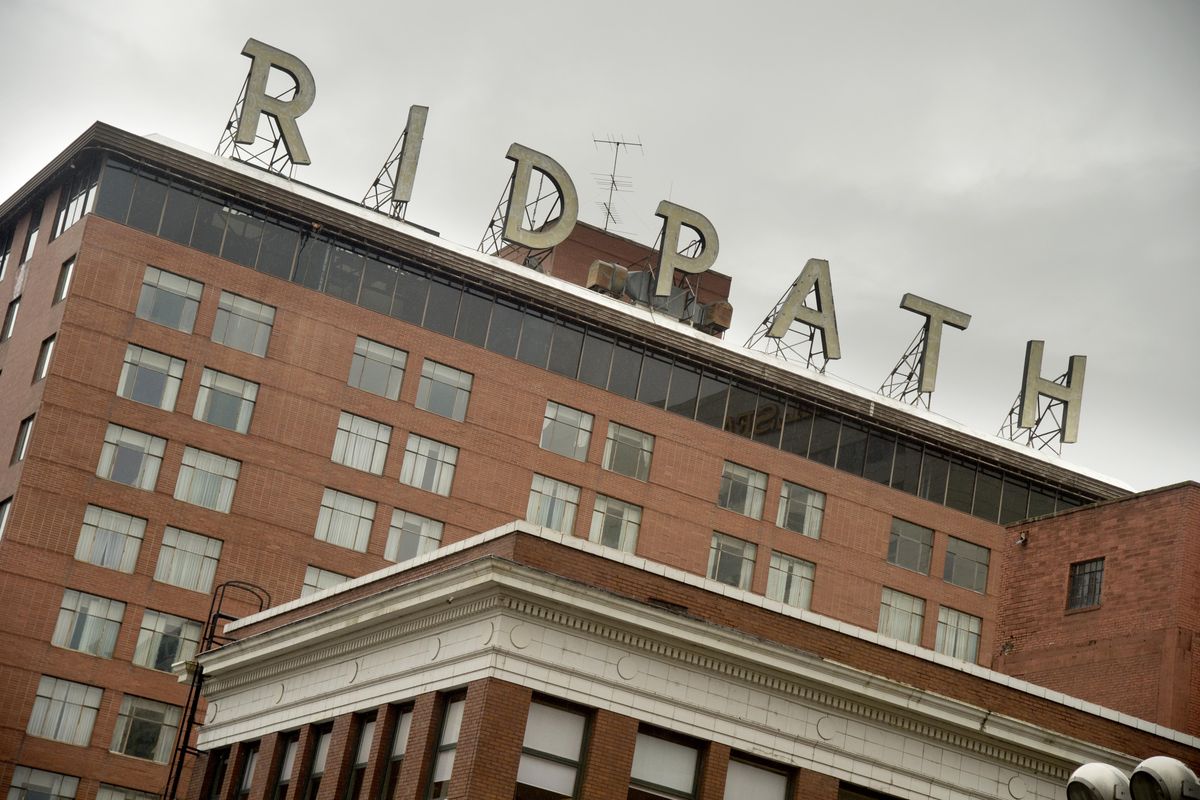 Work is about to begin on a major renovation of the storied Ridpath Hotel, a downtown fixture for more than a century. Ron Wells and fellow investors have completed a complex financing package to turn the downtown Spokane building into an apartment complex. (Jesse Tinsley / The Spokesman-Review)Buy a print of this photo
Developer Ron Wells' plan to revitalize the decaying Ridpath Hotel in downtown Spokane is moving closer to fruition.
The Spokane City Council is expected to vote in the coming weeks to loan $1.75 million to Wells to further the $20 million project, which is expected to bring 206 housing units to the former hotel at 514 W. First Ave. A restaurant and other offerings are in the works, too.
Wells' group, Ridpath Club Apartments LLC, also is seeking $2 million from the Washington state Housing Finance Commission, which facilitates funding for construction of housing for low- to moderate-income families statewide.
"Our attempt now is to get everything wrapped up," Wells said Monday, after the council was briefed. "I'm excited to have all the help we've gotten from all our partners."
The Ridpath has languished since shuttering in 2008. Convicted fraudster Greg Jeffreys divided its floors into condominiums, and a rival buyer outbid Wells and his partners for the real estate at a bankruptcy sale but failed to make timely payments. The Ridpath opened as a five-story hotel in 1900 and was rebuilt as a luxury destination in 1952.
Wells' plans for the building include 102 "micro-apartments" smaller than 500 square feet, 45 studio apartments, 58 one-bedroom apartments and a 2-bedroom apartment, according to documents shared with councilmembers. The complex, which includes an annex on the east side, will also include a fitness center with a pool and a restaurant. Of the 203 housing units, 180 will be affordably priced for low- and moderate-income families, said Jonathan Mallahan, director of neighborhood and business services for the city.
"This would rehabilitate the historic Ridpath, which is currently an area where we drive additional emergency services, and cops, as well as depressing the surrounding area," Mallahan said.
The city's loan amount will come from income generated through discontinued federal rental assistance programs, not the local taxpayer-supported general fund, complying with a resolution the City Council passed more than a year ago pledging support to the project.
City Council President Ben Stuckart said Monday night it appeared the historic landmark was finally on the verge of new life.
"I don't think there's any doubt, anymore, it's going to happen," Stuckart said.
Mallahan said the city is negotiating a 20-year repayment term for the loan made to Wells, with an interest rate tied to government securities. Those terms could change as negotiations continue.
Wells is expected to close on the building in early April. The state finance commission meets in Seattle on March 23.
"We've got a very ambitious timeline," Mallahan said.
The loan amounts from the city and state will be vital to financing the sale of the property, expected to cost about $4.7 million, Wells said. Construction costs are estimated at $5.3 million on the building.
"That's crucial," Wells said of the loans. "It doesn't happen, without them."
Local journalism is essential.
Give directly to The Spokesman-Review's Northwest Passages community forums series -- which helps to offset the costs of several reporter and editor positions at the newspaper -- by using the easy options below. Gifts processed in this system are not tax deductible, but are predominately used to help meet the local financial requirements needed to receive national matching-grant funds.
Subscribe now to get breaking news alerts in your email inbox
Get breaking news delivered to your inbox as it happens.
---