News > Spokane
Clarksville: 84-year-old Gonzaga superfan once helped UI beat the Zags
Tue., Feb. 28, 2017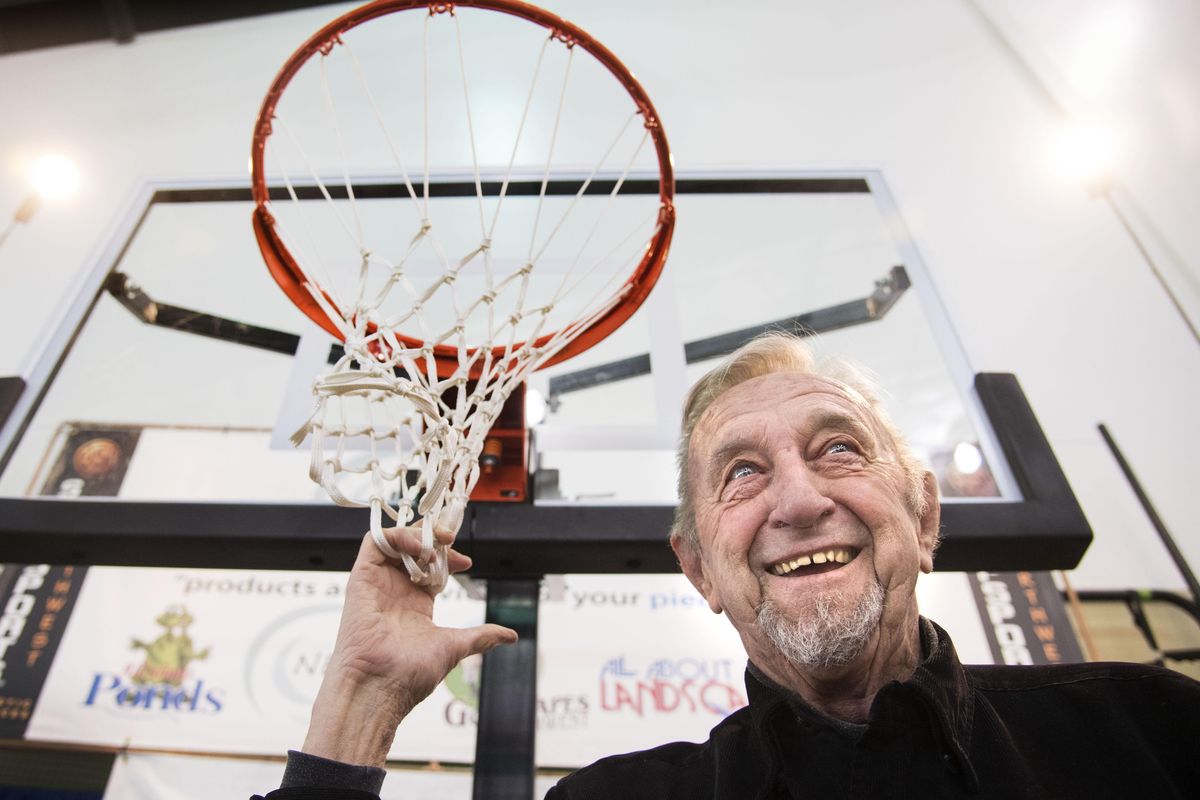 Harlan Lefty Melton played basketball at U of Idaho in the 1950s. He was pictured in the Spokesman-Review in December 1953 during a game with Gonzaga. (Dan Pelle / The Spokesman-Review)Buy a print of this photo
He was parked at a table in the entrance of a South Hill supermarket, hawking subscriptions to this fine newspaper when I passed by and paused to politely decline his pitch.
"But you're doing the Lord's work," I encouraged the goateed guy in the brown flop hat. I introduced myself and explained that I already took The Spokesman-Review, being that my column appeared in it three times a week.
"Then I won't tell you what they say about you," the man quipped with a wink and an infectious laugh.
And that's how I made a friend of an 84-year-old basketball junkie named Lefty Melton.
So who better to lead us into the madness of March and add a bit of perspective about the Zags' recent 71-79 heartbreaking loss to BYU than a guy who was some kind of player back in the day?
I discovered this about Lefty after he reached into his satchel. He came out with a laminated, age-yellowed newspaper photograph from a Spokesman-Review sports page dated Dec. 6, 1953.
In it, a leaner, lankier and much younger Lefty was frozen in time as a forward for the University of Idaho. He was caught rising in the air with the ball on his fingertips, headed way, way up for the hoop.
"Melton makes one," read the caption, adding that his basket occurred in "the second period of Friday night's game with Gonzaga at Moscow."
Yep. Turns out Lefty was a Zags killer, too.
The Vandals won that game, 76-67, the cutline explained, although Lefty doesn't remember a whole lot about it.
So many games. So many years. You tend to lose track of the tinier details.
Still sharper than a paper cut, though, Lefty can rattle out the story of his life down to the players he tried to outfox.
Take one 6-foot-10 giant that the much shorter Lefty was assigned to guard.
"I was the only one who could block his jump shot," he recalled.
The way Lefty tells it, his ability to go vertical was a natural part of his makeup. By his sophomore year in high school, he said, he could actually dunk the ball.
"That was 1947. There weren't many dunking in the 1950s in college," he added.
"I could throw passes behind my back and could jump higher than anyone else. I don't know where I picked it up. Probably in all the pick-up games in the summer, I guess. It just came naturally."
I know what you're thinking.
You're thinking, "Come on. How can we really know how good this old guy really was?"
I know. We're talking about things that took place back when Eisenhower was president, after all.
Ah, but then I went online and searched his name.
Whataya know! Up popped a March 2015 sports column from an Iowa newspaper, the Sioux City Journal.
"During high school boys state tournament time, a trip down memory lane never results in a turnover or costly free throw …" wrote Steve Allspach, who quickly got to the point.
"Sixty-five years ago, in the 1950 Iowa Boys State Basketball Tournament, Harlan 'Lefty' Melton was a first-team all-stater for Our Town's Central High Little Maroons club that tripped Albert City 50-45 in the first round.
"It was the lean 6-foot-3 Melton, though, who was the unquestioned star of the Central team."
Allspach quoted a former player from the time as saying that "Lefty had a running jump shot, probably the first in Sioux City to have that shot, that couldn't be stopped."
Let's get real a moment. If you're 80-something years old and some sportswriter is still talking about your high school jump shot, well, you really were something special.
"If you come over I'll show you the scrapbook my dad made for me," offered Lefty.
Lefty said that as a Vandal starter, he received eight varsity letters, four for basketball, two for baseball and two for golf.
The coach for Idaho back then was Charles Finley, a taskmaster who Lefty said worked his team seven days a week and sometimes after games. "We had a good rapport, though," he said.
After a stint in the U.S. Navy, Lefty said, he taught and coached at a couple of area schools before settling in the Spokane Valley with Nancy, his wife of now 51 years.
They raised five kids. Lefty sold insurance before moving on to stocks and bonds. He also played a whole lot of golf, a game he still enjoys today.
Lefty also watched a lot of Gonzaga basketball. When I spoke to him on Friday, he acknowledged that the Zags had all the tools to finish with a perfect season and go deep into March.
But he added prophetically that the team's Achilles' heel was playing the last four or five minutes if the score was tight and the outcome uncertain.
Sure enough, in the final minutes Saturday, BYU elevated their play. The Zags tightened and seemed to lose their way. Hopes for 30-0 perfection were dashed before an utterly stunned home crowd.
On Sunday, I called Lefty to tell him how prescient he'd been, but he took no joy in it.
"With about five minutes left in the game I went upstairs. Couldn't watch anymore," he said. "I told my wife, 'They're gonna lose that game.' "
Lefty said he went back to catch the last 30 seconds of doom.
"They get excited. They turn the ball over.
"That's the way it goes," he said glumly. "When somebody stops you from what you're doing, you have to come up with something else."
Hopefully the Zags will regroup and refocus as we head into the madness of March.
One thing's certain. My new friend, Lefty, will be watching.
Local journalism is essential.
Give directly to The Spokesman-Review's Northwest Passages community forums series -- which helps to offset the costs of several reporter and editor positions at the newspaper -- by using the easy options below. Gifts processed in this system are not tax deductible, but are predominately used to help meet the local financial requirements needed to receive national matching-grant funds.
Subscribe now to get breaking news alerts in your email inbox
Get breaking news delivered to your inbox as it happens.
---