News > Idaho
North Idaho developer and resort pioneer Robert Templin dies
Feb. 28, 2017 Updated Tue., Feb. 28, 2017 at 10:25 p.m.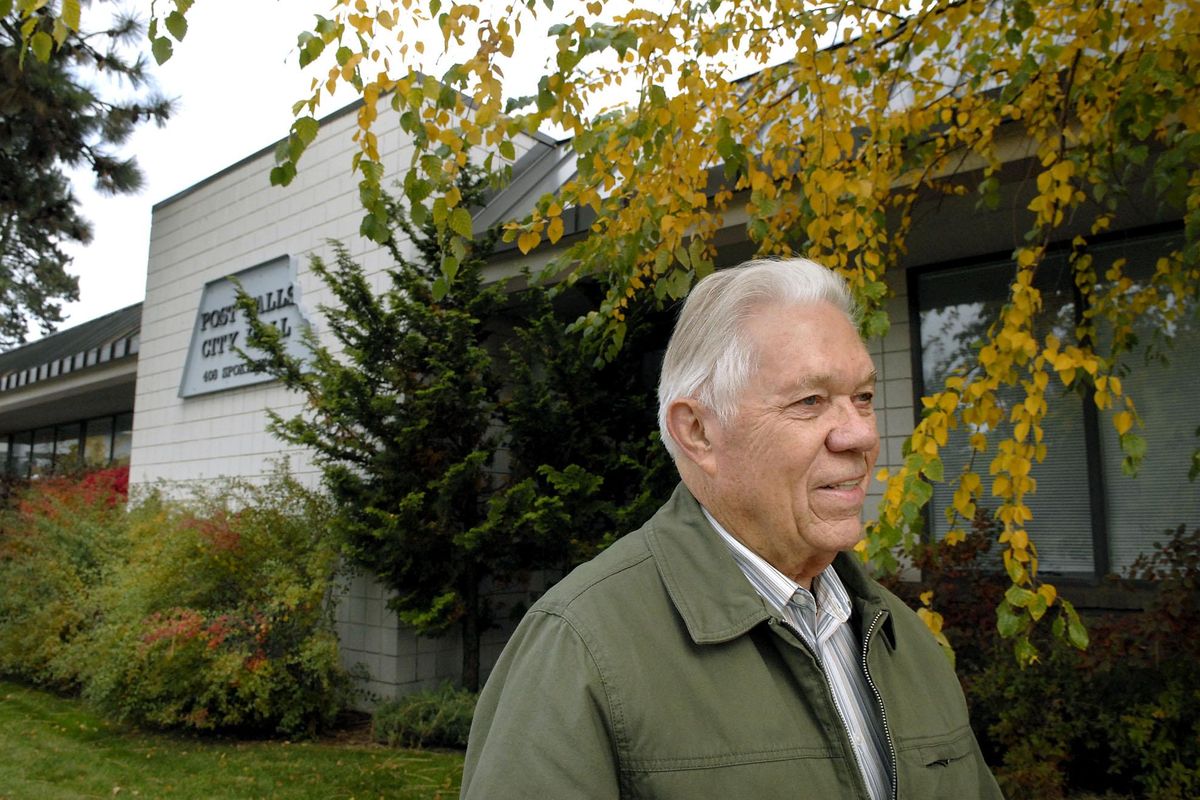 Bob Templin photographed on Oct. 11, 2007, in front of the old Post Falls City Hall building, which he tried to save from demolition. (Kathy Plonka / The Spokesman-Review)
Before there was the Coeur d'Alene Resort, there was the North Shore Resort Hotel and Bob Templin, the man who came to be known as Mr. Hospitality in the early years of the economic shift from timber to tourism.
Templin, a Post Falls developer, U.S. Army veteran and pioneer of North Idaho's resort and tourism economy, died Tuesday morning at age 93. The hotelier, economic development booster and vigorous promoter of Post Falls was known as a shrewd businessman, devout Christian and genuinely nice guy.
His daughter, Blythe Templin, shared news of her father's death on Facebook: "He was an amazing person that can never be replaced," she wrote. "I feel so lucky to have had him as my dad. He was kind, loving, gentle and a man of God. I have never met anyone who knew him who didn't love him."
Templin and businessman Duane Hagadone largely were responsible for a thriving tourism industry that helped lift Kootenai County out of the economic doldrums of the 1980s. The two men also were rivals for a time.
Templin opened the North Shore Resort Hotel on downtown Coeur d'Alene's lakefront in 1965 and completed a seven-story tower in 1973. But in 1983 he lost control of the hotel, as well as 17 other hospitality operations he owned or managed as part of his Western Frontier hospitality company, in a hostile corporate takeover orchestrated by Hagadone. Hagadone later rebuilt the North Shore into the Coeur d'Alene Resort.
Templin used an exception in his noncompete clause with Hagadone to build his Templin's on the River resort hotel along the Spokane River in Post Falls in the mid-1980s.
The city had little hospitality business at the time, recalled Coeur d'Alene City Administrator Jim Hammond, a former Post Falls mayor and city manager.
"When he built Templin's resort, the economy was in a downward tailspin, so it was a big risk. But it was a huge economic boost to the community in terms of both a restaurant and a hotel," Hammond said.
"His investment put Post Falls on the map, so to speak, as something more than a bedroom community," he said. "It was a substantial stimulus for the community."
Templin sold the 167-room hotel to Cavanaughs Hospitality Corp. in 1998 but remained active in the hospitality business, serving as a governor of Best Western hotels. The hotel now operates under the Red Lion Hotels brand.
Post Falls Mayor Ron Jacobson called Templin a visionary and tireless promoter of tourism and economic development.
"He's got his fingerprints all over town, he truly does," Jacobson said Tuesday. "Back when he decided to build the resort on the river, there was nothing out there. He had the foresight and made it a viable project."
Templin was active in the Post Falls Chamber of Commerce, going so far as to provide a building to house the agency, and was a driving force in forming an urban-renewal agency, which helped attract a major manufacturer to the city.
"He was a very astute businessman," Jacobson said, "but I truly believe he had the people and the city of Post Falls at heart."
Templin laid claim to dreaming up "River City" as a slogan for Post Falls, and he was instrumental in the development of Falls Park, a 22-acre spot on the Spokane River that provides scenic views of the Post Falls dam, Post Falls and the river gorge.
He also was closely involved in turning a former weed-infested field on Idaho Street into a community playfield named for the late Earl Warren. Warren Park is now a Post Falls city park.
Templin also helped establish a relationship between the city and Herborn, Germany, where Post Falls town founder Frederick Post was born. He was a tireless supporter of the Post Falls School District and campaigned vigorously for passage of a bond measure to build Post Falls High School, completed in 2000.
A decade ago Templin led a charge to save the old masonry-block Post Falls City Hall for public use, such as a museum. But voters in 2007 defeated a ballot measure to save the structure as the city built a new City Hall next door.
Templin also was involved with the Spokane River Property Owners Association, the Post Falls Historical Society and Christ the King Lutheran Church, which he helped found.
Bill Hemenway, a retired pastor at the church, knew Templin for 42 years.
"He was a self-made man – very bright with lots of common sense," Hemenway said. "He was a problem solver. He just had a real gift with people."
Templin was inducted into the Idaho Hall of Fame in 2001, along with Hagadone and the late World War II ace Gregory "Pappy" Boyington.
The son of German immigrants, Templin was born Sept. 23, 1923, in Ritzville. His humble entrance to the hospitality business began when he was 13, washing dishes at a restaurant in his hometown.
After returning from a stint in the U.S. Army during World War II, he and his brother, Del, pooled their money and opened a restaurant in Ritzville. Templin's Grill was an overnight success and the first of 19 restaurants he would own in Eastern Washington, North Idaho and Fort Wayne, Indiana.
Templin also served in the Army during the Korean War. He was a longtime member of the American Legion and shared Post Falls Veteran of the Year honors in 2014.
"I remember seeing Bob when we'd have Veterans Day or Memorial Day ceremonies," Jacobson said. "When Bob was able he was there. He was a proud veteran and always there to show his respect for those who served."
Templin also was known for his generosity, going as far as to discreetly pay the bills of friends he saw eating in his restaurants, and giving free lodging to people from out of town who arrived for funerals at his church.
"I've heard versions of this story hundreds of times, where someone would come up to me and say, you know, my mom died back in Iowa and our family couldn't afford to go back to the funeral, but Bob made it possible for us to do that," said Hemenway, the retired pastor. "He was just an incredibly generous man. … Everywhere he went, it was a better place because he was there."
Templin is survived by his wife of 52 years, Mary, who is 87, and their three children, five grandchildren and four great-grandchildren.
Local journalism is essential.
Give directly to The Spokesman-Review's Northwest Passages community forums series -- which helps to offset the costs of several reporter and editor positions at the newspaper -- by using the easy options below. Gifts processed in this system are not tax deductible, but are predominately used to help meet the local financial requirements needed to receive national matching-grant funds.
Subscribe now to get breaking news alerts in your email inbox
Get breaking news delivered to your inbox as it happens.
---