News > Spokane
Laura Renz: Imposter service animals make life harder for those of us who truly need them
Sun., Jan. 1, 2017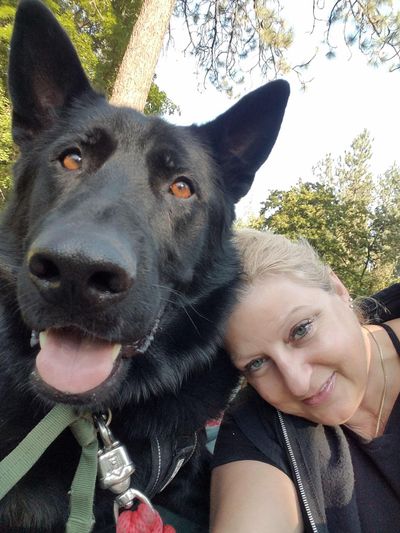 On May 8, 2012, my life changed forever.
I had just left my first day at a new job as general manager at a very large optical retailer. I was on my Harley-Davidson Fat Boy heading out to see a car show at State Line when an inattentive woman went through a stop sign and hit me. I was traveling around 50 mph, so it was a big impact.
I had many broken bones that required a series of surgeries. Months and months of immobility and physical therapy followed. My arm, leg and neck were immobilized for 11 weeks.
I wasn't home from the hospital very long and was struggling, when my new German shepherd, Lobo, came over to me and let me brace myself on him. I realized at that time the capabilities he had to help me. I began using him around the house for mobility. Lobo would help me up, steady me and assist on stairs. Plus, his companionship was very welcoming.
Several surgeries later, I received a German shepherd puppy as a gift. He was a handful, but luckily I met a man with a service dog and asked where he had her trained. He lined me up with Protection K9 and I started training the puppy, along with Lobo, knowing they had to have spot-on obedience to be classified as service dogs. I had already been working with the puppy around the house as much as I could and his assistance was fantastic; he just needed the obedience and socialization.
Both of them were certified as service dogs many months later, and I began using Lobo on a regular basis. He was public-ready, and I did not want to continue to use a cane, a crutch or a walker.
I already had left my dream job for a less-demanding one at another optical shop. I began having trouble with the store manager over my service dog, and the store officials did not seem to understand he was necessary. The loss-prevention manager actually said to me, "You can't have a dog in here just because you have mental problems." I was much more polite than I should have been and I explained Lobo's purpose and use. But eventually I quit because it just wasn't worth the mental aggravation.
I received a Labrador puppy and trained her from birth. She was fantastic. She performed every task asked of her as well as high-level obedience. She was certified several months ago and even though they don't need or have a certification process, I put my dogs through an international set of standards to be sure they are public-ready.
But there seems to be an influx of imposter service animals that do not actually perform a service and are aggressive and unruly. For somebody to use a service animal, they need to have a disability as determined by their doctor. Their disability would dictate whether a service animal could be useful. The service animal needs to have a very high level of obedience and be able to go anywhere without causing a disturbance.
I had to pull the second German shepherd, Vinny, from service early on because he was rushed too many times by imposter dogs and became reactive. He began to bark inappropriately, and that's not a quality a service dog can have.
The Labrador, however, far exceeded my expectations – despite being attacked, rushed, lunged at, growled at, and grabbed by children on a regular basis.
It's very tiresome and unfair to the people with actual disabilities to be subjected to others' untrained pets. Even if your dog performs a task for you, you still need to do your part to train the dog so that it's public-ready.
A small dog can provide a useful service at times, but they generally don't have the obedience necessary to be in public. It's terrible seeing these imposters in grocery carts and baby strollers, exhibiting bad behavior that makes people look twice at me and my dog and think I'm faking it. I don't look old, I don't look disabled, and because of so many imposters, real service dog teams are scrutinized unnecessarily. There are days when I can hardly move, and those are the days I need the dog to steady me or help me up and down.
I would love to see some regulations in place to help the people who need their service dogs on a daily basis. Businesses don't feel empowered to ask the proper questions. They can ask, "Is this a service animal required because of a disability?" If the answer is yes, they can follow up with, "What tasks has this dog been trained to perform for you?" But the businesses won't ask those questions, which would filter out a lot of fakes.
The people who don't want to answer these questions generally are the ones with the imposter animals that make life difficult for those of us who need them. We are proud of our dogs' accomplishments and abilities, and are generally happy to share that information with those who ask.
No one wakes up and says, "Hey, I think I want to be disabled." For someone to call their pet a service dog, when it isn't, is mocking and disrespectful to those with disabilities. Please, follow the guidelines and regulations, and keep the community safe and sound for all, both people and canines. A service dog is a valuable partner and they deserve dignity and respect, which they have earned with their loyal service.
Laura Renz is a licensed optician living in the Foothills area with four horses, three dogs and a cat.
Local journalism is essential.
Give directly to The Spokesman-Review's Northwest Passages community forums series -- which helps to offset the costs of several reporter and editor positions at the newspaper -- by using the easy options below. Gifts processed in this system are not tax deductible, but are predominately used to help meet the local financial requirements needed to receive national matching-grant funds.
Subscribe to the Coronavirus newsletter
Get the day's latest Coronavirus news delivered to your inbox by subscribing to our newsletter.
---
Subscribe and log in to the Spokesman-Review to read and comment on this story