News > Spokane
Spokane Valley bolsters efforts on federal rail crossing funding
Mon., Jan. 2, 2017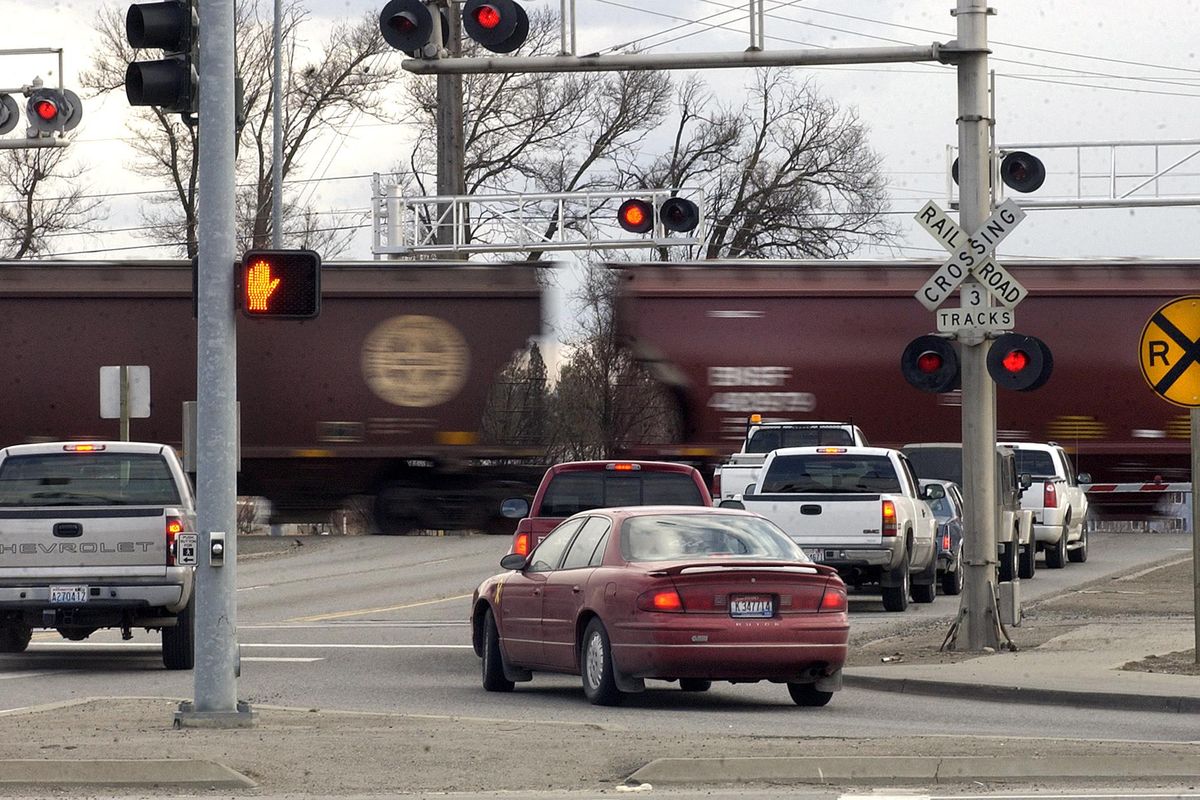 Southbound cars wait while a train passes at the intersection of Pines Road and Trent Avenue in Spokane Valley on March 21, 2006. The city of Spokane Valley is changing its approach to grant applications to improve chances that the crossing and another at-grade crossing at Barker Road near Trent will receive the millions in federal grant dollars needed for construction of an underpass and overpass. (Liz Kishimoto / The Spokesman-Review)
Getting drivers around two of the busiest at-grade rail crossings in Spokane Valley continues to be a priority for city officials despite the city missing out on major federal grants last year.
The project applications were close to being accepted for funding by the U.S. Department of Transportation, said Eric Guth, city public works director.
As a result, the city is seeking additional planning and design work, and changing its approach to renewed grant applications to improve the likelihood that one or both of the grade crossings will get the millions of dollars needed for construction.
One project involves an overpass and interchange over the BNSF Railway mainline at Barker Road next to Wellesley and Trent avenues. A new interchange would serve connections to Trent.
The other grade separation would be an underpass below the mainline at Pines Road just south of Trent.
"We are pursuing both projects," city spokeswoman Carolbelle Branch said.
City Councilman Ed Pace said the Pines Road crossing is one of Spokane Valley's bigger traffic headaches.
"We hear a lot from people about Pines," he said, and the need for officials to "clean up that mess."
At both Pines and Barker, vehicle traffic can be delayed by an average of 56 trains a day. That puts waiting drivers next to a mainline track that is used to transport flammable oil and other hazardous substances.
It also becomes a concern for emergency vehicles delayed in their response and commercial truck traffic trying to serve businesses and nearby industry.
Construction of the two grade separations would be accompanied by closures of crossings at University and Flora roads. Train horns at the crossings have been a sore spot for years. The grade separations and closings of crossings at University and Flora would do a lot to quiet the problem.
Together, the grade separation projects are estimated to cost $56 million. They are considered key pieces in the long-term plan to separate traffic from rail lines in what is called the Bridging the Valley crossings plan.
On Jan. 10, the City Council will take up a proposal to add $600,000 in city money to the project at Barker and Trent to revise designs, meet current federal standards and advance the project.
It is hoped that the additional work will improve the competitiveness of the Barker Road grant application, which last year relied on a 2004 design.
At the same time, City Hall is seeking a team to complete final design for the Pines Road grade separation project. The deadline for firms to submit qualifications is 5 p.m. Friday at City Hall.
The city already has received commitments for $10 million for the two projects, or 18 percent of the estimated costs of both.
Developing grant applications that might be deemed "shovel ready" could be the key to winning the money.
"We are feeling pretty optimistic for both of these," Guth said.
Freight mobility has become a category for funding from both state and federal transportation departments in recent years. The state has a Freight Mobility Strategic Investment Board, which already has granted money to the Spokane Valley grade separation projects.
The federal government has created its own version of a freight mobility program, in part at the urging of U.S. Sen. Maria Cantwell, D-Wash.
The federal program is known as the Fostering Advancements in Shipping and Transportation for the Long-term Achievement of National Efficiencies, or FASTLANE. It was part of the Fixing America's Surface Transportation (FAST) Act that was adopted at the end of 2015.
Spokane Valley also sought $26 million for the Barker Road project from a Transportation Investment Generating Economic Recovery grant program intended partly to support rural projects, but that application failed in the last go-around for funding.
The Spokane Regional Transportation Council has recommended construction in its long-range transportation plan.
The level of service for vehicle traffic is so poor that it stands in the way of economic development, according to the city's 2016 grant application. Nearly 600 acres of prime industrial land and 170 acres of mixed-use zoning are not being developed because the cost to fix the problem is prohibitive to developers, the application said.
Meeting on plans
for Mission Avenue
Also in Spokane Valley, a community meeting is set for 5:30 to 7 p.m. Jan. 12 at the Greenacres Christian Church, 18010 E. Mission Ave., on plans to improve Mission from Flora to Barker roads.
An overview will be given at 6 p.m., followed by a chance to ask questions, share ideas, make comments or express concerns.
For more information, contact Craig Aldworth at (509) 720-5001 by phone or at caldworth@spokanevalley.org.
Pettit open,
with restrictions
In Spokane, Pettit Drive is now open to traffic, with some restrictions, after being closed during the construction season for installation of a stormwater retention tank, part of the city's program to reduce pollution going into the Spokane River.
Local journalism is essential.
Give directly to The Spokesman-Review's Northwest Passages community forums series -- which helps to offset the costs of several reporter and editor positions at the newspaper -- by using the easy options below. Gifts processed in this system are not tax deductible, but are predominately used to help meet the local financial requirements needed to receive national matching-grant funds.
Subscribe now to get breaking news alerts in your email inbox
Get breaking news delivered to your inbox as it happens.
---