Sports
John Blanchette: Cougars send diehard fans home happy
Wed., Jan. 4, 2017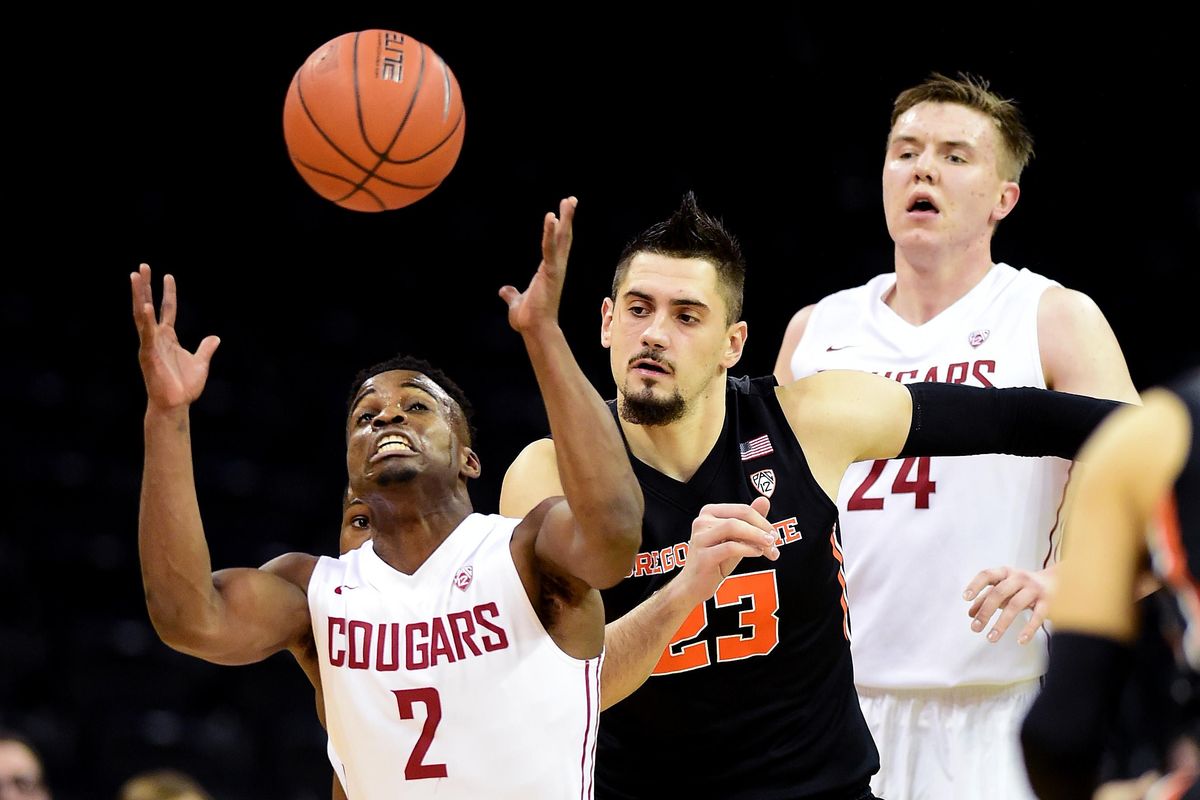 Washington State guard Ike Iroegbu (2) grabs a loose ball during the first half a NCAA men's basketball game, Wed., Jan. 4, 2017, in the Spokane Arena. (Colin Mulvany / The Spokesman-Review)
Winter Wednesdays at the Spokane Arena are, often as not, hockey night. They drop the puck and a sliver of the 8,000 who show up for the annual Teddy Bear Toss or some other Saturday night special event drop by, mostly out of habit.
They changed things up this week – Washington State was in for one of its basketball drive-bys.
But the feel – as on hockey Wednesdays – was distinctly Empty Seat Appreciation Night.
It could have been worse for the Cougars and Oregon State, who engaged in some peppy and entertaining give-and-take before the Cougars prevailed 75-62. They could have played it in Pullman, where the Cougs have been averaging something like 2,300 with a captive campus audience pool almost 10 times that size.
But the kids haven't come back from Christmas yet. Hence, the moving of the game to Spokane and the Arena.
The court of last resort.
Where 2,237 fans dropped by. That's the poorest attended WSU game in Spokane since the Paul Graham era, which was not so much an era as it was a crater.
It's not unreasonable for the Cougs to be attendance challenged these days. Entertainment is pricier than ever, and in sports there's an ego surcharge – your team has to be successful to make it worth the outlay. Wazzu is looking at a fifth straight losing season – the Cougs are 9-5 now, but it's a long winter – and last year lost the last 17 games against Pac-12 opposition.
And the Beavers, well, aye-yi-yi. With the coach's kid, Tres Tinkle, and his 20 points a game nailed to the bench because of a broken wrist, OSU managed to make an art of losing the purchased wins – Savannah State, et al – of November and December.
So while the Cougars' comeback from an early second-half swoon and their late runaway generated some heat and sent the customers into the frigid night fulfilled, the alums and purported boosters and unattached basketball consumers who stayed home likely thought to themselves, yeah, right choice. Especially with all the action on the Larry Scott Channel.
Except this: the Cougs are 2-0 in the Pac-12.
Two-and-oh.
That's them up there, a half-game behind Oregon, tied with Arizona.
"We haven't been 2-0 in 10 years," said forward Josh Hawkinson, actually adding a year to that dry spell. "But 2-0, so what?"
So what? So it's already twice as many as they won in the Pac-12 last year.
"We've still got 16 conference games to go," Hawkinson said, his math perfect on that part.
Now, it will be suggested that the Cougars find themselves in this position because the two victims include a team (OSU) that's No. 308 in the current RPI and possibly aiming for a Pac-12 worst in that measurement, and another (Washington) whose respected, accomplished coach seems to have forgotten how to put together a team and organize it for competition.
And that's true enough, as far as it goes.
It also will be suggested that this is the last we'll hear of Wazzu, that there's as good a chance as not the Cougs will finish out the schedule just as they finished out the last one – without another win.
And that seems less likely to be true.
All sorts of dragons remain – Oregon on Saturday ("they're going to force us to grow," warned coach Ernie Kent), the road, USC and UCLA twice, and no more Oregon State. But this is not the Pac-12 at its finest this year and somewhere in there is a win or two, particularly if the Cougars can sustain the end-of-game poise and siccum that won them these two.
That's incremental progress, yes. Not going to bring the folks out in droves.
"But when you have good players, they rise up – they want to play good competition," said Kent. "No different than the Washington game, it brought out the best in us this game. When the heat was on, it brought out the best in us in the last seven minutes."
Malachi Flynn's eight points were the memorable ones in that 16-3 finish, but the hero of the UW was mostly nondescript until then, save for his second-half defense on OSU's Kendal Manuel, who earlier lit up the Cougs for 20 points. This was really more of an ensemble piece – even with Hawkinson getting his ho-hum double-double – and that included the odd come-through like that of sophomore forward Robert Franks.
"It's our hustle plays that are the things that make the difference," Hawkinson said. "It seems like we got on every loose ball, and we're trying to take more charges as a team and we fed off that and used the crowd – we had a good crowd in Spokane."
Well, an appreciative one, anyway.
Local journalism is essential.
Give directly to The Spokesman-Review's Northwest Passages community forums series -- which helps to offset the costs of several reporter and editor positions at the newspaper -- by using the easy options below. Gifts processed in this system are not tax deductible, but are predominately used to help meet the local financial requirements needed to receive national matching-grant funds.
Subscribe to the sports newsletter
Get the day's top sports headlines and breaking news delivered to your inbox by subscribing here.
---