Sports
WSU downs Oregon State, 75-62, to remain undefeated in Pac-12
Wed., Jan. 4, 2017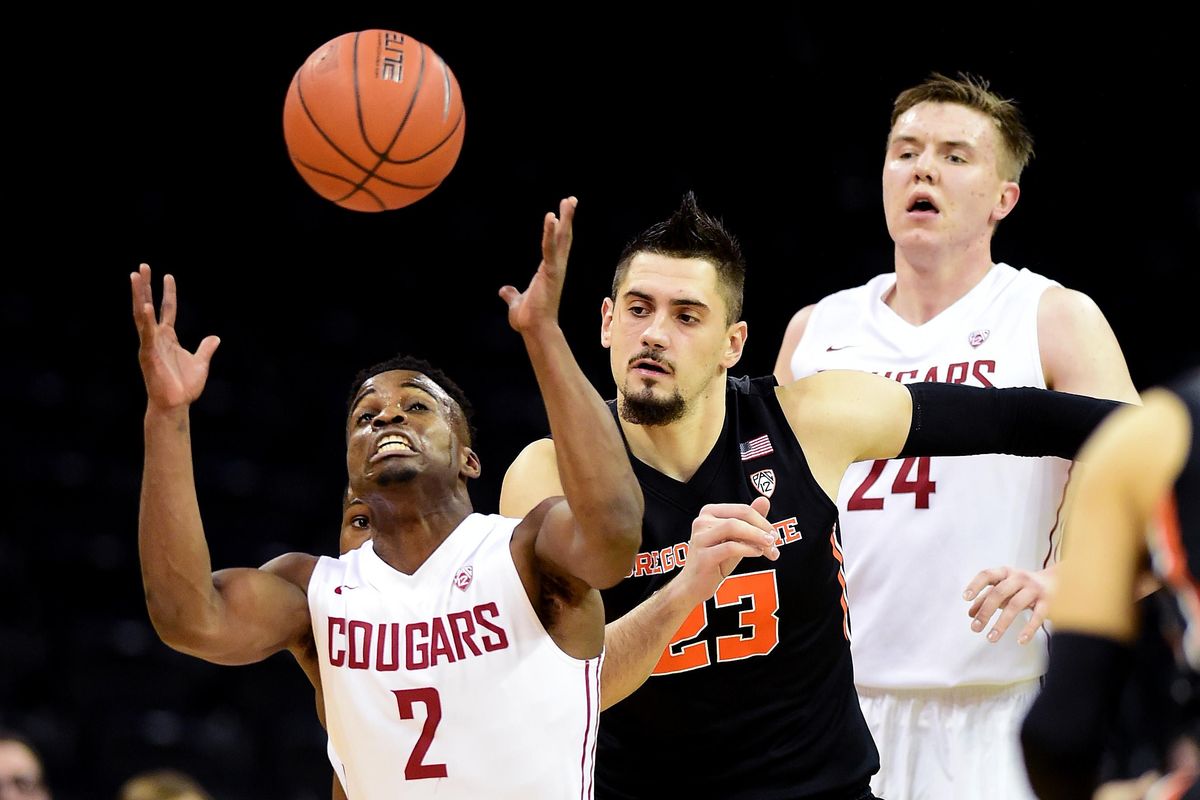 Washington State guard Ike Iroegbu (2) grabs a loose ball during the first half a NCAA men's basketball game, Wed., Jan. 4, 2017, in the Spokane Arena. (Colin Mulvany / The Spokesman-Review)
What a difference a year makes. A year and a point guard who hasn't lost enough to know when he's not supposed to win.
The Washington State men's basketball team never did get to two Pac-12 wins last season. The Cougars did so in the shortest possible time this year, beating Oregon State 75-62 in Spokane Arena to improve to 2-0 against conference competition.
The Cougars (9-5, 2-0 Pac-12) have won their last four games. As the wins have piled up, the team has appeared to play looser. The game is more fun and free, and despite the increase in competition the Cougars are dunking more often, hitting more clutch shots and making more hustle plays.
"Confidence is everything, especially in basketball," said senior guard Ike Iroegbu.
Though the team had some deflating losses in its nonconference schedule, it is now impossible to end the team on another 17-game losing streak against Pac-12 competition, as the Cougars did a year ago.
"We're a long way from where we need to get to but you're also seeing seniors in Ike and Josh with great leadership, Conor and Charles starting to run your offense and being third and fourth options," Kent said. "What the new guys brought in was such a good basketball IQ they didn't hold us back, they took us to another level."
For the second straight game, freshman point guard Malachi Flynn made key plays down the stretch to determine the game's outcome. His teardrop jumper with 2:12 left in the game basically ended it, putting the Cougars up 11 points. His 3-pointer with 1:30 to go left no doubt the game was over.
His second half defense on Kendal Manuel ended the barrage of 3-pointers that threatened to bury the Cougars. And as Flynn made the same sorts of clutch plays that won last Sunday's matchup, his teammates also rose to the occasion.
It was Manuel's hot shooting that kept the Beavers in the game – he hit two from NBA range just before the half to keep the WSU lead in single digits – and it was another deep trey early in the second half that gave OSU its first lead, 43-42.
Manuel, a streaky shooter, was particularly on against the Cougars. He had hit just one of eight attempts in the two games against UCLA and USC last week. He forced WSU out of the zone defense it used with such effectiveness in the win over Washington on Sunday.
His fifth 3-pointer tied the game at 49, and, one possession later his sixth gave the Beavers a 52-49 lead with just under 14 minutes left in the game. Then Flynn began to guard him tight and Manuel did not get any more clean looks from behind the arc.
The Beavers made just two of their final nine field goal attempts, while WSU made four of its last five, stealing the ball or corralling loose balls and converting the fast breaks into easy scores.
WSU finished with eight transition points and the Beavers had none.
The Cougars played with more energy than they have shown in years. Iroegbu, who rarely ever dunks, threw down a pair of two-handed hammers on fast break feeds.
Robert Franks played with previously unseen urgency, scoring 10 points and adding seven boards to complement Josh Hawkinson, who led the Cougars in both categories with 20 points and 11 boards.
Center Conor Clifford scored 13 points in 17 minutes, making 5-of-6 shot attempts and hitting all three of his free throws. The Cougars made 14-of-15 shots from the charity stripe.
The second half test for the Cougars was to score against OSU's zone when they could not hit their 3-pointers. They found success with a high-low post game, getting the ball in the post to Hawkinson who hit consecutive layups to put WSU up 62-59 with 5:28 left.
Flynn added to the run with a 3-pointer over the zone, forcing the Beavers back into a man defense and putting the Cougars in control.
Local journalism is essential.
Give directly to The Spokesman-Review's Northwest Passages community forums series -- which helps to offset the costs of several reporter and editor positions at the newspaper -- by using the easy options below. Gifts processed in this system are not tax deductible, but are predominately used to help meet the local financial requirements needed to receive national matching-grant funds.
Subscribe to the sports newsletter
Get the day's top sports headlines and breaking news delivered to your inbox by subscribing here.
---