2016 inspiring state adventurers: Feats by land, sea and sky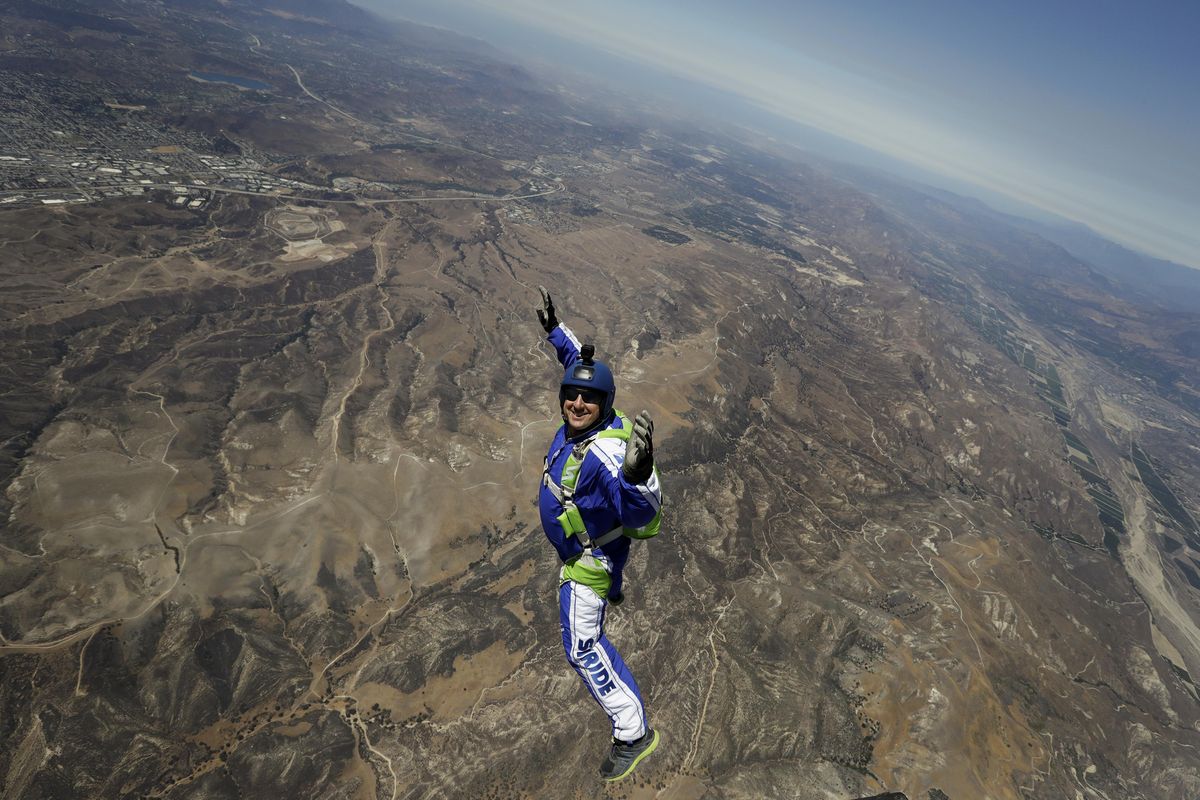 Rowing the Mississippi River. Bagging Mount Rainier for the 500th time. Winning the Mountain Running world championship. Kayaking from Alaska to Washington.
Washington residents pulled off some impressive adventures in 2016. And some visitors to the area also recorded some inspiring accomplishments. Here are some highlights.
Skydiving
without a chute
On July 30, Luke Aikins jumped from a plane at 25,000 feet without a parachute. He was aiming for a 100-by-100 net in California's Simi Valley. He hit his mark and made headlines around the world.
Two years of designing and practicing preceded the jump before nailing it on live TV.
"I don't think I can top this," Aikins said.
Paddling the
Inside Passage
Over the summer, Olympia residents Kyle Cooper and Daniel Walters and their friend, Matt Ryan of Seattle, who ranged in age from 27 to 28, paddled kayaks 15 to 18 miles a day for nearly 1,000 miles from Skagway, Alaska, to Orcas Island.
"The trip was hard in ways I didn't expect," Cooper said. "When you spend all day on the water for that long it can be hard to keep your brain engaged."
A bear motivated them to switch camps one evening, and Cooper says there were 25 days on which they spotted a humpback whale.
Rowed the
Mississippi River
After graduating from the University of Puget Sound, Sam Friedman, Eric Nathanson, Audra Tromly and Calli Vasatka rowed the Mississippi River.
The four grads (all but Nathanson were members of the Loggers rowing teams) took part in a new UPS course taught by adventurer Jordan Hanssen. The course culminated with an optional project: Row 2,300 miles from the river's source in Minnesota to the Gulf of Mexico.
They started in mid-August and finished on Thanksgiving evening.
"One of the most powerful parts of the trip is that we saw the country in a whole new way," Tromly said. "When we break out of those bubbles we get a better understanding of things."
Along the way, the rowers spoke to more than 4,000 students ranging from grade-schoolers to college students. They collected data for scientists and shot images for Google Maps.
Mountain running
world champ
Since graduating from Lakes High School a decade ago, professional runner Joseph Gray won a world trail running championships in 2012, 11 national titles and was named Team USA's mountain runner of the year six times.
On Sept. 11, he added another impressive line to resume: World mountain running champion. Gray, 32, won the championship while racing in Bulgaria.
Mountain running races are held on steep trails at elevation and courses can vary dramatically from race to race. At the world championships, the course climbed about 5,000 feet over 7.8 miles.
Gray, who now lives in Colorado, is fast on more traditional courses, too.
In February, he competed in the Olympic Trials for the marathon in Los Angeles. Despite being sick, he finished 76th out of 108 in 2 hours, 31 minutes, 20 seconds.
Boating the
Great Loop
On April 27, 2016, Ron and Michele Hall of Browns Point finished a three-year, 6,000-mile boating trip. Ron says they averaged about 7 mph as they circumnavigated the eastern states.
The Great Loop, as it's known in boating circles, is created by linking the Atlantic Intracoastal Waterway, canals, the Great Lakes, rivers and the Gulf of Mexico. About 100 boats per year complete the journey.
"We thought it would be a wonderful way to travel from small community to village to village to get a better understanding of America and our Canadian neighbors," Ron said.
The couple started short on experience. They bought a 48-foot Kadey Krogen trawler with two bedrooms and a living room and named it Spirit Journey. Two months later they set sail from Stuart, Florida.
They might have finished sooner, but they tacked on 5,000 miles of side trips including a 71-day trip into Canada.
Ron said the couple intentionally did not create an agenda.
"That's the great thing about boat people, they aren't in a hurry," Ron said. "They aren't searching a destination. They are searching a journey. An experience."
500 Rainier
summits
Climbing with friends in early June, Brent Okita, 55, reached the 14,411-foot summit of Mount Rainier for the 500th time.
The Enumclaw resident became the second person to accomplish the feat . He celebrated by skiing back down the mountain via the 55-degree slopes of the Edmunds Headwall.
Okita has worked as a guide for Rainier Mountaineering Inc. since 1986 and is also part of the ski patrol at Crystal Mountain Resort.
Summiting Rainier 500 times is the equivalent to about 9,000 miles and 4.5 million vertical feet. That doesn't include hundreds of additional climbs that didn't reach the summit.
Rainier roundtrip
speed record
On July 26, Uli Steidl, 44, made a roundtrip visit from Paradise to the summit of Mount Rainier, departing at 4:57 a.m. and finishing at 9:21 a.m.
Steidl set what is believed to be a new speed record on the 14,411-foot mountain by making his roundtrip in 4 hours, 24 minutes, 30 seconds. He broke the previous fastest known time of 4:40:59, set by mountain guide Willie Benegas in 2008.
Steidl doesn't have the climbing pedigree of past record holders, but he has a running resume few can match.
He won 10 Seattle Marathons, five Vancouver Marathons and holds the Portland Marathon record. Twice he won the masters division of the Boston Marathon.
As fast as he was, he doesn't expect the record to stand forever.
"There are definitely people out there who could run it faster," Steidl said.
---