News > Education
Treatment facilities struggle to educate students with less funding than traditional schools
Thu., Jan. 5, 2017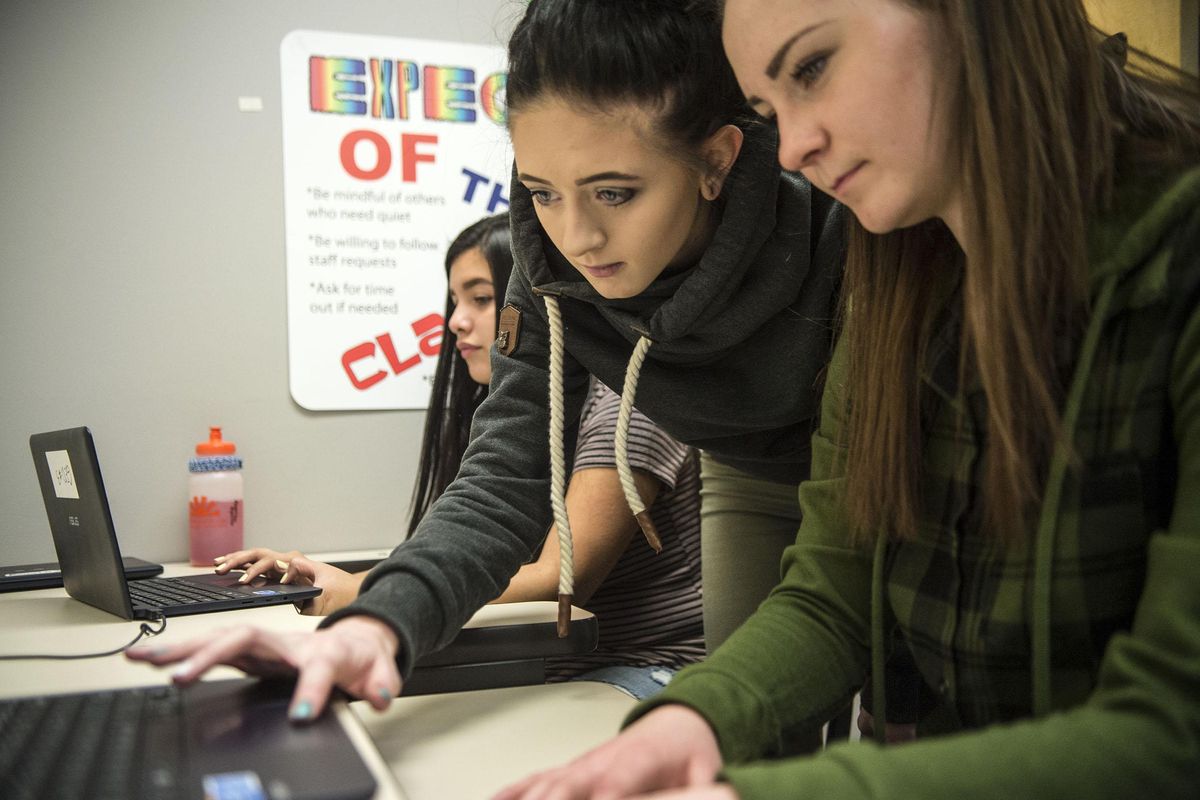 Left to right, America, Jadin and Ashley study for their GED test at Daybreak Youth Services, Wednesday, Dec. 28, 2016. (Liz Kishimoto / The Spokesman-Review)
In a windowless basement, three teenage girls are studying to take their GED test. All three are residents of Daybreak Youth Services, an inpatient drug and alcohol treatment facility in Spokane that also serves as a school.
Behind them sits a bank of computers, disconnected from the internet but preloaded with books, movies and TED Talks. The computers aren't online because the teenagers have to be isolated from their old lives, said teacher Sandy Tipton.
"Some of their pasts are pretty dark," she said.
Tipton, the sole teacher for about 30 teenage girls at Daybreak, said she often works 10-hour days, helping her charges catch up on their education.
But places like Daybreak that treat and teach some of the most vulnerable teens are in a financial struggle. And despite all the state policy talk about investing money into public schools, Daybreak and similar institutions could be left out.
In December, the Office of Superintendent of Public Instruction released a report asking the state for more money, and a change to the funding model, for education at places like county detention centers, jails and residential rehabilitation centers.
That report criticized the current system, calling it "neither fair nor equitable."
However, even if those recommendations were implemented, they wouldn't help Daybreak, which accepts a mix of teens either sent to treatment by their parents or by the courts, said Executive Director Annette Klinefelter.
"We are not technically an institutional education school," she said, despite the fact that Daybreak does many of the same things an institutional education facility does.
Institutional education funding is reserved for institutions working exclusively with court-involved minors.
Daybreak is a residential drug and alcohol treatment facility and operates a girls-only inpatient facility in Spokane, as well as a boys facility in Vancouver, Washington.
"I was surprised to learn that schools like ours are just kind of off in the ether," Klinefelter said.
Instead, Daybreak Youth Services, along with Excelsior Youth Center, the Healing Lodge and the Tamarack Center, contract with Spokane Public Schools, said Linda McDermott, the district's chief financial officer.
Daybreak gets money per student from Spokane Public Schools, but it doesn't receive extra money for students qualifying for special education, or for supplies or facilities, as traditional schools do.
That's partly why Tipton is the only teacher for 30 students, most of whom are behind in their school credits. About 10 of the students enrolled in the class would qualify for special education, and thus get more money from the state, in a traditional school, Tipton said.
"What she does in that schoolroom is unbelievable," Klinefelter said.
These students can come from all over the region, all with different academic and social backgrounds. In addition to their drug or alcohol treatment they also attend classes, usually in an attempt to catch up.
The work Tipton does with the students is intensive and one-on-one. She can rarely teach a single group lesson plan.
"The majority of these ladies who come in are severely credit-deficient," she said.
Andrew Hill, the chief executive officer for Excelsior, said unlike Daybreak, Excelsior does get more money for special education students. Still, Hill said the nonprofit struggles to fund its educational services.
"The school portion of our education services, we operate at a deficit of about a half-million per year," he said.
It's particularly hard, he said, because many of the kids who attend Excelsior need enhanced services.
"As a nonpublic school with a deficit each year, that deficit isn't due to poor management," Hill said. "That deficit is due to the number of staff it takes to provide behavioral support."
Hill said there is no specific person or agency to blame. Like Klinefelter, he believes the issue is how the system is set up.
"It's such a complex thing you're touching on," he said.
The OSPI report in December called for an increase of $12.9 million for institutional education facilities, as well as a change to how schools count their students.
Those adjustments would be invaluable for the facilities affected, said Larry Gardner, the principal for the Spokane Juvenile Detention Center's school.
"Overall it's real tight funding," Gardner said. "We are understaffed."
Gardner, who is also the principal at Structured Alternative Confinement school and Martin Hall Juvenile Facility in Medical Lake, said all three facilities serve about 1,000 kids a year.
The current funding model for institutional education facilities is 25 years old. A facility's funding allocation is based on a count taken at the beginning of the month, which makes it hard to budget or plan.
"It's kind of sick to say," Gardner said, "but the first of the year you're thinking, 'Oh, I hope they arrest some kids.'"
Gardner said the proposed OSPI changes would "help us greatly."
Klinefelter agrees that institutional education should have better support. However, she questions the logic behind which institutions fall under that category, and which don't.
"It's almost like they didn't think about it," she said.
In 2014-15, nearly 11,000 students in Washington state received educational services in an institution, such as a county detention center, a jail or a residential treatment center.
According to Klinefelter, there are 220 juvenile inpatient beds in Washington state; 120 of those are in Spokane.
Although it's harder work than teaching in a traditional school, Tipton, the Daybreak teacher, said it's worth it. She'd just like some more support.
"I feel like I'm making a bigger difference here than I ever would in a regular classroom," she said.
Local journalism is essential.
Give directly to The Spokesman-Review's Northwest Passages community forums series -- which helps to offset the costs of several reporter and editor positions at the newspaper -- by using the easy options below. Gifts processed in this system are not tax deductible, but are predominately used to help meet the local financial requirements needed to receive national matching-grant funds.
Subscribe now to get breaking news alerts in your email inbox
Get breaking news delivered to your inbox as it happens.
---