Sports > Gonzaga women
Gonzaga women rally for first WCC win, beat San Francisco 61-46
Thu., Jan. 5, 2017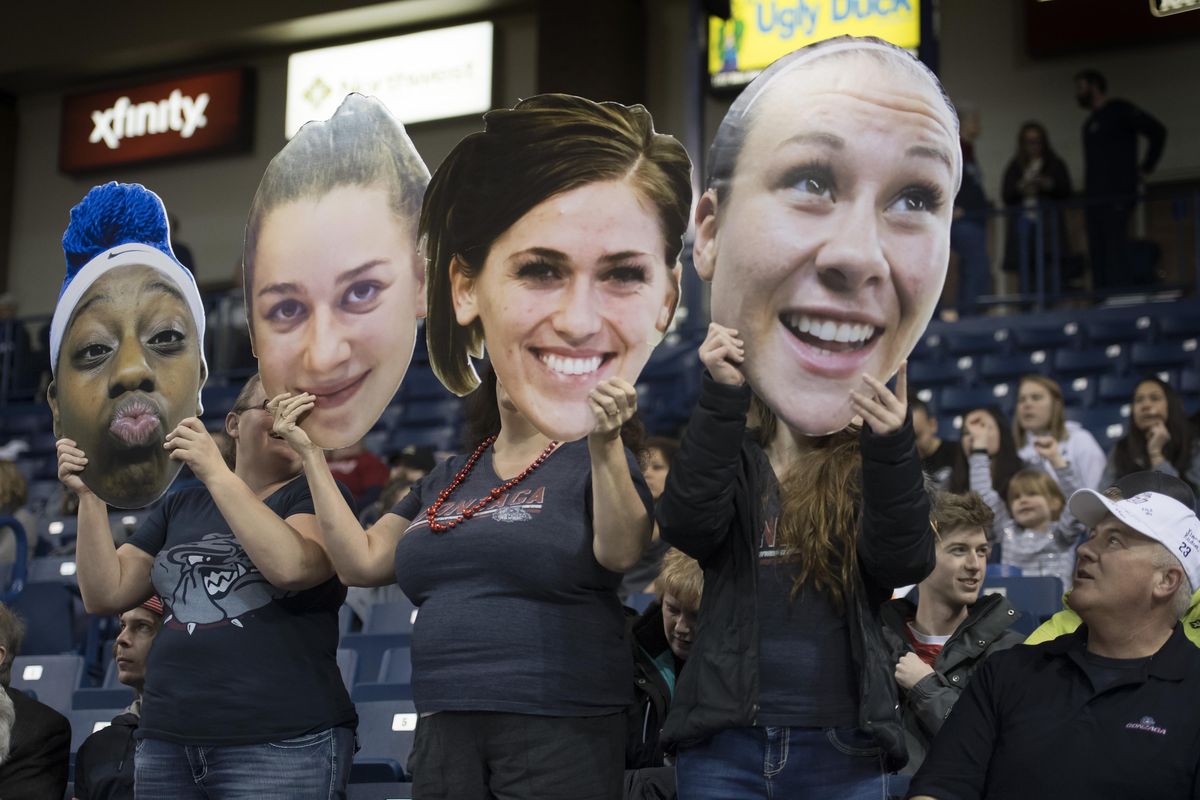 Gonzaga fans hold up posters of Zags' players before the game with San Francisco, Thurs., Jan. 5, 2017, in the McCarthey Athletic Center. (Colin Mulvany / The Spokesman-Review)
Gonzaga's 0-2 record in the West Coast Conference wasn't exactly the kind of start Zags' coach Lisa Fortier had hoped for – especially after a 9-2 preseason that included stunning then-No.11 Stanford on the Cardinal's home court.
Fortier said earlier this week that her team had a brief loss in identity as the Zags struggled in their opening conference games. It seemed like no one really knew exactly what to make of the two disappointments.
"I didn't really know what happened. We struggled offensively knocking down shots and rebounding obviously," senior forward Kiara Kudron said.
Gonzaga got rid of that unwanted "0" in their WCC record when they rallied behind Kudron's game highs of 14 points and 11 boards to beat the San Francisco Dons 61-46 on Thursday night at the McCarthey Athletic Center and give Gonzaga its first win in conference play.
"It feels good," Kudron said. "Getting that first game under the belt is really going to help us (going) forward."
And, they hope, shake off what ever went wrong in their opening matchups.
The Zags struggled the most from 3-point range, shooting 15.9 percent (7 of 43) beyond the arc in their first two conference games against Pacific and Pepperdine, which was last in the WCC at the time. The result was a 62-point drop in the national RPI, landing GU in the 133rd spot.
Despite their difficulties from 3-point range last week, the Zags didn't shy away from those shots on Thursday when Gonzaga took on the WCC-leading Dons.
"We keep telling them, 'Be confident and shoot the shots that everybody expects you to shoot.' I really think confidence comes in repetition," Fortier said.
GU definitely took note of Fortier's advice to keep shooting, even at distance.
The Zags attempted nine 3-pointers in the first quarter, and made none. They shot 16.7 percent (3 of 18) from the field, while the Dons hit nearly half of their field-goal attempts to put them up by as much as seven points in the first. Gonzaga stayed off the board for more than four minutes and kept the fans sinking in their seats as they searched for a reason to stand up and cheer.
It wasn't until senior Makenlee Williams sunk the first 3 in the beginning of the second quarter that the Zags – and the entire arena – finally got hit with a wave of energy.
"It (gave) our team confidence … once we hit that first 3 because we were really seeking it for a while," Kudron.
That small boost in confidence was all the Zags needed to get them in rhythm. With help on the defensive side, some extra points from Kudron's pair of 2-pointers and makes at the foul line by Laura Stockton and Jill Barta, Gonzaga was able to hold the Dons to 22 points and pull within two at halftime.
"We got just enough to keep us going and we never put our heads down," Fortier said.
The Zags put the game away for good in the third, hitting 83.3 percent (5 of 6) at 3-point range and hitting half (7 of 14) of their shots in the field.
Senior guard Elle Tinkle started a streak of 3s in the third quarter that brought some life back to the McCarthey Athletic Center. Junior Emma Stach followed suit with three 3s in a row that put the Zags up 35-29 and had the fans up on their feet cheering.
After sophomore Zykera Rice added two more points off a jumper, Stach stole and tossed the ball to Chandler Smith. The sophomore guard fed off the sudden luck in shots from 3-point range with another 3 that put GU on top 40-29 with one minute left in the third.
"When you feel good then you take another shot … then it keeps it rolling and everyone else is being more confident," said Stach, who also had a couple of assists and a steal Thursday night. "I'm glad I could put a spark in our game."
The Zags face Portland on Saturday at 2 p.m. at the McCarthey Athletic Center.
Local journalism is essential.
Give directly to The Spokesman-Review's Northwest Passages community forums series -- which helps to offset the costs of several reporter and editor positions at the newspaper -- by using the easy options below. Gifts processed in this system are not tax deductible, but are predominately used to help meet the local financial requirements needed to receive national matching-grant funds.
Subscribe to the sports newsletter
Get the day's top sports headlines and breaking news delivered to your inbox by subscribing here.
---