News > Business
Sandpoint's Qkey, which puts online security in a user's hands, shown at CES
Thu., Jan. 5, 2017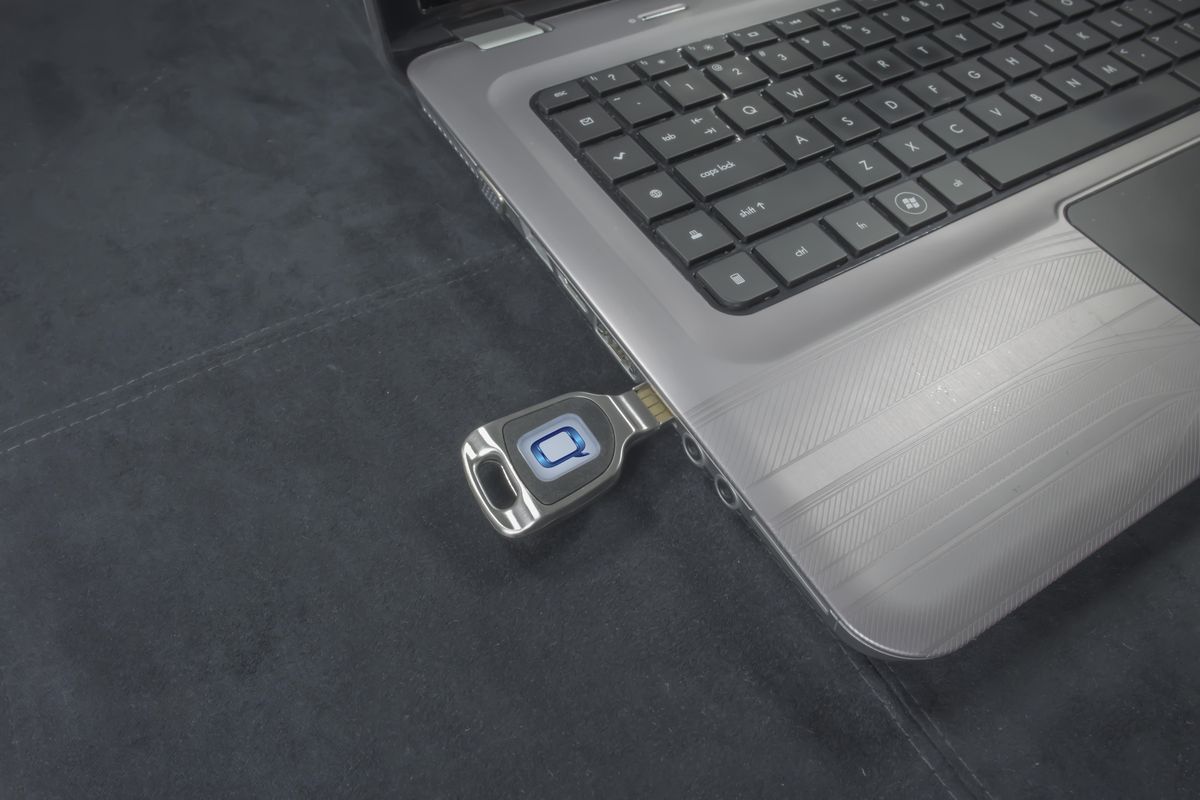 The Qkey, by Sandpoint-based uQontrol, is a way to shop online and secure personal information. The $130 device secures payment data using chip payment card technology, like using a credit or debit card in a store. (uQontrol)
A North Idaho startup aiming to boost online security and a virtual reality company with Palouse roots are showing their stuff this week at CES, the flashy, cutting-edge gadget show in Las Vegas.
The international showcase for consumer technology and next-generation innovations is where you can check out a phone-app controlled cat food dispenser, a levitating speaker and a "smart hairbrush" that tracks the health of your mane. (About time!)
It's also where more practical products are rolled out, such as the Qkey, from Sandpoint-based uQontrol. It's a chip-enabled device that plugs into any USB port and allows the owner to store their credit card information and access online shopping sites without sharing private data that can be stolen. After logging out, the Qkey leaves behind no footprint.
"Effectively, one key, one password, gets you to every web account you may have, just like one credit card or one debit card, and one PIN number, gets you into every retail store," said Christopher Maus, founder and CEO of uQontrol.
"It doesn't connect to any servers; this is the server," Maus said. "Rather than you going out to them, they are coming in to you, at least for the security elements, your secure data."
The new security platform lets consumers take control of their privacy online using the same security elements – chip and PIN technology – that are standard in bank cards.
"We use that same security chip to secure all your access to websites, web accounts, bank accounts and your payment accounts, by separating this data off the grid," Maus said. "So much like you keep your wallet and your keys, your private information, in your pocket, the key does exactly the same thing for the digital world."
With the digital world so interconnected, and with so many companies taking on the responsibility of storing and securing personal data, cybercrime is a thriving industry, he said.
"We believe they're never going to secure the internet. They've had 25 years," he said. "You'll never secure the web. … Most hackers can get into virtually any server, and most all servers in the world have been breached in some very significant ways."
uQontrol subscribes to the decentralized or disconnected web movement. "It's where individuals become more at the center of their data than these web accounts," Maus said.
The company unveiled the concept at CES a year ago, and this week it's announcing the release of Qkey, with shipping anticipated this quarter. The price is $130, and an optional subscription fee will be available for added benefits such as expanded warranty and free replacement of the key.
If the device is lost or stolen, the data cannot be accessed without entering the correct PIN or password, and repeated attempts will shut it down. The data can be backed up on the cloud or a PC, but it's fully encrypted.
"The decrypter key is the key itself, just like your credit card," Maus said.
The Qkey also includes a browser that "makes your PC look more like a mobile phone," he said. He sees the development of apps for the device, such as one for storing one's medical records.
Attending the International Consumer Electronics Show this week will help the company build awareness of its product as well as meet with potential strategic distribution partners, Maus said.
uQontrol has a management team of six in the Sandpoint area and is working with engineers in Seattle; San Jose, California; and Houston, Austin and Dallas, Texas.
Local journalism is essential.
Give directly to The Spokesman-Review's Northwest Passages community forums series -- which helps to offset the costs of several reporter and editor positions at the newspaper -- by using the easy options below. Gifts processed in this system are not tax deductible, but are predominately used to help meet the local financial requirements needed to receive national matching-grant funds.
Subscribe now to get breaking news alerts in your email inbox
Get breaking news delivered to your inbox as it happens.
---