Sports > Seattle Mariners
Mariners acquire Yovani Gallardo from Baltimore for Seth Smith
Fri., Jan. 6, 2017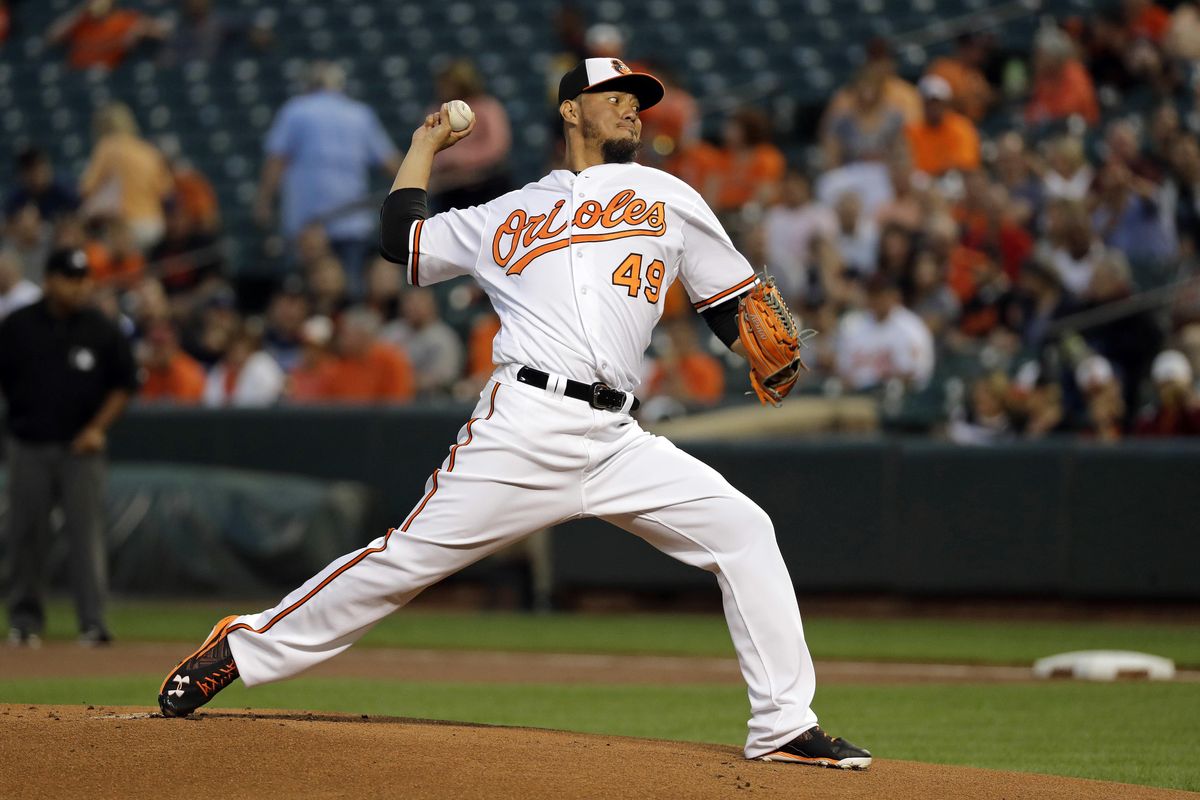 In this Sept. 15, 2016, file photo, Baltimore Orioles starting pitcher Yovani Gallardo throws to a Tampa Bay Rays batter during the first inning of a baseball game in Baltimore. The Mariners landed another option for their pitching rotation on Friday, Jan. 6, 2017, acquiring right-handed pitcher Yovani Gallardo from the Baltimore Orioles for outfielder Seth Smith. (Patrick Semansky / Associated Press)
SEATTLE – The Mariners landed another option for their pitching rotation on Friday, acquiring right-hander Yovani Gallardo from the Baltimore Orioles for outfielder Seth Smith.
Seattle also will receive $2 million from the Orioles, equalizing the 2017 salaries of the players, in a deal that may solve concerns for both teams.
"Gallardo gives us the veteran presence that we have been searching for," Seattle general manager Jerry Dipoto said. "He has a track record of durability and success as a starting pitcher. After examining the free agent and trade market, Yovani is the best fit for our club as we move forward this offseason."
Seattle made a second trade later Friday, sending right-hander Nathan Karns to Kansas City for outfielder Jarrod Dyson and in part replenishing the loss of Smith.
The acquisition of another potential starter was high on Seattle's list of needs after the Mariners traded Taijuan Walker to Arizona in November. Gallardo was 6-8 with a 5.32 ERA in 23 starts last year with the Orioles, a season that included a lengthy early season stint on the disabled list due to shoulder issues. Two seasons ago Gallardo was 13-11 with a 3.42 ERA in 33 starts with Texas.
"It was tough. Last year wasn't fun for me," Gallardo said. "It was down for year for me. It didn't start off the right way. I showed up to spring training late after signing late and I got started a little bit later than normal. That injury early in the year, it was very frustrating. I think this offseason I've done everything I can to prepare myself to avoid that for the rest of my career. I'm looking forward to a bounce back year."
Seattle is hoping Gallardo can revert to that past form. Prior to his one season with the Orioles, Gallardo had made at least 30 starts in seven straight seasons and had an ERA under 4.00 in six of those seven years. Gallardo's contract has an $11 million salary this year and includes a $13 million team option for 2018 with a $2 million buyout.
"I started my normal offseason program, started working out three weeks after the season is over and trying to get stronger," said Gallardo, who has yet to decide if he'll pitch for Mexico in the World Baseball Classic. "I'm doing all the work I can do to prepare myself."
The cost for Seattle was significant but fills Baltimore's need for another corner outfielder. Smith was one of Seattle's more consistent hitters during his two seasons and was expected to be a platoon outfielder for them again this year. While he hit only .248 and .249 in his two seasons with Seattle, he had an on-base percentage of .330 and .342 in both of those seasons.
"We dealt from an area of surplus," Baltimore vice president of baseball operations Dan Duquette said. "We had six starters to fill an area of need, and that was left-handed hitting, on-base capability and an outfielder. So we like the trade from that perspective. We re-allocated some of our resources and in the process we strengthened our team."
Last season, Smith appeared in 137 games and had 16 home runs and a career-high 63 RBIs. He was also Seattle's best hitter with runners in scoring position, hitting .326 in those situations.
Smith is due $7 million in 2017 and can become a free agent after the season. Baltimore will make $500,000 payments to Seattle on May 1, July 1, Sept. 1 and Nov. 1.
"He's a good on-base man and he's also a good RBI man. He had a good record hitting with men on base this year," Duquette said. "He knows his way around the batter's box and knows his way around the American League."
Local journalism is essential.
Give directly to The Spokesman-Review's Northwest Passages community forums series -- which helps to offset the costs of several reporter and editor positions at the newspaper -- by using the easy options below. Gifts processed in this system are not tax deductible, but are predominately used to help meet the local financial requirements needed to receive national matching-grant funds.
Subscribe to the sports newsletter
Get the day's top sports headlines and breaking news delivered to your inbox by subscribing here.
---