News > Nation/World
Gunman kills five at Fort Lauderdale airport
Jan. 6, 2017 Updated Fri., Jan. 6, 2017 at 1:07 p.m.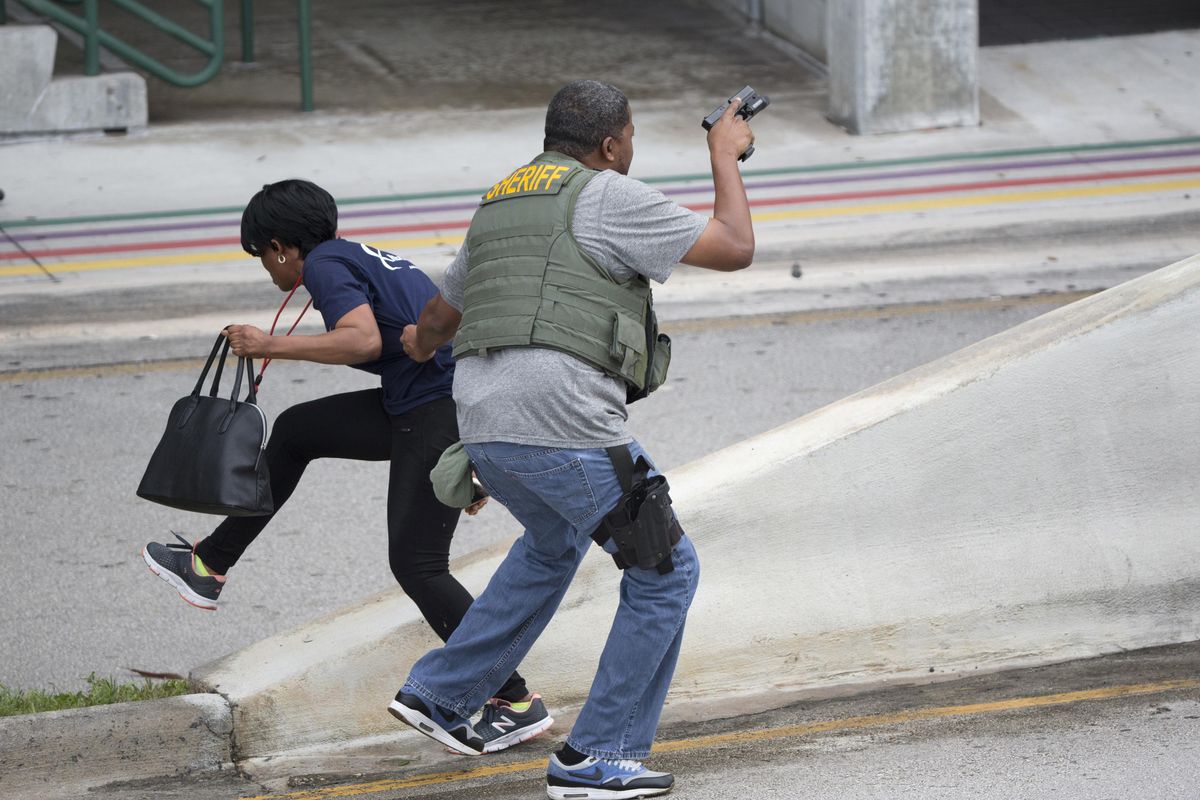 A law enforcement officer evacuates a civilian from an area at Fort LauderdaleHollywood International Airport, Friday, Jan. 6, 2017, in Fort Lauderdale, Fla. A gunman opened fire in the baggage claim area at the airport Friday, killing several people and wounding others before being taken into custody in an attack that sent panicked passengers running out of the terminal and onto the tarmac, authorities said. (Wilfredo Lee / Associated Press)
An Iraq War veteran who had complained that the government was forcing him to watch Islamic State videos pulled a gun from his checked bag and opened fire Friday afternoon at the Fort Lauderdale's international airport, killing five people and injuring eight, authorities said.
The bloody rampage at a quiet baggage-claim area sent people scrambling through the terminals and across the airfield at one of the country's busiest airports, shutting down all flights for hours while paramedics and federal and local law enforcement officers flooded the scene.
The alleged gunman, identified by authorities as 26-year-old Esteban Santiago of Anchorage, was taken into custody unharmed. He had been given a general discharge from the Alaska National Guard in August after being demoted in rank, military officials said.
In November, he visited an FBI office in Anchorage and told agents that his mind was being controlled by a U.S. intelligence agency and mentioned the ISIS videos, according to a senior federal law enforcement official. The FBI contacted local authorities, who took Santiago to undergo a mental-health evaluation, a senior law enforcement official said.
After interviewing Santiago's relatives and conducting other reviews and checking with other agencies, the bureau closed its assessment of Santiago, the official said.
Friday night, Santiago was being questioned by police and the FBI, and authorities said that his motive remained under investigation. In Anchorage, law enforcement officials descended on a small house where Santiago's name was on the mailbox, along with the names of two others.
"This could well be someone who is mentally deranged, or in fact it could be someone who had a much more sinister motive that we have to worry about every day, and that is terrorism," said Sen. Bill Nelson, D-Fla. "We can't conclude that."
Santiago, a U.S. citizen with ties to New Jersey and Puerto Rico, picked up his bag from the carousel, went to a restroom to load his gun, returned to the baggage-claim area and began firing at people, said federal officials who spoke on the condition of anonymity to discuss the ongoing investigation.
Travelers are allowed to take firearms with them on flights as long as the guns are unloaded, locked in hard-sided containers and placed in checked baggage, according to the Transportation Security Administration. Ammunition can be taken onto flights but also must be placed in checked baggage.
The bag with the firearm was the only baggage that Santiago checked when he traveled alone from Anchorage to Minneapolis and then Florida, said Jesse Davis, chief of police at Ted Stevens International Airport in Anchorage, where passengers routinely travel with weapons. "We're a big hunting state, so we get quite a lot of that," Davis said.
"Everything appeared normal," Davis said. Santiago checked in for his Delta Air Lines flight more than four hours early, which was unusual, Davis said, but "didn't call attention to himself at all."
A federal law enforcement official familiar with the investigation said that the suspect did not appear to say anything during his first interactions with police that suggested a political or terrorism-related motive. According to some witness accounts, he reloaded at least once and continued firing on horrified passengers, then lay down on the floor in a spread-eagle position and waited for authorities to arrest him.
Officials said the suspect had acted alone. Another flurry of nervous activity erupted at the airport later Friday afternoon when there were reports of additional gunfire, but Broward County Sheriff Scott Israel said there was no evidence of a second shooting.
The attack took place in the baggage-claim area at the airport's Terminal 2, home to departures and arrivals for Delta and Air Canada, according to the airport. Footage from the scene inside the building captured the brutal aftermath of the shooting in the baggage area, on the airport's lower level.
Jay Cohen was dropped off at the airport for a flight and arrived after the gunfire had stopped, finding an unusual scene at the usually bustling facility.
"The airport was like a ghost town," Cohen, 51, a consultant, said in a telephone interview. "I didn't see anyone around."
It wasn't until he walked all the way up to the Delta counter without encountering a line or a single soul that he noticed about 20 people huddled together behind a nearby concrete wall. He said he peeked over the counter and saw the Delta employees on the ground trying to cover their heads with their hands.
"Hurry up. Get behind here," someone whispered to him, he said. "Active shooter. Active shooter."
As he looked around the terminal he previously thought was abandoned, he now could see people hiding under benches and squished up against windows, he said. Then Cohen saw police officers running at full speed through the terminal, some with guns drawn, others with their hands on their holsters, while police cars began screaming up to the curb.
"It went from eerie quiet from when I walked in to pure mayhem in just minutes," he said. "It was chaos."
Many of those at the airport expressed frustration with the lack of information Friday. Hundreds were stranded on the airfield and not allowed off the premises for hours as authorities sought to clear the airport, looking for other danger.
Sophia Macris, 35, on her way to vacation in Florida, was on her just-arrived plane from New York when the shooting occurred.
"They held our plane on the tarmac," she said in an interview, still standing on the airplane-parking ramp outside the terminal. "First, they told us there was fire alarm in Terminal 2. Then they said emergency situation."
After the shooting, dozens of cars pulled over onto the shoulder of nearby Interstate 595. As hundreds of people waited alongside the highway, family members and friends repeatedly tried to call loved ones who were scheduled to be on arriving flights.
Saintnatus Adition paced along the highway as police cars raced past with sirens blaring. His 71-year-old father had just landed from Haiti when the chaos began. "He called and said it got very busy all of the sudden," Adition said. He had been frantically calling him to find out whether he was OK but had not reached him as of Friday afternoon. "Of course I am very scared," Adition said.
Adition finally heard from his father shortly after 6 p.m.
"I was so happy," he said. "He told me he's OK."
His father, along with thousands of other passengers, was still waiting in a terminal around 7:30 p.m.
As evening approached, family members and stranded airport employees lining the roads grew anxious. Police kept up a heavy presence, and an access road used mostly by airport employees was also closed and jammed with personnel – maintenance workers, taxi drivers, luggage handlers and others whose livelihoods depend on the busy airport. Most had long finished their shifts and were waiting to go home.
Lee Kospender, 53, a luggage handler, had been waiting in his truck for four hours. "We were working a flight and then saw people being evacuated. Now we've been out here in our cars for hours. Pointing towards a group of officers blocking the road, he said, "I've talked to them five times. We can't leave."
All flights were suspended following the shooting, and the airport was closed, officials said. Officials at other major airports across the country, including in Los Angeles and Chicago, said they were beefing up security in response to the shooting in Florida.
President Barack Obama was briefed on the situation and spoke by phone with Florida Gov. Rick Scott and Broward County Mayor Barbara Sharief to extend his condolences on "the tragic loss of life," said Ned Price, spokesman for the National Security Council.
"This is a senseless act of evil," said Florida Gov. Rick Scott (R), who traveled to the airport to make his latestpublic remarks in the aftermath of a shooting rampage in his state.
Local journalism is essential.
Give directly to The Spokesman-Review's Northwest Passages community forums series -- which helps to offset the costs of several reporter and editor positions at the newspaper -- by using the easy options below. Gifts processed in this system are not tax deductible, but are predominately used to help meet the local financial requirements needed to receive national matching-grant funds.
Subscribe now to get breaking news alerts in your email inbox
Get breaking news delivered to your inbox as it happens.
---