News > Pacific NW
6-year-old girl back to sassy self after amputation
Sat., Jan. 7, 2017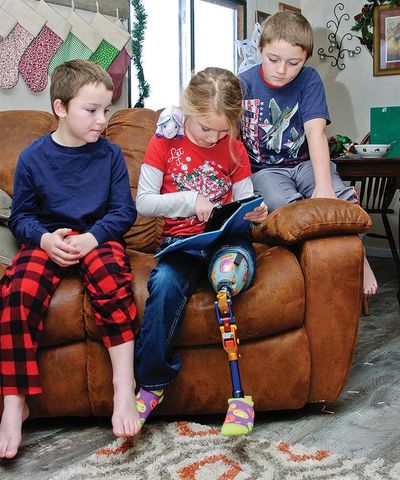 NORTH POWDER, Ore. – A few months ago Chelsie Thompson was in a wheelchair and waiting for her prosthetic leg to be built, but on this wintry morning three days before Christmas she wants what any 6-year-old girl wants when school's out.
"Can I go play in the snow?" Chelsie pleads to her mom, Erin Thompson.
The answer, which includes that dreaded word – "later" – is not to Chelsie's liking, reported the Baker City Herald.
As she sits beside her mom on the couch in the Thompson family's living room, Chelsie squirms and frowns and cajoles, a dynamo of energy and static electricity that makes her golden hair, tied in a neat ponytail, flutter as if in a breeze.
Erin smiles the sort of smile familiar to any parent of a healthy and exuberant child, a pleasant mixture of love and exasperation.
But it's the twinkle in Chelsie's limpid brown eyes that makes Erin's heart swell with joy.
That twinkle is the essence of Chelsie's spirit, the symbol of her spunky personality.
And it is a gift that no package beneath a Christmas tree could ever begin to rival.
"She's still our little girl, the same as she was before," Erin said, her own eyes now glistening.
"She's back to her sassy little self," Erin said. "She does all the things she used to do. She has a leg now. She can walk just fine. Those are the things you don't realize how much you want."
Not until you think you might lose them.
And Erin and her husband, Colby, thought for a brief but terrible period earlier this year that they might lose Chelsie.
What they lost was part of Chelsie's left leg.
Which, compared with the mischievous grin that shines like a December sunrise on Chelsie's face as she wriggles out of her mom's arms, seems not important at all.
Recovery
The accident with the riding lawnmower happened on June 3 at the Thompsons' home near North Powder.
Chelsie, who had just finished kindergarten, had her left leg amputated about 2 inches above the knee.
For the next three months the family endured many nights in hospitals and many days of separation.
Erin and Colby, both 33, have three other children – Cash, who's Chelsie's twin brother; daughter Jacee, 11, and son Cade, who's 9.
"We were gone a lot, and Chelsie did require a lot more attention for the first months," Erin said. "And she was in pain."
But when school started, and Chelsie enrolled as a first-grader, the Thompsons' hectic schedule resumed pretty much as it had before the accident.
"We haven't really changed any of our routines," Erin said. "We've always just gone forward, through the ups and downs."
Chelsie was still using a wheelchair when classes started.
But the first week of November she was fitted with her prosthetic leg at the Shriner's Hospital for Children in Portland.
Chelsie chose her own fabric for the upper part of the leg – a design featuring the Shopkins, the line of toy characters that's her favorite.
The foot of the prosthetic has nails, which quickly were painted with a glittery blue polish that Chelsie also picked.
It took a while, though, for her to adjust her walking gait to the new leg.
"When we came home in November she was still wanting assistance with her crutches, or holding onto our hand," Erin said.
But a couple weeks later, Chelsie "just decided to walk all around," Erin said.
"Since then she's taken off. She's really so much faster than when we left (the hospital)."
Even before Chelsie had her prosthetic, though, she refused to give up some of her favorite hobbies.
Over Labor Day weekend she traveled with her family to the Baker County Fair at Halfway, where she showed her 4-H pig, the aptly named Bacon.
Chelsie even entered the greased pig catching contest.
"We've never just let her sit there," Erin said. "We joke about it. She lost a leg, and that was it."
Gratitude
The Thompson household is as bustling as you would expect on a ranch that includes four kids anxious for Christmas to arrive, as well as five dogs and two cats. But Erin said things aren't exactly the same as before June 3.
"No one plans for something like this, and we've definitely found a new normal," she said. "You just have to add in the extra time to get ready."
This, of course, affects Chelsie in particular.
"When you get up you have to put your leg on," Erin said.
The Thompsons have adjusted as well to the sorts of conversations that most families never have.
There is for one the issue of "phantom pain." It manifests as pain in the limb that was amputated.
Chelsie also came up with names both for the foot she lost – "Charlie" – and for the remnant of her left leg, which she calls "Barley."
(The origin of both names remains a mystery, Erin said.)
"She tells us that Barley hurts," Erin said.
But those episodes are increasingly rare, and Chelsie is more likely these days to ask to play basketball at the North Powder gym, or ride a four-wheeler or a horse with her dad, than she is to complain.
This enthusiasm is particularly gratifying to the Thompsons, who, more than most parents ever will, understand that children don't always recover as well as Chelsie has.
They saw many children who didn't, at the hospitals where they spent so much time this summer and fall.
"People say this is such a tragic thing, but I don't feel like it affected our family in a tragic way," Erin said. "It probably pulled us closer together. I think you look more at the blessings you have rather than the hardships.
"Even in the times that were hardest, you knew that everything was going to be OK, and that those blessings were going to be there for us."
Erin said that the psychological effects of the accident probably have been more persistent for her and for Colby than for Chelsie.
Erin belongs to a Facebook group of parents whose children were hurt in lawnmower accidents, and that has been a valuable outlet for her.
Chelsie has not suffered from nightmares about the accident, and one of the few times she has referred to June 3 was when she was outside with Erin and they walked close to the lawnmower.
"She said, `mom, be careful, there's the lawnmower,"' Erin said.
"We let her talk about (the accident) whenever she wants, but she hasn't asked any questions for a long time."
Which suits Chelsie's parents, who have only to deal with the persistent demands of a rambunctious 6-year-old who just wants to get out in the snow on a chilly but sunny December morning.
"It could have been a lot worse," Erin said, and again a few tears spill from her eyes. "You think about how grateful you are. She's healed fine. She does exactly what she wanted to do before. We know we can handle this."
Local journalism is essential.
Give directly to The Spokesman-Review's Northwest Passages community forums series -- which helps to offset the costs of several reporter and editor positions at the newspaper -- by using the easy options below. Gifts processed in this system are not tax deductible, but are predominately used to help meet the local financial requirements needed to receive national matching-grant funds.
Subscribe now to get breaking news alerts in your email inbox
Get breaking news delivered to your inbox as it happens.
---