Sports
Late foul shots lift Montana past Eastern, 65-59
Sat., Jan. 7, 2017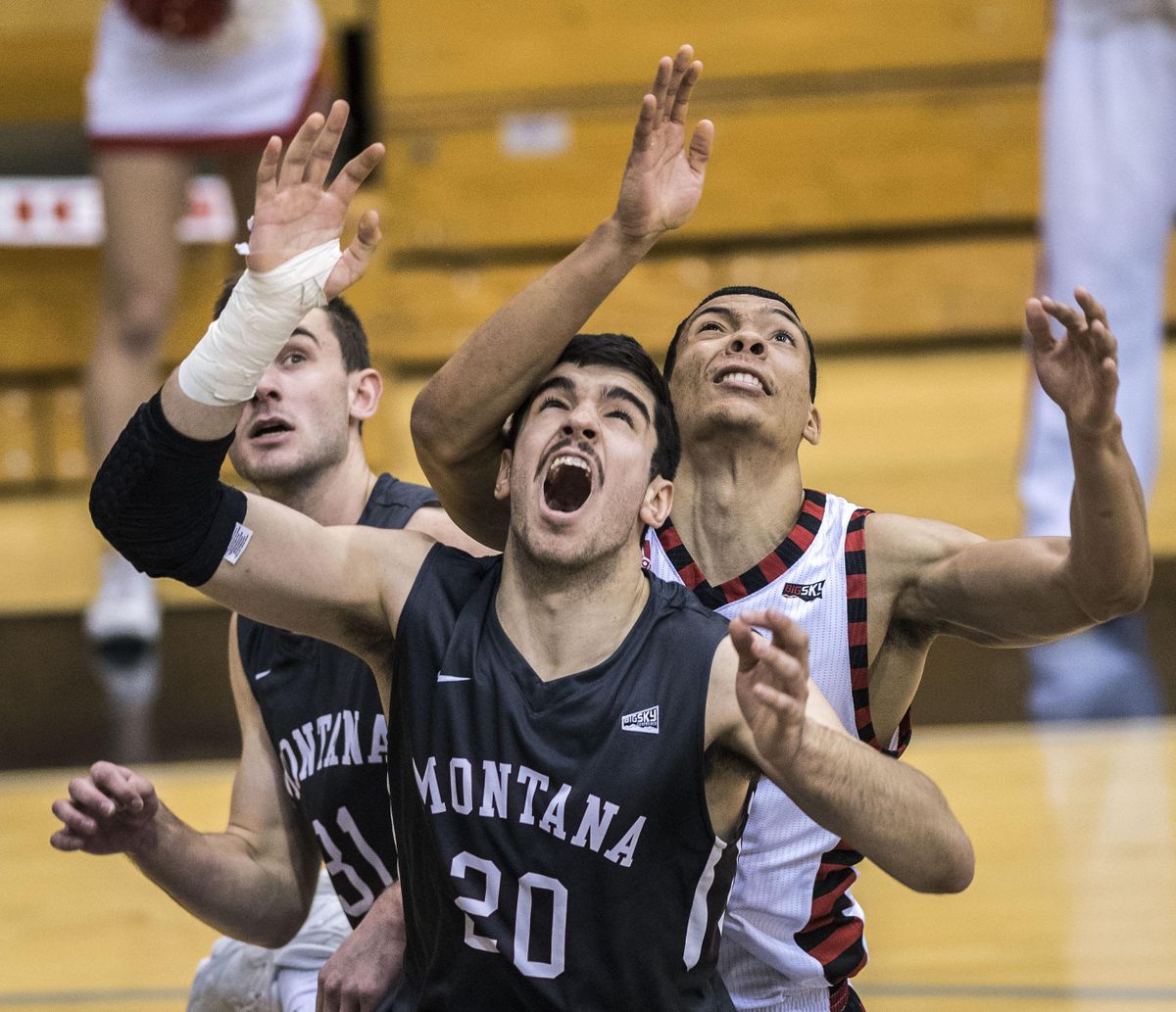 Eastern Washington forward Jacob Wiley battles Montana forward Fabijan Krslovic for a rebound, Jan. 7, 2017, in Cheney, Wash. (Dan Pelle / The Spokesman-Review)
The Eastern Washington players will move on from this one. They don't have a choice.
Presumably so will the officials, who blew a crucial call that loomed large in the Eagles' 65-59 Big Sky Conference loss to Montana on Saturday afternoon at Reese Court.
With 52 seconds left and Eastern leading by one point, Montana guard Walter Wright drove the lane but appeared to travel before making contact with Eagle guard Sir Washington.
Wright flopped to the floor, Washington drew a foul and the refs drew the ire of most of the 2,107 fans.
The boos intensified as Wright made both foul shots.
Eastern still had a chance to pull to pull out a win, but Bogdan Bliznyuk and Felix Von Hofe each missed 3-point shots and the Griz made five more free throws to pull away.
"They made big plays in the last minute and we didn't," EWU coach Jim Hayford said. "It's a tough one, a really tough one."
No doubt about that. Not only did the Eagles suffer their first home loss of the season, but it came courtesy of their rivals and also knocked them out of a share of first place in the conference.
And it didn't go down any easier after video clearly showed Wright traveling before he reached Washington on the right foul line.
"We thought we played some really good defense and forced a travel, but it wasn't and was a foul on us," Hayford said after his team fell to 10-6 overall and 2-1 in the Big Sky.
Pressed to comment further – Montana was 16-for-24 at the line while Eastern went 7-for-8 – Hayford demurred.
"The Big Sky officiating has been really good this year, and those guys are under a lot of stress. They're going to look at that tape more than anyone else," Hayford said.
So will the Eagles, who led most of the way and were ahead 53-48 after Bliznyuk got two of his game-high 21 points on a layup with 5 minutes, 18 seconds to play.
But Montana guards Ahmaad Rorie and Michael Oguine hit back-to-back threes to give the visitors a one-point lead before EWU forward Jacob Wiley answered with a pair of free throws.
The teams went back and forth for three minutes of one-possession basketball before Washington hit a jumper to put the Eagles ahead 59-58 with exactly a minute left, setting up his encounter with Wright a few seconds later.
"This was about resilience," Montana coach Travis DeCuire said.
Indeed, this was a game of runs from the beginning. Eastern opened the game with a 7-0 run. Montana responded with eight straight before the Eagles tacked on seven more to lead 14-8.
Eastern led for all but 18 seconds of the first half, and on three occasions by seven. A jumper from Bliznyuk put EWU up 21-14 with 5:04 before intermission, but Montana went on a 9-2 run before Ty Gibson's jumper gave the Eagles a 25-23 halftime lead.
The Griz (8-9 overall, 3-1 Big Sky) took a six-point lead on a pair of threes by Oguine, who combined with backcourt mates Wright and Rorie for 48 points.
The Eagles countered with their frontcourt. Forward Jacob Wiley – who started his collegiate career at Montana – had a career-high 14 rebounds but was held to 3-for-10 shooting.
Bliznyuk handled most of the ball-handling chores, but missed all seven of his 3-point attempts; Felix Von Hofe was 1-for-7 had a season-low three points.
"That's on the players. We have to get better," Bliznyuk said.
As a team, the Eagles were 23-for-57 from the field (40.4 percent) and just 6-for-19 from long range.
"We can shoot better – Bogdan and Felix can shoot better than that from three," said Hayford, who takes the Eagles to Idaho State and Weber State next week.
"Jake is shooting over 60 percent and today he was at 30 percent. At the end of the day, credit Montana's defense – we have to make more baskets," Hayford said.
Local journalism is essential.
Give directly to The Spokesman-Review's Northwest Passages community forums series -- which helps to offset the costs of several reporter and editor positions at the newspaper -- by using the easy options below. Gifts processed in this system are not tax deductible, but are predominately used to help meet the local financial requirements needed to receive national matching-grant funds.
Subscribe to the sports newsletter
Get the day's top sports headlines and breaking news delivered to your inbox by subscribing here.
---