Sports
Osweiler returns to lead Texans over Oakland 27-14 in NFL playoffs
Sat., Jan. 7, 2017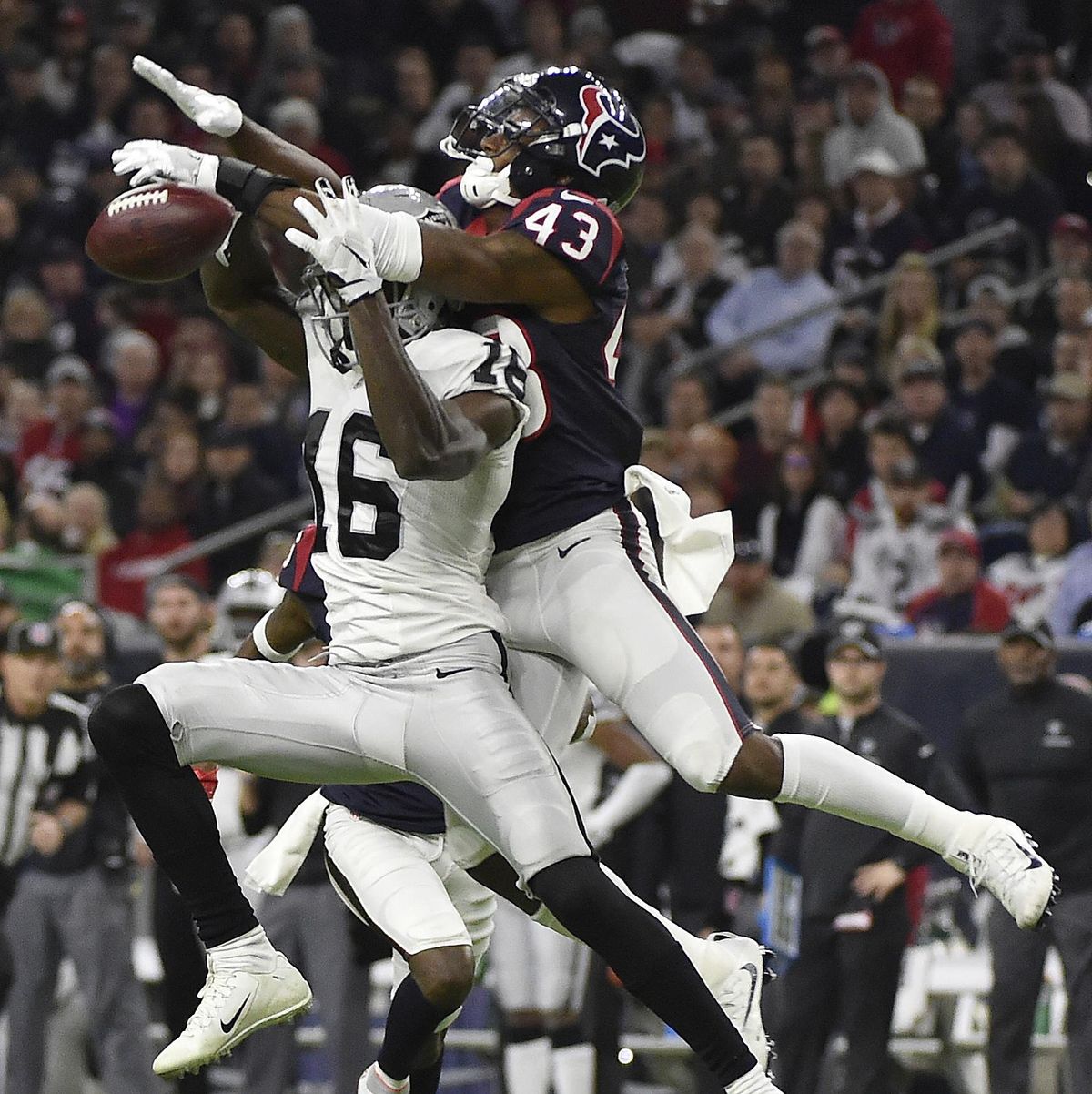 Houston Texans strong safety Corey Moore (43) breaks up a pass intended for Oakland Raiders wide receiver Johnny Holton (16) during the second half of an AFC Wild Card NFL game Saturday, Jan. 7, 2017, in Houston. The Houston Texans won 27-14. (Eric Christian Smith / Associated Press)
HOUSTON – Brock Osweiler redeemed himself after last month's benching. Jadeveon Clowney established himself as a postseason force.
And the Houston Texans got their first playoff victory since the 2012 season Saturday against the Oakland Raiders.
Osweiler threw for a touchdown and ran for another to lead the Texans to a 27-14 wild-card playoff win over Oakland. Clowney, erasing any doubts he deserved to be the top pick in the 2014 draft, got his first career interception.
Osweiler, benched on Dec. 18, got his job back this week with Tom Savage out with a concussion, played his best game of the season. It was the first career playoff game for Osweiler, who was benched for Peyton Manning before the postseason last season with Denver, and coach Bill O'Brien said he'll start again next week. Osweiler finished with 168 yards passing.
"It just goes back to having confidence in my teammates," Osweiler said. "Believing in what you see and just rip it. Cut it loose and don't have any hesitation. I trust that my teammates, the skill guys, they're going to be where they're supposed to be . and they're going to make me look good in the end."
Houston (10-7) and its top-ranked defense, led by Clowney and Whitney Mercilus, bounced back after an embarrassing 30-0 wild-card loss to Kansas City last season to advance to face either the Chiefs or New England in the divisional round next weekend. Clowney was roundly criticized in his first two injury-plagued seasons before starring this year to help make up for the loss of J.J. Watt.
"Those guys picked me No. 1; they (saw) something in me," Clowney said. "Things didn't go well earlier in my career, but I'm on the right track now. Things are coming together, I'm healthier. I'm playing good ball and we're all coming together and playing good defense."
The Raiders' first trip to the playoffs since the 2002 season, when they went to the Super Bowl, ended with a thud behind the struggles of third-string rookie quarterback Connor Cook. He threw for 161 yards with one touchdown and three interceptions.
"It was his first start, on the road, in a playoff game, against the No. 1-ranked defense. It was a tough draw for him," coach Jack Del Rio said. "We had hopes that we would be able to do enough around him so he wouldn't have to do as much."
He became the first quarterback in NFL history to make his first start in a playoff game. He was pressed into action after MVP contender Derek Carr broke his leg two weeks ago, and Matt McGloin injured his shoulder last Sunday. His performance wasn't helped by star left tackle Donald Penn missing the game with a knee injury, which ended a streak of 160 straight starts.
"We missed Donald, he had a great year for us, " Del Rio said. "Losing a Pro Bowl tackle was a blow."
Houston led by 13 at halftime and made it 27-7 on a 1-yard run by Osweiler early in the fourth quarter.
The Raiders (12-5) cut the lead when Andre Holmes grabbed an 8-yard touchdown reception on their next possession. Oakland got a stop after that, but Corey Moore intercepted Cook on the next possession.
"I was trying to do too much out there, at times," Cook said.
Oakland cornerback David Amerson believes things would have been different if not for the team's injuries.
"I've got all the faith in Connor or Matt – any backups we've got," he said. "But they know, at full strength, ain't nobody in the league touching us, man. We're going to take this loss on the chin, and we're going to come back, for sure."
Local journalism is essential.
Give directly to The Spokesman-Review's Northwest Passages community forums series -- which helps to offset the costs of several reporter and editor positions at the newspaper -- by using the easy options below. Gifts processed in this system are not tax deductible, but are predominately used to help meet the local financial requirements needed to receive national matching-grant funds.
Subscribe to the sports newsletter
Get the day's top sports headlines and breaking news delivered to your inbox by subscribing here.
---