Sports > Seattle Seahawks
Paul Richardson shows the flash in Seahawks' romp of Detroit
Sat., Jan. 7, 2017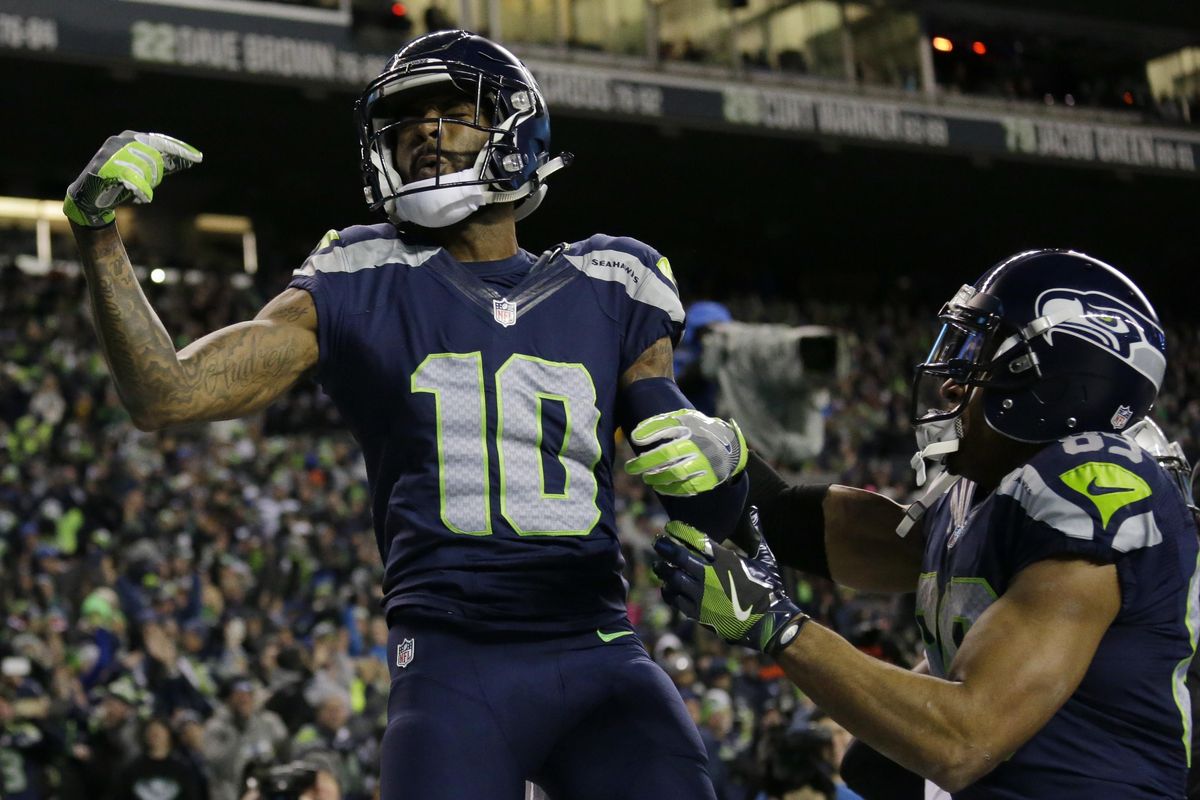 Seattle Seahawks wide receiver Paul Richardson (10) celebrates with wide receiver Doug Baldwin after Richardson caught a pass for a touchdown against the Detroit Lions in the first half of an NFL football NFC wild card playoff game, Saturday, Jan. 7, 2017, in Seattle. (Elaine Thompson / Associated Press)
SEATTLE – With the emergence of Doug Baldwin, the arrival of Tyler Lockett and a list of injuries that slowed his development, Paul Richardson was seemingly forgotten as one of the pass catching options for the Seattle Seahawks.
He won't be overlooked any more. Not after Saturday night.
Richardson's acrobatic 2-yard touchdown reception was the beginning of Seattle's 26-6 romp over Detroit in the NFC wild card game on Saturday night, sending the Seahawks into an anticipated matchup with the Atlanta Falcons.
If Richardson can continue to be this involved in the offense it adds an element that was feared lost when Lockett suffered a broken right leg in a Week 16 loss to Arizona. Lockett was the one who could help push the ball downfield and stretch a defense.
Richardson has the speed to fill that role. Against the Lions he showed the capability of making the catches when called upon.
And none was more remarkable than his first career playoff touchdown.
"That was one of the best catches you'll see, ever," Seattle quarterback Russell Wilson said.
Richardson went horizontal reaching out with his left hand to cradle a fourth-down pass as he was being interfered with by Tavon Wilson. What wasn't called on the play was Richardson's right hand yanking on the facemask of Wilson as he reached to make the catch.
"I didn't know that I had it until I got it honestly," said Richardson, who also had a one-handed 27-yard catch in the fourth quarter. "It was a tough play but it worked out."
While Richardson had the flash, Thomas Rawls did the grunt work rushing for a franchise-record 161 yards and a 4-yard touchdown in the fourth quarter. It was the reemergence of a run game for Seattle that has seen fleeting success for much of the season. After three straight games with less than 90 yards rushing as a team, the Seahawks finished with 177 yards rushing.
"It's nice to have our run game back. It feels like Seattle again," Seahawks right tackle Garry Gilliam said.
Seattle's win will take the Seahawks back to a critical point in what has developed over the past five seasons. It was Seattle's 30-28 loss to Atlanta in the 2012 NFC divisional playoff on a last second field goal that became the spark for a run to two straight NFC championships and one Super Bowl title.
And now they'll go back to the Georgia Dome with a chance to prove that an inconsistent team during the regular season really does have a pedigree to make another Super Bowl run.
Here's what else to know from Seattle's 10th straight home playoff win:
Late fade
Detroit was in position a month ago not just to be playing at home in the postseason but have a coveted bye.
Kicking away the NFC North title and any chance at the No. 2 seed with three straight losses to end the regular season, and then falling to the Seahawks will sting going into the offseason.
"They did exactly what we thought they was going to do," Tavon Wilson said. "They just did what they was going to do better than we did."
It was the ninth straight postseason loss for the Lions , whose last road playoff victory was in 1957 at San Francisco. Detroit's last playoff win was 38-6 at home over Dallas in the divisional round on Jan. 5, 1992.
Slow them down
Seattle shut down Detroit's Matthew Stafford, holding him to 205 yards passing and three sacks. Detroit didn't run a play inside the Seattle 33-yard line.
Due to his injured finger and a makeshift offensive line, Stafford didn't have an opportunity to test Seattle's secondary downfield. Detroit had only two pass plays longer than 20 yards.
Slowing down All-Pro quarterback Matt Ryan may be a little tougher.
But Ryan will gladly push the ball downfield, especially now with Earl Thomas out for the season. When the teams played earlier this season, Ryan had four pass plays of 24 yards or longer, including touchdowns of 46 and 36 yards.
"We understand them, we understand what they like to do," Seattle cornerback Richard Sherman said.
Baldwin's mistake
Doug Baldwin is clearly the favorite target of Russell Wilson. For the second time in three games, Baldwin finished with double-digit receptions. He had 13 catches in Week 16 against Arizona and had 11 catches for 104 yards and a touchdown against the Lions.
It was the last catch – his 13-yard TD – that Baldwin felt awful about. Baldwin ran the wrong route and stole the pass from the intended receiver Jermaine Kearse.
Mentor vs. mentee
Dan Quinn became one of the hottest coaching commodities in the NFL learning under Pete Carroll. Now the pair will meet with a trip to the NFC championship at stake.
Carroll improved to 9-4 in the playoffs with Seattle after the victory over Detroit. Next Saturday's game will be Quinn's first playoff game as a head coach.
Local journalism is essential.
Give directly to The Spokesman-Review's Northwest Passages community forums series -- which helps to offset the costs of several reporter and editor positions at the newspaper -- by using the easy options below. Gifts processed in this system are not tax deductible, but are predominately used to help meet the local financial requirements needed to receive national matching-grant funds.
Subscribe to the sports newsletter
Get the day's top sports headlines and breaking news delivered to your inbox by subscribing here.
---