Sports > Seattle Seahawks
Rumbling again, Thomas Rawls leads Seattle past Detroit, 26-6
Sat., Jan. 7, 2017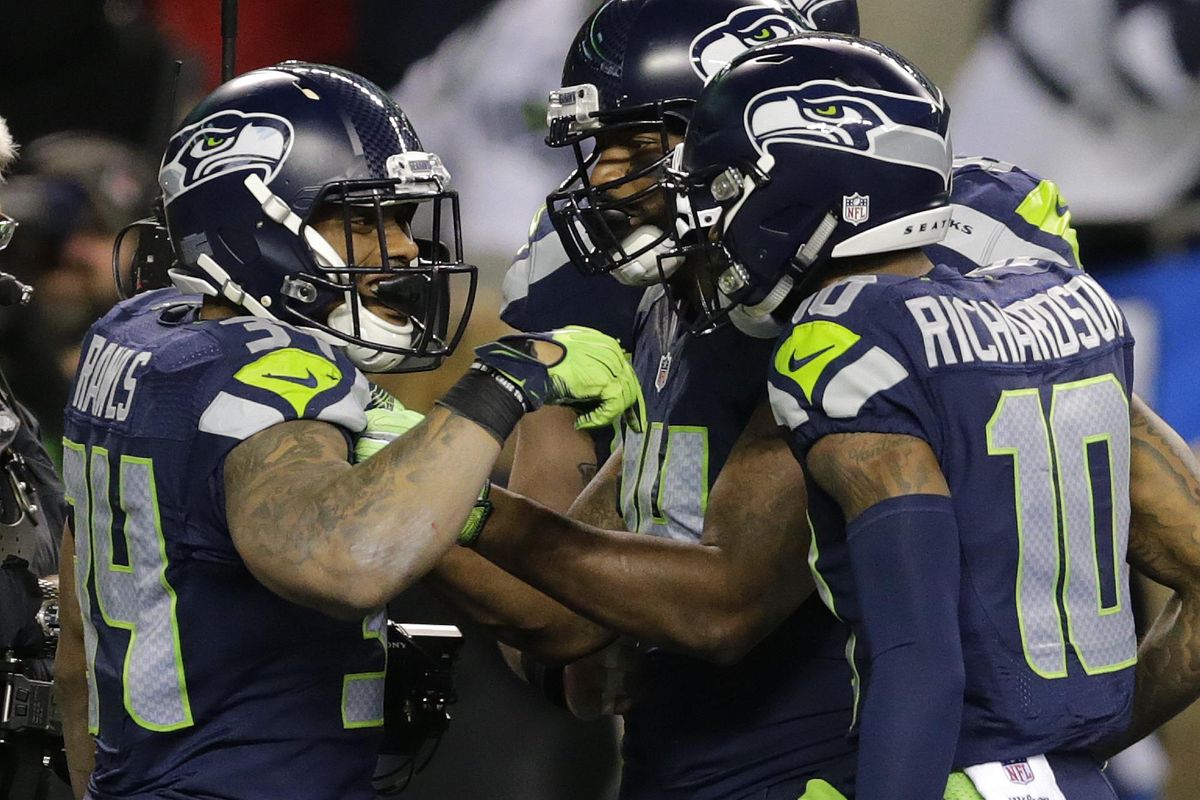 Seattle Seahawks running back Thomas Rawls, left, is greeted by wide receiver Paul Richardson, right, after Rawls scored a touchdown against the Detroit Lions in the second half of an NFL football NFC wild card playoff game, Saturday, Jan. 7, 2017, in Seattle. (Stephen Brashear / Associated Press)
The Seahawks like to end their weeks with "No Repeat Friday" practices. The idea: By then their plays have been practiced so well they can be run perfectly the first time, and there's no need to run them again.
As receiver Doug Baldwin said, though, "For whatever reason we have a whole bunch of repeats on both sides of the ball" during a typical week.
Baldwin thinks at times the coaches do it just to keep the players on their feet.
"Just to (upset us)," he said.
But this week, as the Seahawks prepared for an NFC wild-card playoff game against Detroit, Baldwin said the coaches could find little wrong.
"They couldn't make us repeat any plays because we were so much on it," Baldwin said. "You could just feel the energy and the focus, that everybody was locked in."
The Seahawks took that week of practice and translated it into maybe their most complete performance of the season Saturday night, beating the Lions 26-6 at CenturyLink Field.
Afterward, just about every player in the Seahawks' locker room said the game had the feel of so many wins in previous seasons.
"It felt like old-school Seahawks football," said tight end Luke Willson, who having been with the team since 2013 already is becoming a grizzled veteran.
Saturday's performance looked like old-school Seahawks football, too. The Seahawks ran for 177 yards, their second-most this season. They were led by Thomas Rawls' 161 rushing yards, which set a Seattle postseason game record (previously held by Marshawn Lynch, who ran for 157 vs. Green Bay in the NFC title game two years ago).
After bludgeoning the Lions on the ground Seattle turned to the air, with Russell Wilson throwing for 179 yards in the second half to put the game away. Doug Baldwin finished with a Seattle-playoff-record 11 catches for 104 yards – including seven for 86 in the fourth quarter.
All of which was more than enough with the Seattle defense reverting to form. It held the Lions to two long field goals and did not allow Detroit to get past the Seahawks' 33-yard-line.
"Boy that one felt really good," Seattle coach Pete Carroll said. "That was game we have been looking for style-wise and fit-wise, offense, defense, both sides of the ball played great tonight.''
It was the fifth consecutive year the Seahawks won a postseason opener, and they improved to 9-4 in the playoffs since Carroll became their coach in 2010.
Detroit helped at times, with three early drops and an odd fourth-down play call stalling its offense and some ill-timed penalties late that helped the Seahawks.
But this was the type of game the Seahawks needed, as they now play at red-hot Atlanta for a divisional-round game next Saturday at 1:35 p.m. Seattle time.
Carroll had said during the week he wanted Rawls to get at least 20 carries. It seemed ambitious given how the running game had struggled before this week.
But Carroll almost got Rawls half that many carries in one tone-setting drive in the second quarter.
After the Seahawks stopped Detroit on fourth down, the Seahawks took over at their 40 and called nine consecutive runs to move into Lions territory. The drive ended with one of the game's more memorable plays – a one-handed catch by Paul Richardson on fourth-and-2.
But it was the way the Seahawks ran that would resonate most. They ran it 11 times on the drive for 54 yards, including eight carries for 49 yards for Rawls. That would have qualified for the fourth-most yards in any game this season for him.
"It's nice to have our run game back," right tackle Garry Gilliam said. "It feels like Seattle again."
Carroll said the oft-criticized offensive line turned in its best run-blocking performance of the season.
"I'm really fired up for the guys up front," Carroll said. "They had a lot of garbage come their way, a lot of talk about them, and they are really pumped up about what they did today."
Gilliam said there was nothing different schematically.
"It was just a matter of going out there and having the (guts) to do it," he said.
It's long been the Seattle formula for the run to help set up the pass, and Baldwin said he felt that's exactly what happened late.
"It opens up everything for us," Baldwin said. "Everything runs through our run game, and when Thomas Rawls is doing that they can't help but put another safety in the box, and that gives us one-on-one matchups outside."
Seattle led just 10-6 going into the fourth quarter before big plays in the passing game blew it open.
Richardson took advantage of man coverage to make another one-handed catch in the fourth quarter before Baldwin then tried to one-up (or maybe one-rump) him with a juggling grab in which Baldwin pinned the ball to his backside as he fell to the turf.
Baldwin capped the scoring with a 13-yard TD, after which he admitted he was in the wrong spot, stealing the ball away from intended receiver Jermaine Kearse.
But that sort of made sense on a day when everything worked out for Seattle as it rarely has of late.
Baldwin later gently chided the media. He had said a few days ago that the offense had not been consistent "yet." He noted a few reporters had wondered if there was time left to find that consistency.
"It's never too late," Baldwin said. "We had an opportunity again tonight to play Seahawks football, and we were able to do that."
Local journalism is essential.
Give directly to The Spokesman-Review's Northwest Passages community forums series -- which helps to offset the costs of several reporter and editor positions at the newspaper -- by using the easy options below. Gifts processed in this system are not tax deductible, but are predominately used to help meet the local financial requirements needed to receive national matching-grant funds.
Subscribe to the sports newsletter
Get the day's top sports headlines and breaking news delivered to your inbox by subscribing here.
---