Sports > Seattle Seahawks
Grip on Sports: Gonzaga's icy reception in Portland will mean another trip later
Sun., Jan. 8, 2017
A GRIP ON SPORTS • What is that old joke about the weather? Everybody talks talks about it, but no one does anything? It's funny because it's true. Well, no, it's not rally all that funny. And, sometimes, the only thing you can do about bad weather is give in. Read on.
••••••••••
• Such was the case in Portland last night. Well, most cases, but we'll get back to that.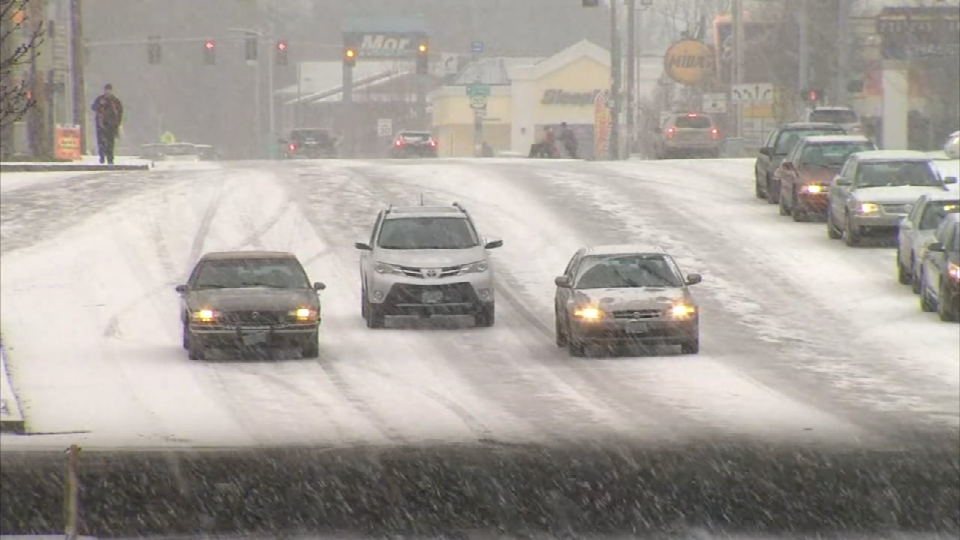 Mother Nature decided to envelop Oregon's largest city with an icy embrace Saturday, leading to public safety authorities to warn folks to stay off the roads. That's all well and good unless you had tickets to a sporting event.
You know how sports fans are. You are one.
If someone had given you a ticket to see the Blazers play, you were going, come hell or high water. Except neither of those happened yesterday. Snow, ice, sure. But no fire and brimstone, whatever brimstone is.
Besides, no one has ever cancelled a game due to too much brimstone on the roads.
First the Portland Winterhawks cancelled their contest with Everett, allowing the Silvertips to get out of town before the roads shut down. Then the Blazers axed their game, citing fan safety.
Once that happened, it was going to be hard for the University of Portland to keep its game with Gonzaga on the docket. A safety-precedent had been set. Hold the sold-out WCC game and someone gets hurt in the parking lot? Portland's personal injury attorneys would have been in nearby booth with a sign-up sheet.
So last night's game was postponed.
No makeup date was announced but there will be one. It's a conference matchup. It has to happen. Besides, the trip isn't cross country or anything. Most days of the year, it's not all that bad. Yesterday just wasn't most days.
Oddly, there was another Northwest college basketball game affected by weather Saturday. In Pocatello, Weber State jumped all over Idaho State early then everyone began slipping. Turns out water was dripping from Holt Arena's ceiling. The game was suspended.
A wet basketball floor, as Gonzaga found out in Okinawa (fixed from earlier) not that long ago, isn't safe to play on.
And it wasn't safe enough on the Portland roads to hold last night's game. Except it was – at Portland State.
While the entire city seemed to be shut down, the Vikings hosted Sacramento State. The crowd? According to the official boxscore, it was 211. There were more Spartans at Thermopylae.
And it was a lot warmer too.
•••
Gonzaga: Jim Meehan has the story of the postponement. … The women played yesterday afternoon in Spokane and handled Portland easily. Whitney Ogden has the story. … Retired Seattle Times reporter Bud Withers has a new book on the Gonzaga program. … The rest of the WCC schedule was played, with visiting Saint Mary's holding off a game USF squad in the first matchup between Randy Bennett and his former Gael assistant Kyle Smith. … BYU bounced back from Thursday's defeat with a 91-62 rout of visiting Pacific. … San Diego earned its first WCC win, handling Pepperdine at home.
WSU: Snow fell in Pullman much of the afternoon but that didn't stop the Cougars from hosting 15th-ranked Oregon. The Ducks, despite losing star Dillon Brooks to an early flagrant foul, pulled away in the second half to win, 85-66. Jacob Thorpe has the game story, and he also has video of the postgame interview, with Josh Hawkinson talking about the strangest play he's ever been involved with. Brooks kicked Hawkinson in the groin and was ejected. … Around the Pac-12, there was no such drama in Seattle where the Huskies won their first conference contest, defeating an obviously down Oregon State team. … Utah bounced back and won at Arizona State. … Don't look now, but Arizona seems to be rolling. The Wildcats, still without their best player, defeated Colorado. … UCLA is filling up Pauley Pavilion. … In Pac-12 football, USC receiver JuJu Smith-Schuster is headed to the NFL draft. … Can Washington build on this season's success? … Former Eastern Washington coordinator Troy Smith is being hailed in Utah. … Finally, former WSU track coach John Chaplin will be inducted into the Washington track hall of fame, along with some other local folks.
EWU: With the Seahawk game yet to start, I watched the final minutes of Eastern's 65-59 loss to Montana on SWX. And I was appalled by the ending. As Jim Allen covers in his game story, the game turned on an awful decision by an official in the final minute. Jim describes it perfectly. I will mention the official right next to the play did not call the foul (or the obvious travel). One 20 feet away made the key call. … Dan Pelle has all the photos you could want from the game. … The Eastern women held off Montana in Missoula. … Around the Big Sky yesterday, besides the suspended game in Pocatello, there were a lot of games finished, including Portland State's home win. … North Dakota rolled over Southern Utah 95-65 and Northern Colorado edged Northern Arizona 83-79.
Idaho: The Vandals needed a win and they got it, edging visiting Montana State 83-81 in overtime.
Whitworth: The Pirates needed a win as well, and they got it too. Whitney has the story of their 87-81 home victory over Linfield.
Chiefs: A long shootout ended with Kootenay earning a 3-2 win over Spokane in the Arena. Josh Horton has the game story. … Tri-City picked up a road win last night.
Preps: It was semi-quiet on the prep front yesterday, though we can offer a wrestling roundup and ones from boys and girls basketball.
Seahawks: I guess I am part of the complacent crowd when it comes to the Hawks. Either that or this season's ups-and-downs have drained my emotion. Last night's 26-6 wild-card playoff win over Detroit was fun and all, but it didn't seem all that exhilarating – except for a couple plays. After all, it is only the first game in what will be a three-game slog if the Hawks are to make the Super Bowl. Yes, Thomas Rawls' running was powerful, the offensive line's run-blocking was exceptional and the defense's staying power was laudable. Yet many of the same deficiencies that submarined the latter part of the season were still there. Russell Wilson was under way too much pressure against a weak Detroit pass rush, the Hawks didn't get pressure on Matt Stafford until late and the special teams were not good. Still, it's on to Atlanta. It's also a chance for playoff revenge. … The officials got off to a poor start and never really recovered.
•••
• The snow began after dark last night and there was nowhere we had to be. So when I let the dogs out this morning, it was sitting there in its all its bright-white glory. Beautiful. Hopefully it will also be light. Until later …
Local journalism is essential.
Give directly to The Spokesman-Review's Northwest Passages community forums series -- which helps to offset the costs of several reporter and editor positions at the newspaper -- by using the easy options below. Gifts processed in this system are not tax deductible, but are predominately used to help meet the local financial requirements needed to receive national matching-grant funds.
Subscribe to the sports newsletter
Get the day's top sports headlines and breaking news delivered to your inbox by subscribing here.
---