Sports
Josh Hawkinson on groin kick: 'Weirdest play I've been a part of'
Sun., Jan. 8, 2017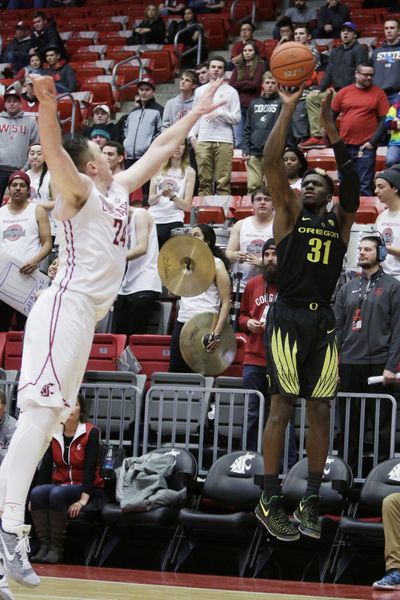 Did Oregon's Dillon Brooks intentionally kick Washington State's Josh Hawkinson in the groin during Saturday's Pac-12 game in Pullman?
Regardless of the intention, Brooks, one of the best players on the Oregon roster, was ejected by the officials for a flagrant 2 foul.
Hawkinson recovered and finished with 10 points and nine rebounds in the 85-66 loss.
"Brooks plays with a certain fire and passion in him and I think he brings a lot of energy himself and to the rest of the team," Hawkinson said. "When he left, we knew we had to capitalize and that it was a window of opportunity. For the rest of the first half I think we did capitalize, and it was tied at halftime. But then we didn't come out with the same intensity that we had in the first half."
Local journalism is essential.
Give directly to The Spokesman-Review's Northwest Passages community forums series -- which helps to offset the costs of several reporter and editor positions at the newspaper -- by using the easy options below. Gifts processed in this system are not tax deductible, but are predominately used to help meet the local financial requirements needed to receive national matching-grant funds.
Subscribe to the sports newsletter
Get the day's top sports headlines and breaking news delivered to your inbox by subscribing here.
---