Sports > Outdoors
Kim Thorburn has scientist's open mind to making policy for hunting, fishing
Sun., Jan. 8, 2017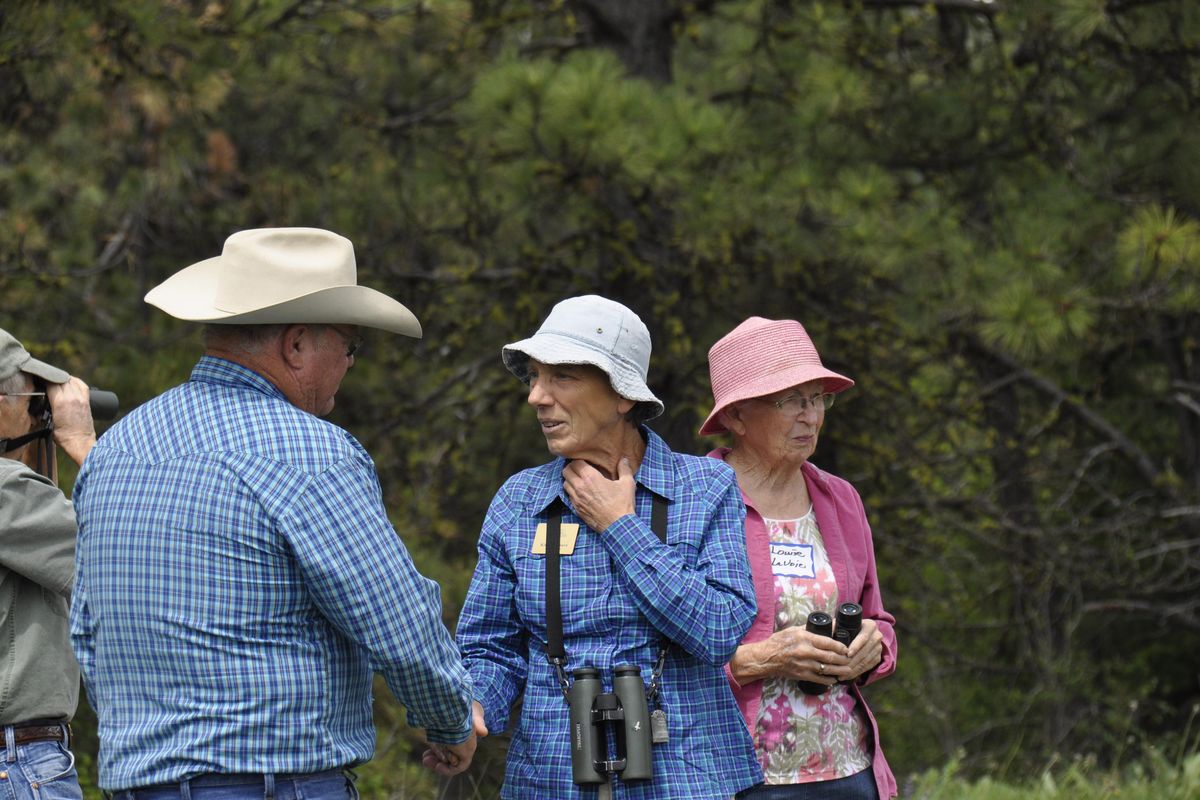 Kim Thorburn, Washington Fish and Wildlife Commissioner from Spokane, was among guests at the May 26, 2016, dedication of the 4-O Ranch Wildlife Area in Asotin County. (Rich Landers / The Spokesman-Review)
If you know more about fish and wildlife than she does, expect to answer some questions.
The first impression Kim Thorburn seems to make on everyone is her insatiable appetite for learning and understanding.
The doctor trained to assure the health of human populations has been volunteering for three years to help oversee the well-being of Washington's fish and wildlife.
Thorburn was drawn to Washington from Hawaii in 1997 to head the Spokane Regional Health District through 2006. She made an unsuccessful run for Spokane county commissioner in 2008. Two years ago she accepted Gov. Jay Inslee's appointment to the Washington Fish and Wildlife Commission. She's currently being considered for reappointment.
The nine-member citizen panel sets policy for the Washington Department of Fish and Wildlife on a wide range of topics, from setting hunting and fishing seasons to acting on land transactions and endangered species management.
"The learning curve on the commission is really steep," she said, seeming to relish the challenge.
Indeed, Columbia River salmon management policy and a briefing on the Profanity Peak Wolf Pack are on the agenda for the next Washington Fish and Wildlife Commission meeting, Friday and Saturday in Vancouver, along with an update on lower Columbia River sturgeon, and a status review of woodland caribou, Western pond turtles and sandhill cranes and details on wildlife-related land transactions.
She visited the Fish and Wildlife regional office in Spokane shortly after being appointed and asked to be briefed on the biology of a three-point minimum whitetail antler requirement in two popular hunting units of northeastern Washington. She needed to know why the rule was in place and why it was divisive among hunters.
"If she's not a hunter or fisherman, she has no business being on the Fish and Wildlife Commission," said a long-time member at an Inland Northwest Wildlife Council meeting last year. He blurted out the fairly common opinion from the floor during a club report on the latest commission meeting.
"Don't be so sure," said Art Meikel, who had mentioned Thorburn as the area representative on the commission in his report after attending the meeting. "She's doing a good job."
"That woman has forgotten more good science than I'll ever know," said George Orr, a former Fish and Wildlife commissioner and state representative from Spokane.
"She asked Chris Donley (Regional fisheries biologist) to take her fishing so she could learn more about Lake Roosevelt issues and I got to ride along in the back seat," Orr said. "Just sitting there and listening to those two talk was worth the trip. A fascinating wealth of information was exchanged."
Thorburn has also assisted at hunter check stations and has participated in ride-alongs with fish and wildlife police officers to understand some of the issues they have with enforcement.
State Rep. Brian Blake (D-Aberdeen), who chairs the House Agriculture and Natural Resources Committee, paid Thorburn a high compliment, Orr said. "We were talking about fish and wildlife issues," Orr recalled, "and Blake said, 'The person I can rely on for truth and science on fish and game issues is Thorburn, a vegetarian ornithologist.' "
Thorburn grew up active in 4-H and raising farm animals. She chuckles about being outed as a vegetarian.
"It's really nothing philosophical," she said. "I think I OD'd on meat early in life growing up on a hobby farm where the rule was that we didn't use the name of the meat on the table. I try to eat a little fish every once in a while because it's so healthy."
Her interest in wildlife was piqued in 2003 during a birding class taught by Maurice Vial of the Spokane Audubon Society.
"That was it," she said. "My husband, Terry, now warns everybody that birding is an addiction. Early treatment recommended."
She eventually became a leader in the local Audubon chapter and has organized birding classes and field trips such as last week's Christmas Bird Count.
Her birding life list already has soared to around 600 species, a number she hopes to spike this year with a trip to South Africa.
"There are two kinds of birders," she said. "The competitive ones and those who are more interested in the biology of the birds they see and hear. I'm more into the biology, although maybe that's because I'm not organized enough to keep good lists."
Thorburn connected with professional wildlife biology by volunteering to help with sage and sharp-tailed grouse restorations in Lincoln and Douglas counties.
From 2005 to 2013, about 200 sharptails were translocated and released in Lincoln County along with 287 sage grouse from 2008 to 2015. Thorburn became a key volunteer for monitoring the birds with radio telemetry.
"I learned to appreciate the prairie grouse and the experience also bolstered my appreciation for fish and wildlife professionals," she said. "I may have driven a few biologists crazy with my questions on grouse behavior."
Being on the Fish and Wildlife Commission takes Thorburn's wildlife interests to another level – where science meets policy and politics.
Allocation is a key word in the decisions and controversies involving the commission – how many elk will archery, muzzleloader and rifle hunter groups each be allowed to harvest, for example.
Rationing quotas of variable salmon runs among commercial, sport and treaty fishermen is the state's ultimate stew of controversy and tension.
"The issues are a very complex mix of science, endangered species rules, legal and treaty requirements and the differences between the sport and commercial fishermen as well as other states and Canada," she said, noting that the state must comply with federal fisheries requirements.
"Salmon recovery and fish allocation is very important and consumes a lot of time. It took quite a while before I knew enough to even ask good questions.
"I look at fish and wildlife policy as a big picture, preferring to leave the nitty-gritty specific stuff to our staff."
The use of bait in hunting deer and elk emerged during her first year on the commission as divisive issue among hunters.
"We heard passionate testimony for the entire year," she said. "The fair chase side felt there should be no baiting for ungulates while those who favored baiting said it boosted opportunity, especially for youth, seniors, disabled hunters and archers.
"I have to say I'm drawn to the fair-chase arguments, and I even stopped feeding birds – with the exception of hummingbirds – after listening to the testimony. I'd rather see what birds do naturally.
"But in the end, the biologists couldn't tell me there was a biological issue with baiting if we added a few more restrictions."
At that point, she said she sided with giving more hunters more opportunity.
Plenty will be on the commission's plate in 2017, she said, including the inevitable wolf recovery issues and wild steelhead protection considerations.
Thorburn wants to explore more ways to protect wildlife habitat with acquisitions and partnering with ranchers and farmers to manage wildlife lands.
Non-game wildlife funding also should come under the spotlight because of a new national initiative that was introduced in Congress last session.
Game animals comprise only a fraction of the wildlife species in Washington, yet they get the most attention because they generate the most interest and money from user fees and license sales, she said.
"That's understandable," she said. "But we need a way to stabilize support for managing non-game species. Nearly 270 species of concern are listed in Washington. Less than half have any sort of directed efforts because of lack of funding.
"The managers at Swanson Lakes Wildlife Area have to cobble together grants and federal funding to get anything done."
The Association of Fish and Wildlife Agencies is campaigning for a national funding source for non-game wildlife from a percentage of oil and gas leases on public lands. The bill called for dedicating $1.3 billion of federal revenue to a Wildlife Conservation Restoration Program. The money would be allotted to the states with some sort of matching funds requirement.
Thorburn said she'll urge the Washington commission to support the initiative.
"If reappointed as a commissioner, I want to help bridge the gap between non-consumptive wildlife users and the hunters and fishers who also love wildlife but pay a lot of the bills," she said.
"I want to help people who don't understand the contribution hunters and fishers make to wildlife conservation."
Local journalism is essential.
Give directly to The Spokesman-Review's Northwest Passages community forums series -- which helps to offset the costs of several reporter and editor positions at the newspaper -- by using the easy options below. Gifts processed in this system are not tax deductible, but are predominately used to help meet the local financial requirements needed to receive national matching-grant funds.
Subscribe to the sports newsletter
Get the day's top sports headlines and breaking news delivered to your inbox by subscribing here.
---