Sports
Luke DeCock: Allen's suspension appropriate, but behavior remains worrisome
Sun., Jan. 8, 2017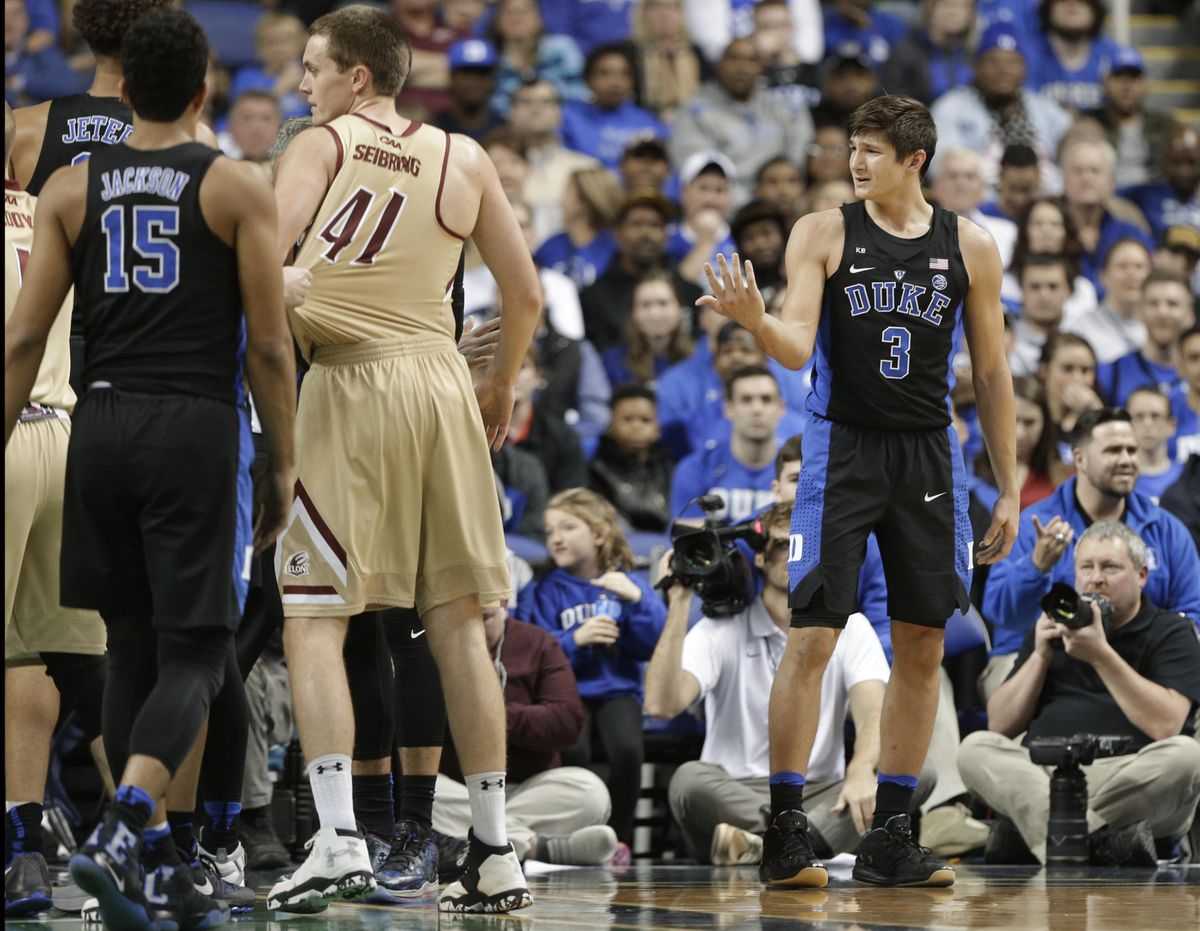 Duke's Grayson Allen (3) reacts after being called for a foul from tripping a Elon player in the first half of an NCAA college basketball game in Greensboro, N.C., Wednesday, Dec. 21, 2016. (Chuck Burton / Associated Press)
DURHAM, N.C. – Unlike Saturday, Grayson Allen came out to warm up with his teammates Wednesday. It was a sign. His uniform was not for show. His suspension over, Duke's most important player was back in the starting lineup.
The question of Allen's availability was the least of the questions hanging over Duke against Georgia Tech, given the news that Mike Krzyzewski will undergo back surgery Friday and is likely to miss four weeks. Still, the mechanics of how Allen ended up suspended remain hazy.
Krzyzewski said after the Dec. 21 game in Greensboro in which Allen tripped Elon's Steven Santa Ana that he didn't need anyone's advice how to handle discipline for Allen's third tripping incident, and since Allen returned to that game in the second half, a suspension certainly appeared unlikely at Krzyzewski's instigation – especially after Krzyzewski took pains to highlight Allen's personal apology to Santa Ana and Elon coach Matt Matheny that night.
By the next morning, Allen was suspended indefinitely, which turned out to be one game, Duke's loss at Virginia Tech on Saturday. The ACC almost always prefers schools act before the conference has to step in, and there could be no argument that Duke's previous decisions to not suspend Allen worked. So whether Krzyzewski had a change of heart, Duke came to that decision on its own or the ACC indicated it would suspend Allen if the school did not, the right decision was eventually reached.
More worrisome than the trip was Allen's reaction on the bench, a tantrum that appeared to be directed not at the officials – who made an obvious call – but himself. Without indulging in amateur psychology, Allen's anger certainly had every appearance of someone berating himself who could not control his own actions. If Allen really can't stop himself from tripping people, it's a situation that calls for as much empathy as vitriol, hard as that may be to stomach.
Now that Allen is back on the court, he'll have to be on his best behavior. He's a marked man, the target of every instigator. While there will be calls from all corners that his suspension should have been longer, that has as much to do with what a polarizing figure he is even when his feet are not involved. A one-game suspension was an appropriate reaction to this most recent tripping incident but further recidivism would call for much harsher measures as much as it would be a cry for help.
Local journalism is essential.
Give directly to The Spokesman-Review's Northwest Passages community forums series -- which helps to offset the costs of several reporter and editor positions at the newspaper -- by using the easy options below. Gifts processed in this system are not tax deductible, but are predominately used to help meet the local financial requirements needed to receive national matching-grant funds.
Subscribe to the sports newsletter
Get the day's top sports headlines and breaking news delivered to your inbox by subscribing here.
---