News > Pacific NW
Mount Vernon tattoo shop defies norms of male-dominated field
Sun., Jan. 8, 2017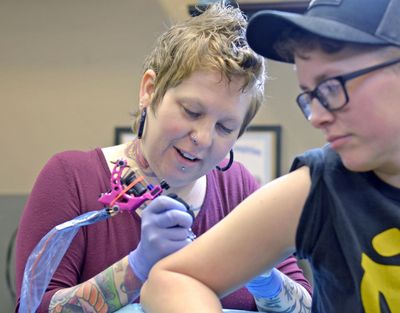 MOUNT VERNON, Wash. – About 25 years ago, Darius Sessions struggled to find an apprenticeship to become a tattoo artist.
It wasn't because she lacked artistic skill, she said. Instead, it was for reasons beyond her control.
"All shops were male-dominated and they were upfront about how they thought women shouldn't be in there," Sessions said.
Sessions now owns Good Vibes Body Art in downtown Mount Vernon, reported the Skagit Valley Herald.
Her shop bucks industry norms by employing more women than men as artists.
Including Sessions, there are four female artists and two male artists, and Sessions plans to bring in another female artist as an apprentice in January.
The nearest shop with a similar number of female artists is in Seattle, Sessions said.
She said although it's still less common to find women working at tattoo shops, the gender gap in the industry has narrowed since she started.
"The populace in general is desiring a softer side to this industry," she said. "People are realizing there are a lot of fantastic female artists."
When Sessions decided to pursue her career, she looked for an apprenticeship for about five years before nearly giving up. She moved to Bellingham, where a woman who owned a tattoo parlor took Sessions under her wing.
About 17 years ago, following her apprenticeship, Sessions and then-business partner Jason Brown started Good Vibes Body Art.
In trying to manage the business, Sessions said she often ran into gender discrimination. Once, she said, she encountered discrimination while calling tattoo shops to ask for tips about how they ran their businesses.
"I was told repeatedly they would not talk to me because I'm a female," Sessions said. "It was heartbreaking."
Because she wasn't taken as seriously, Sessions let Brown take the more authoritative role.
"He would get a better response," she said. "Over the years I've learned to deal with it."
Brown said he noticed Sessions had to work harder to gain respect as a tattoo artist. His appearance – 6 1/2 feet tall with lots of tattoos – gave him instant credibility, he said.
"Women have to work harder to prove themselves," Brown said. "It's part of our culture … (Darius) has to work harder to gain trust."
Sessions took full control of the shop 5 1/2 years ago when she bought Brown's share of the company. That put all the business responsibilities on her shoulders.
Since then, she said she's picked up ways to interact with some of her male counterparts in the industry.
"Instead of telling them I need something, I ask them for help, be more submissive," said Sessions, shrugging. "It works."
Gender discrimination has decreased over the years, Sessions said. She's seen hopeful signs of change.
"It's slowly morphing to being a friendlier industry," she said.
Brown agreed.
"It's gotten a lot better," he said. "But it's still probably more difficult for women to break into than men."
Good Vibes Body Art is at the forefront of that positive change, Sessions said, with customers often expressing relief over its welcoming atmosphere.
"There's a lot of shops that are scary to people who are new to the scene," Sessions said. "If you walk into a shop full of skulls with some scary dude who makes fun of your design, people don't like that. People thank us for being so nice."
Melysa Fieffer, an artist at Good Vibes Body Art, was about to begin tattooing an anchor on a client's upper back.
"Ready?" Fieffer asked. "I'm just going to start off on this little part for you."
Fieffer has been a tattoo artist for eight years and recently started working at Good Vibes Body Art. She said it's the most women she's ever worked with at a tattoo shop.
She said it's unusual and recalled having a rough time in the early part of her career.
"As a girl in my apprenticeship, I was disrespected," she said. "After that, there were a couple other shops where guys didn't treat me very nicely and I didn't stay in those shops very long because of it."
Shauna Rodriguez was the first woman Sessions brought on about 4 1/2 years ago. Rodriguez said Sessions' shop was the perfect fit for her and she appreciated the chance to work in the industry.
"I didn't want to be in an old-school environment and treated like a shop girl," Rodriguez said. "I was holding out to find a good shop to grow as an artist."
Sessions said she's proud to be a part of the changing landscape of the tattoo industry, and she especially values her co-workers who make it possible.
"I love my job and love the people here … I can say that this group of women and men that are here, I'm just in love with them," she said.
Local journalism is essential.
Give directly to The Spokesman-Review's Northwest Passages community forums series -- which helps to offset the costs of several reporter and editor positions at the newspaper -- by using the easy options below. Gifts processed in this system are not tax deductible, but are predominately used to help meet the local financial requirements needed to receive national matching-grant funds.
Subscribe now to get breaking news alerts in your email inbox
Get breaking news delivered to your inbox as it happens.
---