News > Spokane
Paw Print Genetics moving to Franklin Park Medical Center
Sun., Jan. 8, 2017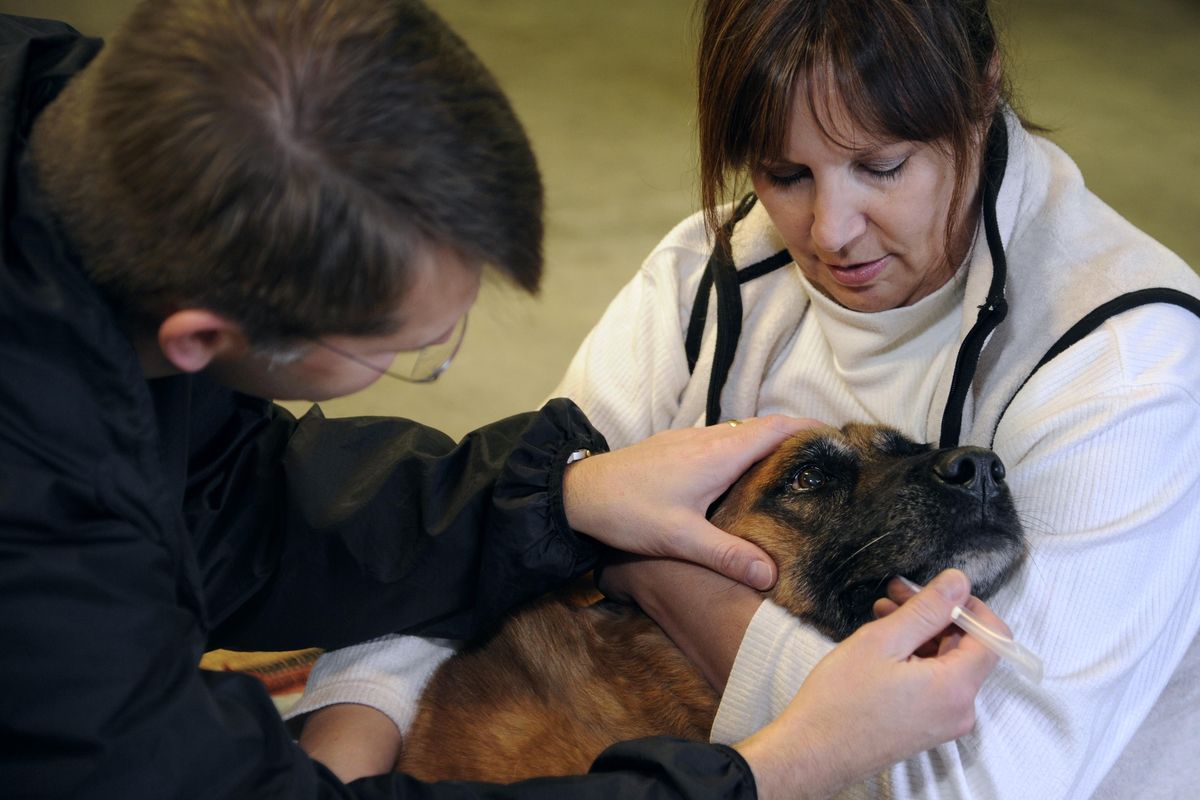 Paw Print Genetics CEO and co-founder Lisa Shaffer founded the company in 2012. The company has outgrown its current location and will move to the Franklin Park Medical Center. (Colin Mulvany / The Spokesman-Review)
Paw Print Genetics, a Spokane canine DNA diagnostic center, will move into larger quarters by early March.
The laboratory service will take over a 7,000-square-foot space in the Franklin Park Medical Center, 220 E. Rowan Ave., after tenant improvements. Al French, project architect, is an owner of the medical building.
The new site will include lab and research spaces, and an area for customers to bring dogs for diagnostic services, said CEO Lisa Shaffer, who launched Paw Print Genetics with husband, Jeff Shaffer, in fall 2012. The lab can do on-site testing with a cheek swab, she said.
The couple opened a facility for testing in April 2013 inside the McKinstry Innovation Center, and its current operations with 20 employees will move from that location.
"We are able to more than double our space," Shaffer said. "We're growing so fast that we need the additional space."
Paw Print Genetics offers genetic diagnostic testing for more than 200 inherited disorders in canines. Shaffer also previously co-founded Signature Genomics Laboratories and left that company in 2012.
Linc Foods will open distribution center
Linc Foods, a Spokane food cooperative, has leased space to open its first distribution center. It partners with about 40 regional farms and sells locally grown foods on a wholesale basis to restaurants, school districts, universities and food services.
Co-founder Beth Robinette said the center is expected to open later this month in a 2,100-square-foot facility at 3012 N. Nevada St.
Linc is co-owned by farmers and three employee owners. It also sells products to the general public through a community-supported agriculture program. Robinette said Linc recently added a fourth employee and may hire an additional person.
It has operated out of a shipping container in a parking lot near the McKinstry Innovation Center.
In addition to the new distribution center, the co-op also operates a craft malting business, Palouse Pint, which will remain in the Spokane Business & Industrial Park in Spokane Valley. Palouse Pint offers several different malts for breweries, distillers, bakers and other customers.
Bellevue company buys apartments
RH Spring Creek LLC, of Bellevue, has purchased as an investment a 35-unit apartment building at 324 S. Inland Empire Way in Spokane.
Darren Slackman and Mitch Swenson, both of Black Commercial, handled the transaction.
Local journalism is essential.
Give directly to The Spokesman-Review's Northwest Passages community forums series -- which helps to offset the costs of several reporter and editor positions at the newspaper -- by using the easy options below. Gifts processed in this system are not tax deductible, but are predominately used to help meet the local financial requirements needed to receive national matching-grant funds.
Subscribe now to get breaking news alerts in your email inbox
Get breaking news delivered to your inbox as it happens.
---