News > Spokane
'Pussyhats' project has crafters across the country knitting hats for Women's March on Washington
Sun., Jan. 8, 2017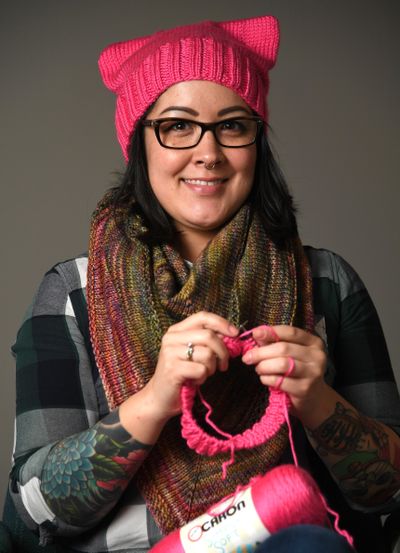 Jenny Love has knitted three pink hats over the past few weeks and is starting work on a fourth.
She's one of thousands of crafters across the U.S. participating in an effort to add some color to the Women's March on Washington, scheduled for the day after Donald Trump's inauguration.
The goal? To knit, crochet or sew "Pussyhats," pink hats with cat ears on top, for marchers to wear in D.C.
The project, started by a pair of knitters from Southern California, is a tongue-in-cheek reference to Trump's comment on a 2005 tape that surfaced during his campaign. On the recording, he bragged about grabbing women's genitals, saying that "when you're a star, they let you do it."
Knitting a hat offers people a way to get involved in the Women's March if they can't travel to the capital themselves or attend a local march.
Dozens of yarn shops around the country have signed up to sponsor the project, in some cases offering promotions on pink yarn or serving as drop points where people can leave hats to be mailed to D.C. in bulk. The knitting pattern is so popular that some knitters said they're having trouble finding good quality pink yarn to make hats.
Love, 32, said she hasn't been very politically active but is concerned Trump's election will result in a rollback of women's rights and human rights. She's vowed to be more politically aware and involved during his term.
"We have to do something and show some sort of solidarity to show we don't like this and we aren't going to accept it," she said.
Though activities like knitting and quilting are often seen as hobbies for grandmothers, there's a long history of crafts being used for both political activism and as a way of helping people in need.
One of the more famous political craft projects, the AIDS Memorial Quilt, has over 48,000 panels commemorating people who have died from AIDS. It got its start in 1987 among San Francisco activists who were worried the names of their dead friends would be forgotten.
Marianne Torres, 73, is a lifelong crafter and has often used her quilting, sewing and crocheting skills for political and charitable causes. She crocheted one hat for the Women's March and has encouraged her friends to do the same by sharing patterns on Facebook.
Torres has also made squares for the Drones Quilt Project, which commemorates people killed by U.S. drone strikes, and crochets sweaters for Afghan children as part of the Afghans for Afghans project.
"There's a lot of good work you can do with crafts," she said.
Torres was also part of a group that sent crocheted and knitted uteruses to federal legislators who were considering abortion restrictions. She said efforts like that and the Pussyhat project help normalize talking about women's bodies, which are often the subject of public policy.
"We've got to talk about this, folks. We can't hide it in the closet," she said.
The Pussyhat project has patterns online for knitters, crocheters and sewers, but Love opted to use her own pattern because she wanted to knit on round needles, rather than sewing the hat together at the end. A $5 skein of pink acrylic yarn is enough for her to make a little over two hats.
She's hoping to finish a few more before the Jan. 14 deadline to ship hats to the capital.
Love said her Spokane knitting group has been talking about the project, with many members deciding to make hats as well.
"It was just a neat, fun way of taking a stand, in a way, for human rights, women's rights, showing that we can all stand together," she said.
Local journalism is essential.
Give directly to The Spokesman-Review's Northwest Passages community forums series -- which helps to offset the costs of several reporter and editor positions at the newspaper -- by using the easy options below. Gifts processed in this system are not tax deductible, but are predominately used to help meet the local financial requirements needed to receive national matching-grant funds.
Subscribe now to get breaking news alerts in your email inbox
Get breaking news delivered to your inbox as it happens.
---