Sports
Seattle T-Birds score twice in third to beat Spokane Chiefs
Sun., Jan. 8, 2017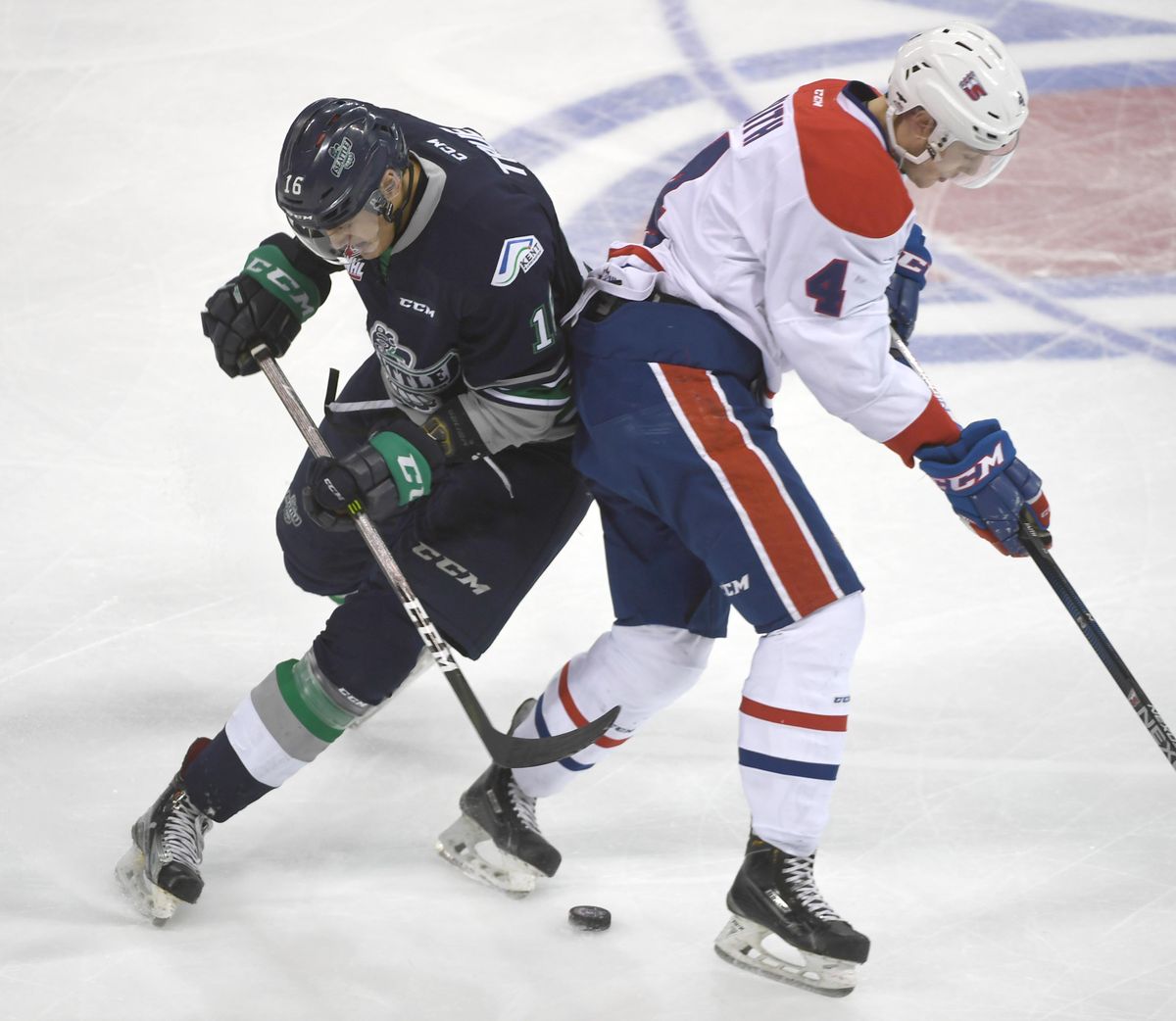 Spokane's Jeff Faith, right, loses track of the puck in transition and Seattle's Alexander True, left, slips behind to pick Faith's pocket in the first period of play Sunday, Jan. 8, 2017, at the Spokane Arena. (Jesse Tinsley / The Spokesman-Review)
The Spokane Chiefs took a one-goal lead heading into the third period, only for it to fall apart late in a crucial 2-1 loss to Western Hockey League Western Conference foe Seattle on Sunday night at the Arena.
Chiefs' coach Don Nachbaur said he thought his team, playing their fourth game in five nights, didn't battle in the final period and were outworked by the Thunderbirds.
"I didn't think we showed a lot of character," Nachbaur said. "We showed like we were fatigued. At that point, you have to dig and try and persevere. But we stopped skating. (We were) second to every puck."
Spokane (17-17-5-2, 41 points) surrendered its first goal 6:21 into the third period when Keegan Kolesar skated into the slot and scored after Chiefs goalie Dawson Weatherill fumbled the puck and it leaked out to present the Thunderbirds (20-14-3-1, 46 points) with a prime scoring opportunity.
"We played it too easy," Nachbaur said. "We defended him, turned for the shot to see where it went, instead of fronting him and finishing the check on him. I think he skated right by our guys."
Much of the same happened on the Thunderbirds' go-ahead goal. Ryan Gropp was left unguarded and redirected a shot from Ethan Baer, who collected his second assist of the night, off the left post and past Weatherill with 4:21 left in the third.
Spokane's noncompetitiveness on the defensive end of the ice was the difference, according to Nachbaur.
"We had players standing watching the puck, and they weren't engaged being competitive, lifting guys' sticks and clearing net," he said. "That's how we chose to play tonight. Forwards did a lot of swinging by guys. We didn't play the right way."
Jaret Anderson-Dolan scored Spokane's lone goal, his 20th of the season, on a power play. The 17-year-old center has scored two goals and added three assists in the Chiefs' last four games. Aside from Anderson-Dolan, the Chiefs have had little production from their forwards.
"You'd like to have more, because when those sticks go cold, you have to have depth in your lineup to score," Nachbaur said. "And I'm not seeing a lot of depth in our lineup as far as scoring goes."
The Chiefs, who came into the game ninth (41 points) in the Western Conference standings, could have tied Portland for the eighth and final Western playoff spot with a win. Instead, the T-Birds, who are seventh with 46 points, widened the gap between themselves and the Chiefs by picking up two points on Spokane's home ice.
It's not that the Chiefs don't have other opportunities to pick up key conference wins in the near future, but they will have to come on the road. Spokane begins a four-game road trip on Wednesday, playing four games against Western Conference foes in five days. The trip includes back-to-back games at Portland, which Spokane currently trails by two points.
"These are obviously huge points tonight, it's a tough loss," Anderson-Dolan said after Sunday's game. "But we have to forget about once our head hits the pillow and move onto the next games here."
Local journalism is essential.
Give directly to The Spokesman-Review's Northwest Passages community forums series -- which helps to offset the costs of several reporter and editor positions at the newspaper -- by using the easy options below. Gifts processed in this system are not tax deductible, but are predominately used to help meet the local financial requirements needed to receive national matching-grant funds.
Subscribe to the sports newsletter
Get the day's top sports headlines and breaking news delivered to your inbox by subscribing here.
---