News > Education
While snow forced closure of most Spokane-area school districts, many rural ones stayed open
Mon., Jan. 9, 2017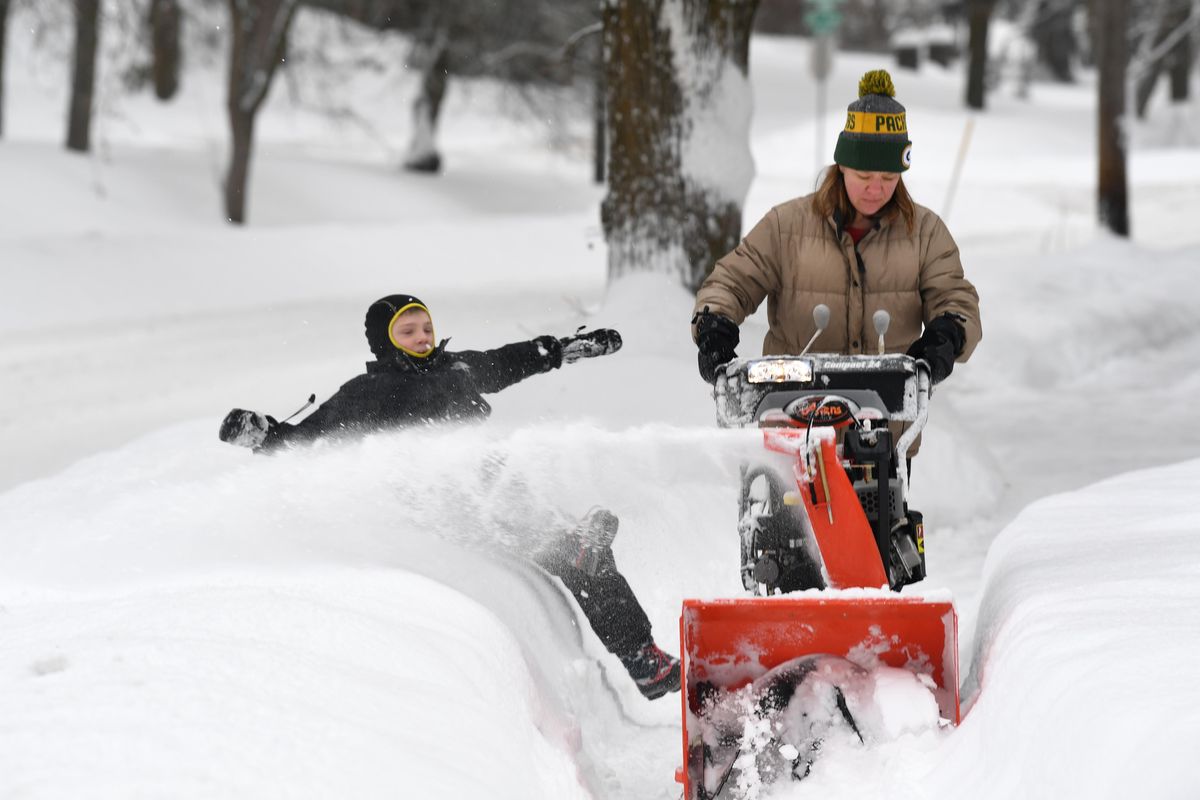 Amanda Roggenbauer runs a snowblower past several homes in her neighborhood while her son, Erik Roggenbauer, 8, dives into the snow bank for fun Monday, Jan. 9, 2017 along Rockwood Blvd. on the South Hill of Spokane. JESSE TINSLEY jesset@spokesman.com (Jesse Tinsley / The Spokesman-Review)
Urban Spokane-area school districts mostly closed Monday, while many of their rural counterparts stayed open.
That has less to do with rural grit and more to do with geography and whether or not students walk or take the bus to school, officials said.
"No, we're not any tougher than the Valley schools or the Spokane schools," said Liberty School District Superintendent Kyle Rydell.
Liberty School District delayed the start of school two hours Monday after heavy snowfall overnight. At small, rural districts like Liberty, delaying the start of school allows plows to clear roads and gives school administrators more time to evaluate the weather, Rydell said.
Spokane Public Schools, the state's second-largest district, doesn't do delayed starts, spokesman Kevin Morrison said Monday. Unlike many rural areas, Spokane city plows work throughout the night.
Instead, some bus drivers take to the roads early in the morning, usually starting at 3:30 a.m., and report conditions to the district's transportation director, who then consults with Superintendent Shelley Redinger and others. The district contracts with Durham Transportation Services for bus service.
Morrison said closing school is not a decision administrators take lightly. "When you do cancel school you have to realize it's an enormous economic impact and burden on many, many parents," he said.
Districts like Spokane, Mead and Central Valley also have to think about walking conditions in addition to road conditions. According to Morrison, only 25 percent of Spokane Public Schools students ride the bus. On average, Spokane elementary school children walk four or five blocks to school.
Brian Liberg, Mead's transportation director, echoed Morrison, adding that the increased density of an urban environment poses its own challenges. He said many neighborhoods become nearly impassable for buses once there is a significant amount of snow.
"When you get into some of these urban areas where the roads are narrow, that's where it gets hairy," he said.
West Valley School District remained open, thanks to a combination of preparedness and geography, said Sue Shields, the district's public relations director. Unlike other districts, Shields said West Valley doesn't have many steep hills.
"We're really prepared for this," she said. "We live in the Pacific Northwest and it's winter."
And like rural districts, West Valley buses the majority of its students.
The decision isn't based off any one set of criteria, said Marla Nunberg, spokeswoman for Central Valley School District. Instead, school administrators weigh a number of variables while considering the impact on students.
"If we can possibly keep schools open at all, we will," she said.
Parents were frustrated with both scenarios Monday, with some arguing on social media that schools were right to stay open and others saying they wished their district had decided to close.
Stevie Peone has a 6-year-old girl in first grade at Chattaroy Elementary in the Riverside School District, which stayed open. Peone questioned the wisdom of sending children onto what she described as "treacherous roads." So Peone chose to keep her daughter home from school.
"My daughter informed me that her bus has already slid into the ditch a few times in the past couple of weeks and the weather wasn't as bad as it is now," she said in an email. "When I have to make the decision as her parent to keep her home from school to ensure her safety, she misses out on learning and assignments that she's going to have to make up."
Leah Castillo, whose son is a junior at Shadle Park High School, believes the district's policy of announcing a closure early in the morning leaves many parents in the lurch. Although Castillo is a stay-at-home mother, she worries about other parents who have jobs outside the home.
"They seem to expect parents to be superheroes that can adapt and overcome on very short notice, but I really doubt they are so accommodating to their employees when it comes to call-in policies," she said of the district's policy in an email.
The Coeur d'Alene, Post Falls and Lakeland school districts were among the Idaho schools that closed Monday as well.
Local journalism is essential.
Give directly to The Spokesman-Review's Northwest Passages community forums series -- which helps to offset the costs of several reporter and editor positions at the newspaper -- by using the easy options below. Gifts processed in this system are not tax deductible, but are predominately used to help meet the local financial requirements needed to receive national matching-grant funds.
Subscribe now to get breaking news alerts in your email inbox
Get breaking news delivered to your inbox as it happens.
---