Sports
GSL boys: Zach Stocker helps Central Valley edge Ferris in double-overtime
Tue., Jan. 10, 2017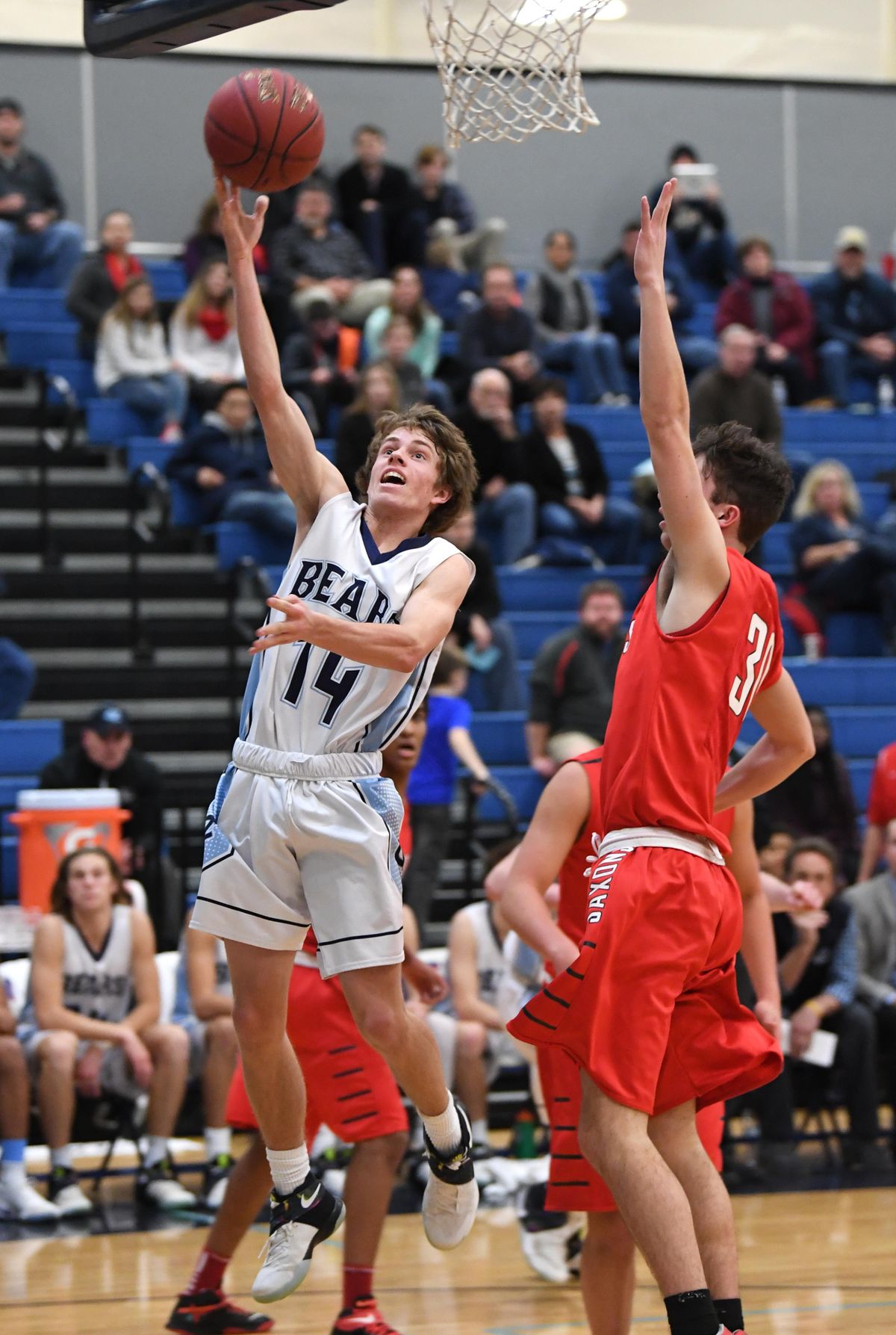 Central Valley's Zach Stocker (14) takes a pass in the lane and takes Ferris' Maxwell Thompson, right, to the basket with him in the second half, Tuesday, Jan. 10, 2017, at Central Valley High School. (Jesse Tinsley / The Spokesman-Review)
Zach Stocker scored 19 points and made two late free throws in double overtime to lead Central Valley (9-3, 7-3) over visiting Ferris (9-3, 7-3) 59-55 on Tuesday in Greater Spokane League action.
Ryan Rehkow scored 13 points, grabbed 15 boards and hit a 3-pointer with one minute left in the second overtime to give the Bears the lead.
After the Saxons couldn't convert, Stocker went to the line and drilled two free throws to finish the game.
Michael Plunkitt had 11 points and six assists for CV, which led 35-14 at halftime but saw Ferris put up 32 second-half points to force overtime.
Shamrock Campbell led the Saxons with 21 points and Michael Ervin had 12 rebounds with seven points.
Lewis and Clark 62, North Central 41: Bailey Rosenau scored 10 points to help the visiting Tigers (8-4, 7-3) defeat the Indians (2-10, 2-8).
Lewis and Clark led 14-11 after the first quarter, then used a 22-8 second quarter to take control. Cameron Underwood added nine points and Diedrick Pakootas scored eight for LC, which went 13 of 16 from the line.
The Indians were led by Leon Sayers with 12 points.
Shadle Park 60, Mt. Spokane 33: Tanner Groves continued his impressive season with 20 points and the Highlanders (11-1, 9-1) routed the visiting Wildcats (5-7, 3-7).
Shadle Park never trailed, built a 28-18 advantage at halftime, then pulled away with an 18-9 run in the fourth quarter. The Highlanders made six 3-pointers and went 16 of 23 from the line. Markeith Brown added 10 points for SP.
Mt. Spokane was led by J.T. Smith with eight points, while Phalon Maddox and Justin Smith added seven apiece.
Gonzaga Prep 64, Rogers 24: Anton Watson led all scorers with 17 points as the visiting Bullpups (11-1, 9-1) roughed up the Pirates (1-10, 1-8).
Watson's points came on four field goals and three-3-pointers. G-Prep also got 13 points from Sam Lockett.
Rogers led 5-3 early, but after a pair of Shane Eugenio free throws tied it up, G-Prep never looked back. Watson drilled a 3-pointer on the next possession and an 18-0 run made it 21-5 at the end of the first quarter. The Bullpups then used a 12-1 run in the second quarter to lead 33-6 at halftime.
G-Prep hit eight 3-pointers and made 12 of 18 from the line.
Mandela Kalu led Rogers with 10 points.
University 75, Mead 64: Boston Tacke scored 19 points with five 3-pointers and the visiting Titans (5-7, 5-5) defeated the Panthers (2-10, 0-10).
The Titans placed five players in double-digits points – Elijah Ramirez scored 15, Brady Brinkman had 12, Josh Brantley added 11 and Tanner Christensen chipped in 10.
Tied at halftime, the Tacke hit four of his 3-pointers in the third as the Titans outscored the Panthers 22-15 to take control.
Michael Winger scored 18 points and Michael Tullis added 11 for Mead.
Local journalism is essential.
Give directly to The Spokesman-Review's Northwest Passages community forums series -- which helps to offset the costs of several reporter and editor positions at the newspaper -- by using the easy options below. Gifts processed in this system are not tax deductible, but are predominately used to help meet the local financial requirements needed to receive national matching-grant funds.
Subscribe to the sports newsletter
Get the day's top sports headlines and breaking news delivered to your inbox by subscribing here.
---