Sports
NFL, union begin review of concussion protocol on Miami QB
Tue., Jan. 10, 2017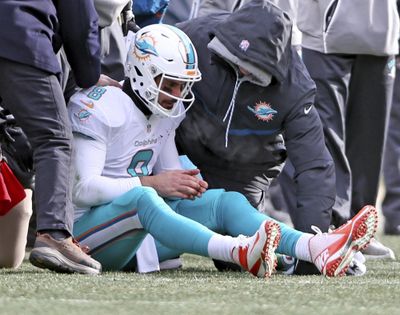 MIAMI – The NFL has begun a review of the concussion protocol conducted on Miami Dolphins quarterback Matt Moore when he left his team's playoff game at Pittsburgh after being shaken up.
Moore was hit in the chin as he threw a pass, and the play drew a roughing-the-passer penalty on Pittsburgh's Bud Dupree. Dolphins medical staff attended to Moore on the field, and he was evaluated on the sideline by an independent neurological consultant and team physician before returning to the game.
Moore missed only one play in Miami's 30-12 loss Sunday.
Under a procedure in the collective bargaining agreement, the league, in consultation with the NFL Players Association, will review documents and video and interview the parties involved to determine whether the protocol was followed properly. The review doesn't mean the NFL has drawn conclusions as to whether the protocol was followed, the league said in a statement.
The Dolphins declined comment Monday on the review but said Sunday that Moore was cleared by the neurological consultant and team physician to return to the game.
Moore said he wasn't seriously hurt.
"I just got popped," Moore said after the game. "I just needed a second there. I got checked out. I felt fine. It was more of my jaw than anything else. I felt good. I came back in and I was fine."
After returning to the game, Moore lost two fumbles and threw an interception. Coach Adam Gase didn't attribute the turnovers to any lingering health issues for Moore.
"When they told me he was coming back in, I started talking to him, and he was good," Gase said. "The league did their deal, and our trainers, and they cleared everything."
Was Gase surprised Moore received clearance to return to the game so quickly?
"I didn't see the actual hit," Gase said. "When they come to me, I just play off of that. I didn't really know what was the exact injury and how he got hit."
Local journalism is essential.
Give directly to The Spokesman-Review's Northwest Passages community forums series -- which helps to offset the costs of several reporter and editor positions at the newspaper -- by using the easy options below. Gifts processed in this system are not tax deductible, but are predominately used to help meet the local financial requirements needed to receive national matching-grant funds.
Subscribe to the sports newsletter
Get the day's top sports headlines and breaking news delivered to your inbox by subscribing here.
---