News > Spokane
Spokane residents complain about plowing, but many don't follow even-odd parking rules
Tue., Jan. 10, 2017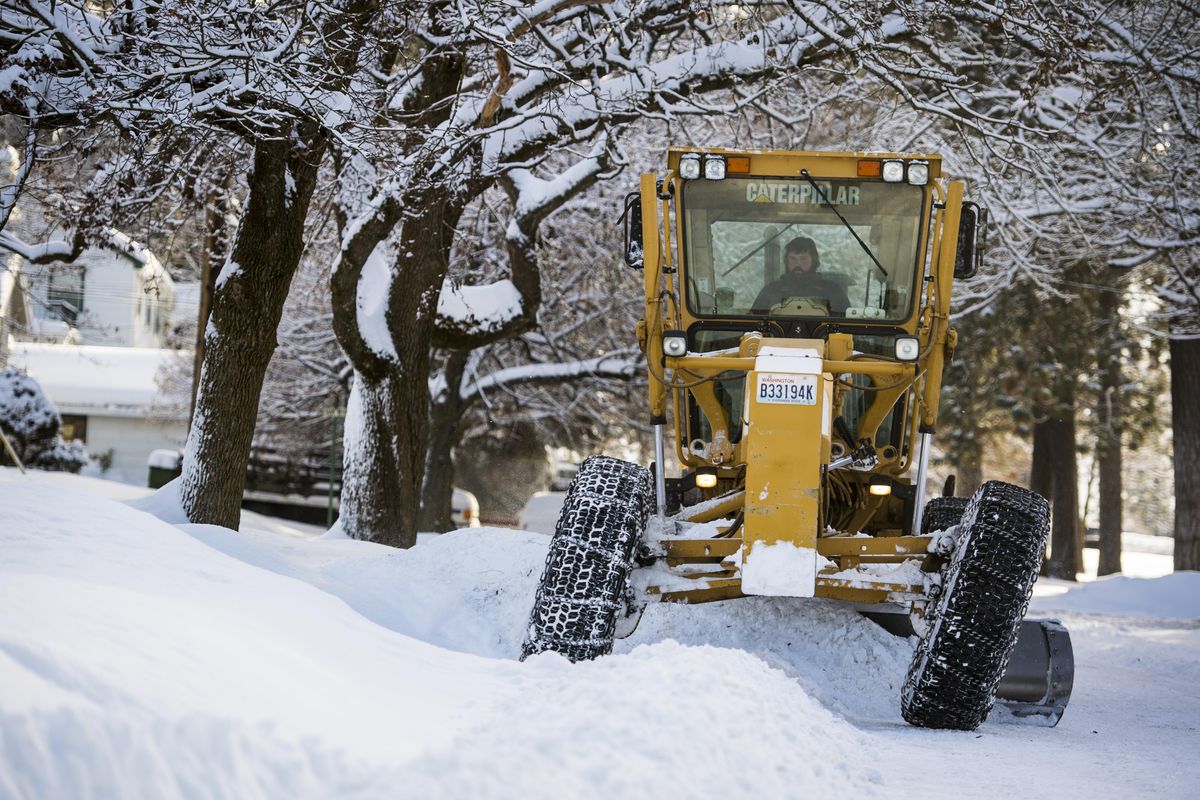 A City of Spokane snowplow removes snow from South Jefferson Street on Spokane's South Hill, Tuesday, Jan. 10, 2017. (Colin Mulvany / The Spokesman-Review)
When Spokane city officials announced a citywide plow Monday, one of their requests was for residents to move cars to the side of the street with even-numbered addresses.
That's the procedure when winter starts on an even calendar year; when the season begins on an odd year, it's the opposite.
But cooperation with those requests leaves much to be desired, said Mark Serbousek, the director of Spokane's Streets Department.
"I was out driving around all morning and looking at the residential plowing," he said. "We're probably getting maybe 50 percent compliance. Maybe. It's very low."
The practice is supposed to help plows fit into narrow residential streets and clear them completely. But as many residents will say, it's a rule they hardly follow – though not for lack of trying.
"It's impossible here," said Cal Pethers, a retired firefighter who lives on Broad Avenue a block away from Nevada Street and Wellesley Avenue. "There's too many cars."
The city's snow removal progress map shows Pethers' neighborhood is due for a plow soon, but the 76-year-old said he'd rather deal with digging his van out of the snow then finding a spot to move it on the correct side of the street.
"I have a garage and I just can't get into it," he said, pointing to the large berms covering his driveway. "I tried for a bit; I just can't get out."
The even-odd tradition began with good intentions after the 2007 and 2008 winters when Spokane experienced two of its snowiest on record. Then-Spokane Mayor Mary Verner was new in office, and the city didn't have nearly the robust snow removal policy it has today.
So when streets started filling up with snow, and plows came out to clear them, the crews ran into problems in some neighborhoods.
"People would say 'my street was never plowed,' which was true because we couldn't get down the street," said Marlene Feist, director of strategic development for the city utilities department. "People were parked already in a narrow street, and suddenly you couldn't get a plow down there."
In response, the city enacted the new alternating-sides parking rules in 2009 to help maintain clearer roads. In Browne's Addition, it became a requirement to vacate the street completely.
"We're really sticklers there," Feist said. "The equipment could not get down those streets if there were parked cars on the street."
And if cars aren't moved by the time plows arrive in Browne's Addition, "We tow them," Feist said.
But in other areas of the city, the "rule" is more or less treated as a guideline. On 23rd Avenue on the South Hill, Carolyn Longanecker, her daughter Joy and grandson Max spent the cold-but-sunny afternoon shoveling their truck out of a sizable berm in front of their house – the odd side of the road.
They knew the stakes – Carolyn Longanecker has endured about 40 winters in Spokane. But she said she'd rather park her truck on the grass and out of the way than take up valuable parking real estate on the other side of the road.
"I parked up on the grass and I thought I would be OK," she said while resting her arms on her shovel. "There are people who don't move their cars at all. They just don't move."
Another woman, who was shoveling her way out of her driveway, moved to Spokane a year and a half ago. She knew to park on the even side of the road, but was perplexed to see a knee-high berm stopping her from leaving her house.
"They said even, but they must have done it both ways," 61-year-old Robin Smith said.
In fact, all over Spokane streets were filled with cars parked on both sides.
Feist said the city doesn't usually tow in areas of the city outside Browne's Addition because plows can mostly maneuver around parked cars, even if they're on the wrong side of the street.
But Serbousek disagreed.
"It is a big hassle and it slows us way down," he said. "If we can just get everyone to one side then we can just plow it."
Local journalism is essential.
Give directly to The Spokesman-Review's Northwest Passages community forums series -- which helps to offset the costs of several reporter and editor positions at the newspaper -- by using the easy options below. Gifts processed in this system are not tax deductible, but are predominately used to help meet the local financial requirements needed to receive national matching-grant funds.
Subscribe now to get breaking news alerts in your email inbox
Get breaking news delivered to your inbox as it happens.
---