Sports
Women's basketball notes: Freshman point guard Chanelle Molina sparks Cougars
Tue., Jan. 10, 2017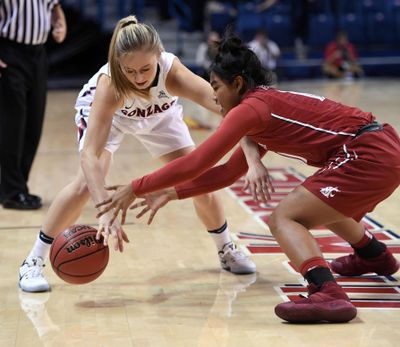 Chanelle Molina and Washington State are making history.
They wrote a few volumes together last weekend as Molina – a true freshman point guard – led the Cougars to their first weekend sweep of UCLA and USC in 22 years.
Two days later, Molina won her second straight Pac-12 Conference freshman of the week award after averaging 24.5 points and shooting 70 percent from the field.
WSU coach June Daugherty isn't surprised. After all, Molina, from Kailua Kona, Hawaii, is the first five-star recruit in WSU history.
"I've been watching Chanelle since she was a freshman in high school," Daugherty said Tuesday. "She's understanding that the pace of play in the Pac-12 is different.
"In the beginning, she had to think things through. Now she's not thinking as much, which allows her to play."
The 5-foot-9 Molina has certainly done that, gradually building up her minutes and stats leading up to last weekend's explosion.
The weekend started with a bang as Molina led the Cougars to one of their biggest wins in program history, knocking off No. 7 UCLA 82-73 on Friday night at Beasley Coliseum.
Molina scored 33 points on 13-of-20 shooting, tying the freshman single-game record set by Lia Galdeira against Minnesota in 2012. Molina also became just the third freshman to reach the 30-point threshold.
"My first 30-point game of my career and against a really good team," Molina said. "It was a really big confidence boost for me."
That confidence carried over into Sunday's game against USC, when Molina scored 16 points and hit all but one of her seven shots in a 74-57 win.
The win improved WSU to 3-2 in the Pac-12 going into this week's road trip to Arizona. The Cougs are a modest 8-8 overall, but that mark comes against the seventh-toughest schedule in the nation.
"We know now that when we play hard, we can beat anybody in the country," Daugherty said.
Toughness has been a necessity since injuries to forwards Borislava Hristova and Louise Brown. Both averaged double-figure scoring before being lost to injuries that aren't healing as quickly as hoped.
Everyone is picking up the slack. Senior forward Ivana Kmetovska is averaging 11.8 points and 5.8 rebounds in Pac-12 play and "is playing the best she's played in four years," Daugherty said.
Forward Alexys Swedlund has stepped up with 11.8 points and three boards in conference play.
"People are understanding that their roles have changed," Daugherty said.
"The atmosphere in here is amazing and you just feed off of everyone's energy and play off of the adrenaline," Molina said.
Gonzaga works harder on boards
Since losing their West Coast Conference opener at Pepperdine – a game that saw them outrebounded by 19 – the Gonzaga Bulldogs have been relentless on the glass.
In last week's 67-55 win over Portland, the Bulldogs had a 46-26 advantage on the boards and a commanding 19-8 margin on the offensive glass.
"We're just trying to get better every day in practice," said reserve forward Zykera Rice, who had four boards against the Pilots. "We're just making sure that we're really crashing the boards."
The catalyst has been wing Elle Tinkle, who went 10 games without getting more than six rebounds. She has 43 in the last five contests – an average of 8.6
Local journalism is essential.
Give directly to The Spokesman-Review's Northwest Passages community forums series -- which helps to offset the costs of several reporter and editor positions at the newspaper -- by using the easy options below. Gifts processed in this system are not tax deductible, but are predominately used to help meet the local financial requirements needed to receive national matching-grant funds.
Subscribe to the sports newsletter
Get the day's top sports headlines and breaking news delivered to your inbox by subscribing here.
---