Sports
After 2 decades, Chuck Wielgus leaving as head of USA Swimming
Wed., Jan. 11, 2017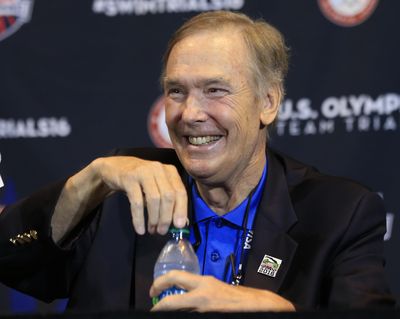 USA Swimming executive director Chuck Wielgus is retiring after leading a federation that brought home 156 Olympic medals during his 20 years at the helm.
Wielgus, who turns 67 next month, has been battling colorectal cancer for more than 10 years and undergoes regular chemotherapy.
He will leave his job Aug. 31. He is the longest-tenured leader among U.S. Olympic organizations, and the 156 medals represent about one-third of America's overall total from the last five Olympics.
"This is all about my physical ability," Wielgus told The Associated Press after announcing his retirement Wednesday. "I love my job, love what I do, but I can't do it to the level I think it can be done. It's time for someone else to put their hands on the wheel."
During his two decades, USA Swimming's revenue has increased by about 600 percent, and its four-year, Olympic-cycle budget has grown from $35 million to $160 million. Membership more than doubled, to 400,000-plus, and Wielgus helped turn swimming's Olympic trials into a showcase event. The 2016 trials sold out more than 200,000 tickets.
Scott Blackmun, the CEO of the U.S. Olympic Committee, said "swimming in the United States has never been stronger, and that's because of Chuck."
Asked about the biggest problem currently confronting swimming, and the Olympic movement itself, Wielgus said, "It's doping."
"I don't know how it is that others in the world, in the IOC and other places, how they can't recognize that the Olympic brand is so dependent on this notion of fair competition," he said. "It's frustrating for us as Americans, because we look at it and think the answers are simple but they become very politicized."
Of one of the seminal moments of last year's Olympics – when American swimmer Lilly King shook her finger at Russian Yulia Efimova, who had been previously banned for doping – Wielgus said: "I thought it was a wonderful moment."
"It wasn't contrived, wasn't planned, just a good old Midwestern all-American kid, saying, `Not so fast,"' Wielgus said. "There may be more to this than I know, but for me, it was the highlight of the Games."
For the later part of his tenure, Wielgus was roundly criticized for his handling of numerous sexual-abuse cases against the organization. After saying he had done nothing wrong in a defiant TV interview in 2010, he apologized four years later, writing in a blog: "I wish my eyes had been more open to the individual stories of the horrors of sexual abuse. I wish I had known more so perhaps I could have done more."
Wielgus announced his retirement on the same day he learned he'd been approved to use a new cancer drug that's in clinical trial.
Local journalism is essential.
Give directly to The Spokesman-Review's Northwest Passages community forums series -- which helps to offset the costs of several reporter and editor positions at the newspaper -- by using the easy options below. Gifts processed in this system are not tax deductible, but are predominately used to help meet the local financial requirements needed to receive national matching-grant funds.
Subscribe to the sports newsletter
Get the day's top sports headlines and breaking news delivered to your inbox by subscribing here.
---