News > Voices
Freeman basketball squad attempts to avoid distraction of top RPI ranking
Jan. 11, 2017 Updated Wed., Jan. 11, 2017 at 4:06 p.m.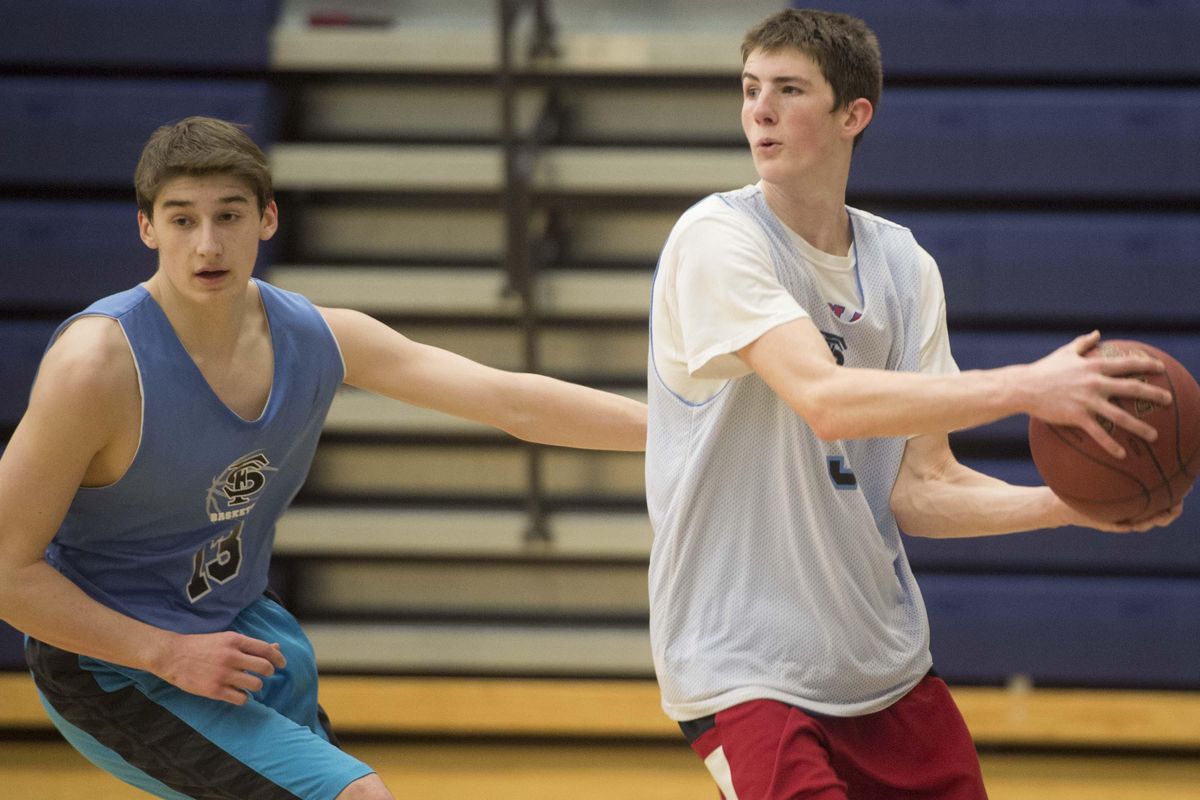 Freeman's Michael Coumont passes the ball during practice on Monday, Jan. 9, 2017, at Freeman High School in Rockford, Wash. (Tyler Tjomsland / The Spokesman-Review)
Don't ask Michael Coumont about the new RPI rankings. It's not something he's anxious to talk about.
Yes, his Freeman Scotties are the top-ranked Class 1A team in the state according to the new ranking by the state's governing body, the WIAA – a formula that takes into account a high school basketball team's strength of schedule that will ultimately be used to help better seed the state tournament.
It's not that Coumont and his teammates don't care about the rankings. They just don't care to have the distraction.
The Scotties finished last season in the state Class 1A championship game, where they lost to King's High School, and are 11-1 overall this year and 6-0 in the Northeast A League after Tuesday's 76-44 win over Deer Park.
"To me, (the RPI) is just something that's sort of out there," Coumont said. "My friends are all 'Hey, you're No. 1! Isn't that cool?' I'm just trying to stay focused on my next game."
The Ratings Percentage Index takes into account more than just the number of wins a team has. The formula factors in who those wins are against.
For Freeman, the fact that the Scotties own wins over Class 2A teams Pullman, Cheney and West Valley all add to team's ranking.
"I didn't vote for the RPI and I still don't think it's a great idea," Freeman coach Marty Jessett said. "They didn't even have a formula to show us when they asked us to vote on it. They had a sample formula for us to look at, but what we have now isn't what they showed us then."
Jessett points to defending state champion King's, which currently sits at No. 5 in the RPI rankings.
"That's a very good basketball team and they played some very good competition against out-of-state teams down in Arizona," he said. "But the RPI doesn't factor in those teams. It treats out-of-state teams as a .500 team."
To his way of thinking, he said, it's unnecessarily complicated.
"I think when you get down to the final eight teams (at the state tournament), you're going to be playing someone good no matter what," he said.
No matter how you factor it, the Scotties plan to be part of that final eight.
"We're really focused on getting back (to the state tournament)," Coumont said. "We're pretty hungry. We worked hard all summer and we've been doing everything we can to help build chemistry."
Chemistry may well be Freeman's greatest strength.
"We've all been playing together since the fourth grade," Coumont said. "We all know each other and we're all friends."
For Coumont, the chemistry has evolved somewhat.
"For years we had great scorers, so I concentrated on getting them the ball," he said. "Our seniors last year were great scorers so there was no need to for me to score a lot. This year I've tried to concentrate on taking more of that scoring load."
Coumont has been a strong second-option for the Freeman offense behind leading scorer Ryan Maine.
Opponents will plan ways to stop Maine from scoring; Coumont's job is to make them pay a price for doing it.
"I go against Ryan every day in practice," Coumont said. "I'm one of our better defenders and I can tell you that it's very difficult to stop him. He does everything well."
"This is a pretty experienced group," Jessett said. "We got to start at a level that's a little further along than a lot of years. We've been able to move at a quicker pace and put things in faster.
"Good thing about our group is that we're a deep enough group that we get a good look every day in practice. You have to compete every day for your spot. Nobody is ever taking a day off."
Dylan Oja has proven himself to be a quality scorer who can put up 20 points against any given opponent and Dylan McVay gives the team a quality playmaker.
"Quinn Hopkins comes off our bench, but I like to call him our sixth starter," Jessett said. "He comes off the bench and can shoot the 3 – he came into that Pullman game and hit four 3s for us. If there's a loose ball or we need a rebound, he's the one who always seems to come up with it.
"I like to think that we have four or five guys who can run the point and I think our scoring can go four or five deep on any given night."
Local journalism is essential.
Give directly to The Spokesman-Review's Northwest Passages community forums series -- which helps to offset the costs of several reporter and editor positions at the newspaper -- by using the easy options below. Gifts processed in this system are not tax deductible, but are predominately used to help meet the local financial requirements needed to receive national matching-grant funds.
Subscribe now to get breaking news alerts in your email inbox
Get breaking news delivered to your inbox as it happens.
---