Sports
NFL notes: Broncos, Bills hire head coaches; Chargers reportedly decide to move to L.A.
Jan. 11, 2017 Updated Wed., Jan. 11, 2017 at 9:43 p.m.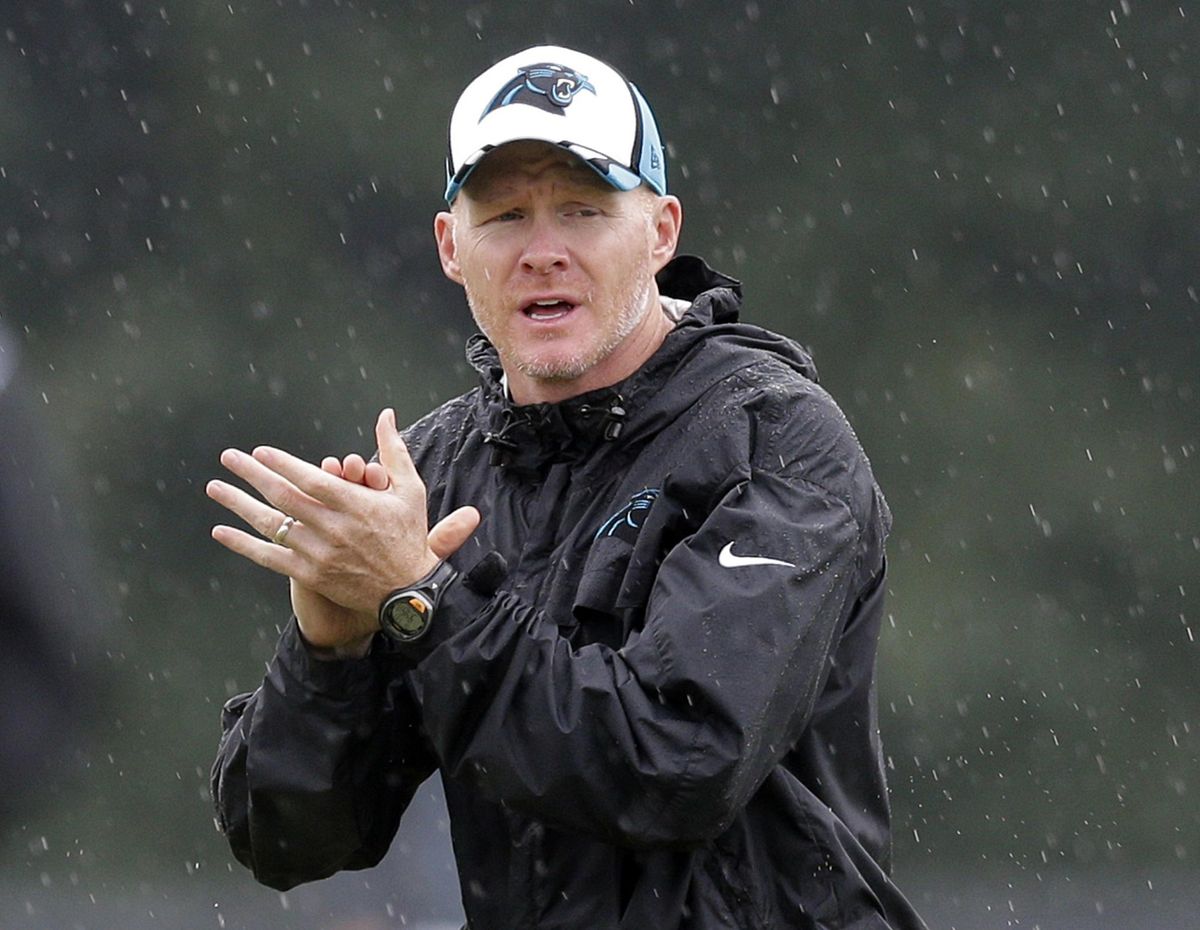 Carolina Panthers defensive coordinator Sean McDermott is the new head coach for the Buffalo Bills. (Chuck Burton / Associated Press)
A runner-up two years ago, Vance Joseph is John Elway's pick this time around.
"It's official. Excited to announce Vance Joseph as head coach of the Denver Broncos!" Elway tweeted Wednesday afternoon.
The 44-year-old ex-Colorado quarterback built a reputation as one of the league's best secondary coaches as he worked his way through the ranks in San Francisco, Houston and Cincinnati before serving as Dolphins defensive coordinator last season and helping Miami end an eight-year playoff drought.
"Becoming head coach of the Denver Broncos is a dream job for many reasons," Joseph said in a statement. "The Broncos have an unbelievable winning tradition and great fan support. But what makes this even more special is it's a place that's ready to win.
"This is not a rebuilding situation – it's a reboot. There is a culture of winning here, and the standards around here won't change. Those are to win championships."
Joseph, who will be formally introduced as the team's 16th head coach on Thursday, impressed Elway in 2015 when Gary Kubiak got the job and the Broncos even tried to hire him as their defensive coordinator, a move the Bengals blocked. So, he stayed in Cincinnati for another year as secondary coach before joining Adam Gase's staff in Miami.
Kubiak, 55, stepped down over health concerns last week, capping a tumultuous season by the Broncos (9-7), who missed the playoffs a year after winning the Super Bowl.
Elway also interviewed Chiefs special teams coach Dave Toub and Falcons offensive coordinator Kyle Shanahan over the weekend. Joseph flew to Denver on Tuesday following Miami's wild-card loss at Pittsburgh.
Joseph also had interviews lined up with the Chargers on Wednesday, the 49ers on Thursday and the Rams on Friday. But he canceled his California trip after his meeting with Elway, which was followed by dinner at Elway's signature steakhouse.
He returned to Broncos headquarters Wednesday morning to negotiate a four-year contract.
McDermott new Bills coach
The Buffalo Bills are putting their faith in Sean McDermott to fix their under-performing defense and restore relevance to a franchise that hasn't reached the playoffs since the Music City Miracle loss in January 2000.
The Bills hired the Carolina defensive coordinator as head coach Wednesday. The deal was reached shortly after McDermott conducted his second interview with the team in eight days. The 42-year-old has no head-coaching experience and spent the past six seasons overseeing the Panthers' defense.
McDermott replaces Rex Ryan, who was fired two weeks ago for failing to deliver on his bold promises to build the Bills into a bully.
McDermott becomes the team's ninth head coach since the 1999 season, when Buffalo last made the playoffs under Wade Phillips.
ESPN reports Chargers moving to L.A.
The Chargers have decided to leave San Diego, their home of 56 years, and move to Los Angeles, ESPN reported Wednesday night.
A source confirmed to the San Diego Union-Tribune that team Chairman Dean Spanos has called a staff meeting for 8 a.m. Thursday, at which time he is expected to inform his employees that the team will be moving. Spanos then plans to be in Los Angeles later in the day.
The ESPN story by writer Adam Schefter also said that a league source cautioned "Spanos has yet to send a formal relocation letter to the NFL, yet to notify public officials in Los Angeles or San Diego of the team's move, or even tell the members of the San Diego organization about his plans. The source insisted nothing is final."
But, Schefter wrote, "the Chargers have notified NFL commissioner Roger Goodell, and other league owners, of their intent to move to Los Angeles for the 2017 season."
Chargers' counsel Mark Fabiani refused to confirm or deny the report but added he "may have more in the a.m."
The Chargers have been seeking a new stadium in San Diego for more than 15 years, and a year ago were given a deadline of Jan. 15 to move to a stadium the Los Angeles Rams are building in Inglewood. Earlier Wednesday, the NFL extended that deadline by two days, to Tuesday.
The lack of a modern football stadium in San Diego – and the additional revenues generated by such elaborate facilities – prompted the departure of the team, which has been one of the region's most popular and recognizable civic institutions.
The Chargers have agreed to become tenants in a $2.66 billion stadium Rams owner Stan Kroenke is building in Inglewood. It is not publicly known where the Chargers would play until that stadium opens in 2019.
The report of the move comes two months after San Diego voters rejected a tax increase for a combined stadium and convention center annex the Chargers proposed for downtown. Measure C was supported by 43.6 percent of voters, far less than the two-thirds required for approval.
That proposal came after the team pursued at least nine different stadium solutions beginning in 2004, though some say many of those proposals lacked financial details.
In fall 2015, the Chargers declined to consider a proposal from county and city officials for a new stadium in Mission Valley on the site of the team's current home – Qualcomm Stadium, which opened in 1967.
Tannehill may need surgery
Miami Dolphins quarterback Ryan Tannehill might still need surgery to repair the two sprained ligaments in his left knee, coach Adam Gase said Wednesday.
"We're still going through that process right now with the trainers, with what our next step is, where his health is, how strong is his knee," Gase said.
Tannehill sprained the anterior cruciate medial collateral ligaments in his left knee against Arizona on Dec. 11. He practiced lightly Friday and never went on injured reserve because the Dolphins felt there was a chance he could play if they made an extended playoff run.
The Dolphins are hopeful Tannehill won't require surgery and won't miss any part of the offseason program. But they still aren't sure that will be the case.
Local journalism is essential.
Give directly to The Spokesman-Review's Northwest Passages community forums series -- which helps to offset the costs of several reporter and editor positions at the newspaper -- by using the easy options below. Gifts processed in this system are not tax deductible, but are predominately used to help meet the local financial requirements needed to receive national matching-grant funds.
Subscribe to the sports newsletter
Get the day's top sports headlines and breaking news delivered to your inbox by subscribing here.
---