A&E > Entertainment
Sailing away: 'Survivor' contestant using his 'life changing' experience to pursue new dreams
Wed., Jan. 11, 2017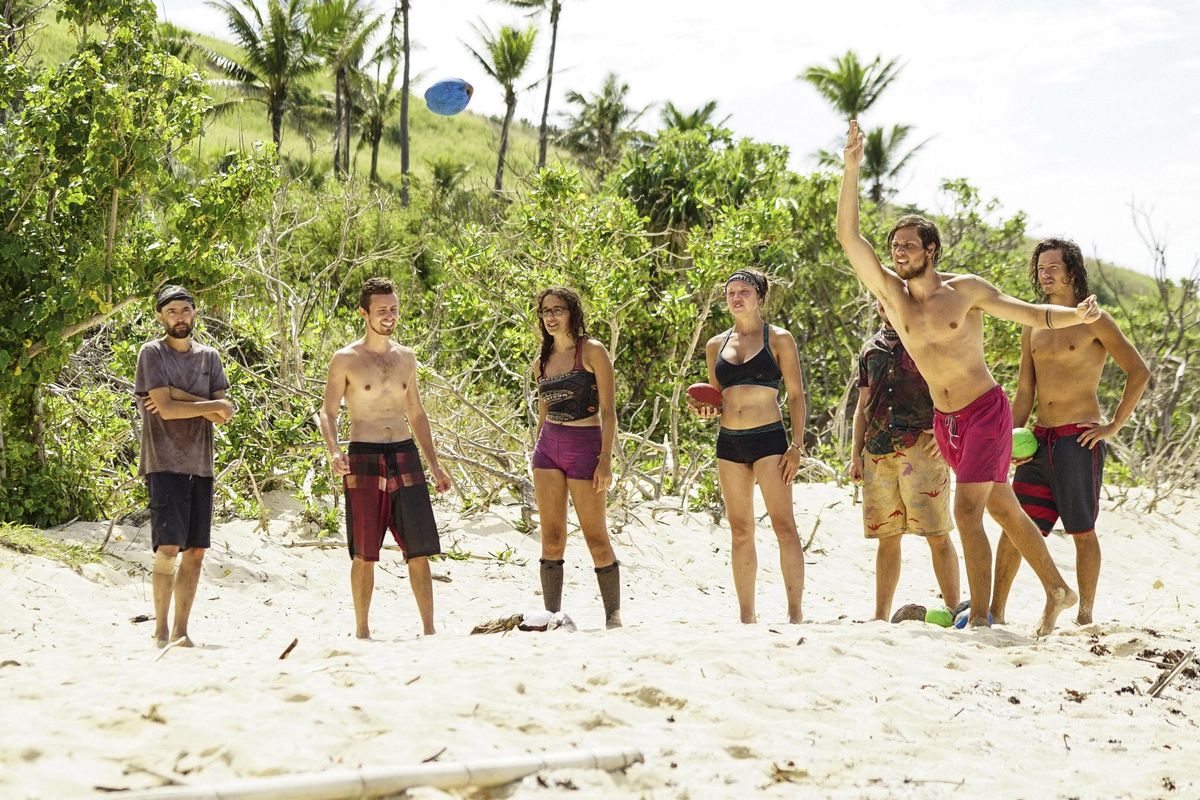 "I'm the Kingpin" - David Wright, Adam Klein, Hannah Shapiro, Jessica Lewis, Taylor Stocker and Justin Starrett relax on the eighth episode of SURVIVOR: Millennials vs. Gen. X, airing Wednesday, Nov. 9 (8:00-9:00 PM, ET/PT) on the CBS Television Network. Photo: Monty Brinton/CBS Entertainment ©2016 CBS Broadcasting, Inc. All Rights Reserved. (Monty Brinton / CBS)
Taylor Lee Stocker is an outdoorsman.
He hiked and camped from a young age while growing up in the Inland Northwest. At 14, he dreamed of sailing around the world. And, more recently, he competed on Season 33 of the reality TV show "Survivor" in Fiji.
Although he was voted out on episode nine of "Survivor: Millenials vs. Gen X," and became the second member of the jury to determine the show's winner, the "life changing" experience gave him the confidence to pursue longtime aspirations, Stocker said in a phone interview.
"I think after a lot of people get back they have something in their heart that they've wanted to do and realize life is too short not to do those things," he said. "And they come back and pursue it."
Stocker, who grew up in Liberty Lake, graduated from Central Valley High School and now lives in Post Falls, is committing to weekly posts on his Project Sail blog – http://www.projectsailtke.com – by the end of January. He also has an active Instagram page, @taylorleestocker.
"The idea of the blog is that, even on a very tight budget, you can still go out and you can do these fun things that don't cost that much money," he said. "Even with a family of three that I have now, I'm going to be traveling with our newborn son, and going hiking."
In three years, Stocker wants to purchase a sailboat so he and his family can travel to beaches and destinations along the Northwest coast for $300 or less. Then, he will update his blog with a budget breakdown including food, activities and other travel expenses.
Previously, Stocker taught snowboarding at Mount Spokane but now devotes his time to his girlfriend and parenting their newborn son. He said his son brings him more happiness than he has ever experienced.
"I've learned so much about myself since he's been born, and I'm putting him first and wanting to give him the world," he said. "It's been this total change in my character even from before the show. It used to be about what I want to do and now it's about what we want to do, and that's a huge part of my life now."
While he appreciates post-show life, Stocker still reflects on his time on "Survivor." His favorite memory is one removed from the chaos of the show: watching a beautiful Fiji sunrise. However, he said daily life while filming was often tiring.
"Sometimes you might get an idea to wash your clothes in a pot or try to find something to eat," he said. "They're filming 24/7."
Stocker and fellow competitors typically spent their nights sleeping on the ground, waking every 30 minutes to rekindle the fire, and fending off bugs, crabs and other crawling creatures. Most of this footage never aired, he said.
Some days, contestants on the show do not compete in challenges and stock up on food to regain their energy, Stocker said. Staples of his "Survivor" diet included fish, rice, beans and sugar cane.
Inland Northwest residents often recognize Stocker after his appearance on the show. During a recent Costco shopping trip, he said customers "fist bumped" and congratulated him.
"They don't go crazy over people that have been on TV," he said. "They're not the paparazzi. They just want to congratulate you on it, and I love the idea of being humble about it and not getting wrapped up in the fame of it all."
He said residents' respect for privacy here is different than in a city like Los Angeles where the cast was "harassed" during the finale shoot.
In addition to nurturing his sailing blog and family life, Stocker recently partnered with Fight the New Drug on social media, a nonprofit he began following in 2012. The organization is part of the #PornKillsLove movement, and works to publicize the harmful effects of pornography and sexual exploitation and encourage healthy relationships, according to its Instagram page. Stocker asked for a T-shirt from the organization, and voiced his support through a Dec. 22 Instagram post.
"I'm definitely a fighter for that," he said. "Watching the numbers grow on my followers, I want to rep something that is going to change a lot of how men go about their life and show that it (pornography) does hurt relationships."
Local journalism is essential.
Give directly to The Spokesman-Review's Northwest Passages community forums series -- which helps to offset the costs of several reporter and editor positions at the newspaper -- by using the easy options below. Gifts processed in this system are not tax deductible, but are predominately used to help meet the local financial requirements needed to receive national matching-grant funds.
Subscribe to the Spokane7 email newsletter
Get the day's top entertainment headlines delivered to your inbox every morning.
---