News > Spokane
State troopers, plow drivers rescue drivers on state Highway 27
Jan. 11, 2017 Updated Wed., Jan. 11, 2017 at 10:16 p.m.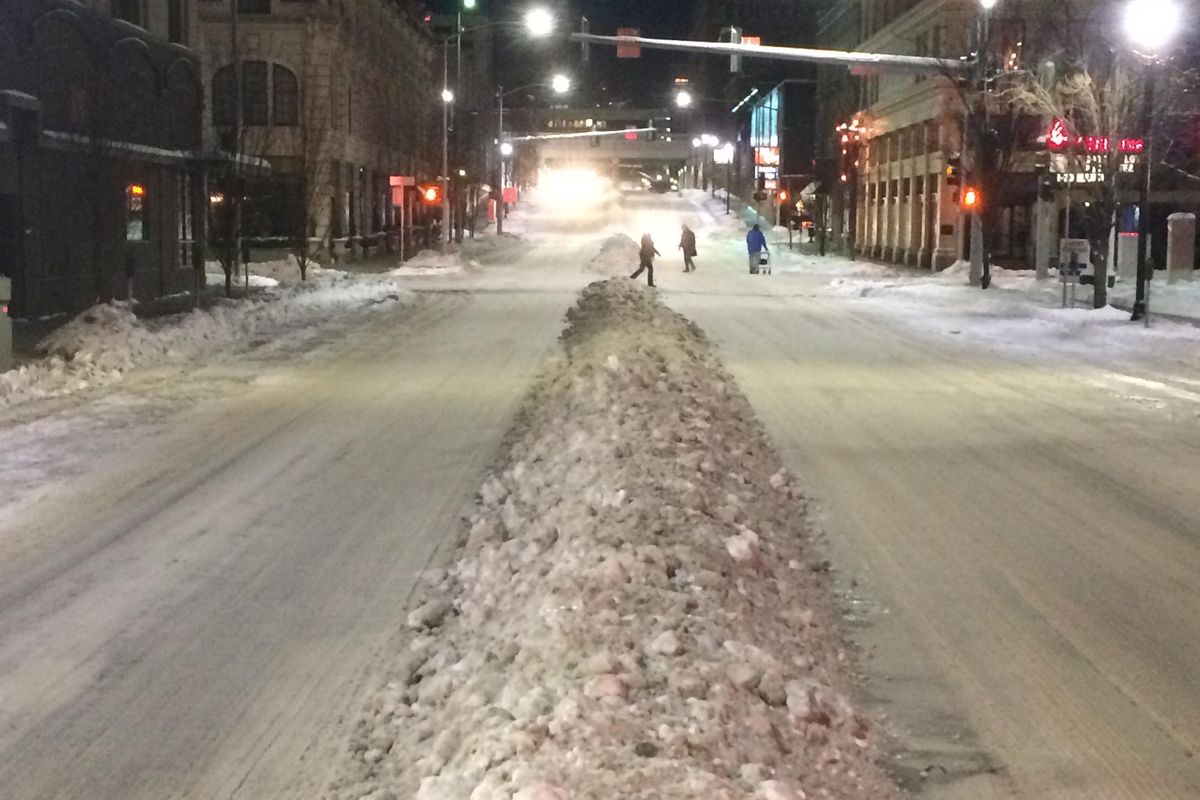 Downtown Spokane was plowed Tuesday night and early Wednesday morning two days after six inches of snow fell on the city. The plowing creating snow berms in the middle of downtown streets. (Jonathan Brunt / The Spokesman-Review)
Spokane street crews were planning to return downtown Wednesday night to remove the snow berms they built with plows 24 hours earlier in the middle of travel lanes.
It was part of an effort to reopen meter parking and clear driveways as well as travel lanes in what had been a snow-clogged heart of the city this week.
Officials were planning to deploy a large snow blowing machine Wednesday night to pull up the snow berms for hauling by dump trucks to the city's operations center in East Spokane.
At the same time, plow crews reported making progress in residential areas.
In Spokane, street crews had avoided plowing downtown in order to maintain in-out access for meter parking, driveways and alleys as well as travel lanes.
The city in most conditions uses de-icer downtown.
"As long as it's above 15 degrees, de-icer is a wonderful thing," said Marlene Feist, city spokeswoman.
De-icer doesn't work when arctic cold settles over the area.
Conditions this week – heavy snow and bitter cold – forced the city to go to plan B: plowing downtown snow into berms in the middle of streets.
But berms have a downside. They may confuse drivers, especially on one-way streets.
Rescuers dig four drivers out of snowdrifts
Gusty northerly winds left a new threat south of Spokane.
State Highway 27 was closed early Wednesday from Fairfield to Tekoa, Washington, because of blowing and drifting snow and remained closed in the afternoon.
Earlier in the day, a pair of rescue dramas unfolded after four vehicles were caught by snowdrifts near Latah and Fairfield.
Washington State Patrol Trooper Greg Birkeland was initially called to a single-vehicle slide-off near Latah about 1 a.m., but couldn't locate the vehicle.
Birkeland notified state maintenance workers Robert Bondurant and Russ Wagner in a road grader and plow truck. Working together, the threesome began running north from Latah and discovered two vehicles stuck in a snow drift.
The three rescuers dug out the drivers and got them in Birkeland's patrol vehicle and to safety.
Conditions worsened during the morning. The grader and plow both nearly got stuck. The two plow drivers and trooper were forced to reverse direction and go to Tekoa.
Just after 5:30 a.m. in a separate incident, Trooper Eugene Trevino was dispatched to another disabled vehicle south of Fairfield where the trooper discovered two vehicles stuck in snowdrifts. To avoid getting stuck himself, the trooper walked through whiteout conditions to reach the drivers, who were returned to safety in Trevino's vehicle.
"These two incidents are a stark reminder of how quickly conditions can change, especially on our rural two-lane highways," WSP and the Washington State Department of Transportation said in a joint news release.
The close calls demonstrate the need for drivers to be prepared for winter with emergency supplies, a charged cellphone, traction devices, shovel, flashlight, extra clothing, food and water.
As for crashes, a collision on westbound Interstate 90 at the Lincoln Street exit caused some backups Wednesday morning, troopers said.
In addition to road problems, some rural school districts announced delays and cancellations Wednesday morning, including Liberty, Moses Lake and Tekoa school districts.
Highs next week likely to climb to lower 40s
Arctic cold should continue through Saturday with lows in the single digits to 13 degrees and highs in the teens to 20. Patchy freezing fog is possible Thursday night into Friday morning.
A reversal of weather is likely next week as a moist flow from the southwest is expected to bring rain and highs in the lower 40s. Rapid melting with rain could cause street and small stream flooding, forecasters said.
Local journalism is essential.
Give directly to The Spokesman-Review's Northwest Passages community forums series -- which helps to offset the costs of several reporter and editor positions at the newspaper -- by using the easy options below. Gifts processed in this system are not tax deductible, but are predominately used to help meet the local financial requirements needed to receive national matching-grant funds.
Subscribe now to get breaking news alerts in your email inbox
Get breaking news delivered to your inbox as it happens.
---