A&E > Entertainment
Pulitzer winner 'Disgraced,' opening at Spokane's Stage Left, offers a complex look at modern life
Jan. 12, 2017 Updated Thu., Jan. 12, 2017 at 10:26 a.m.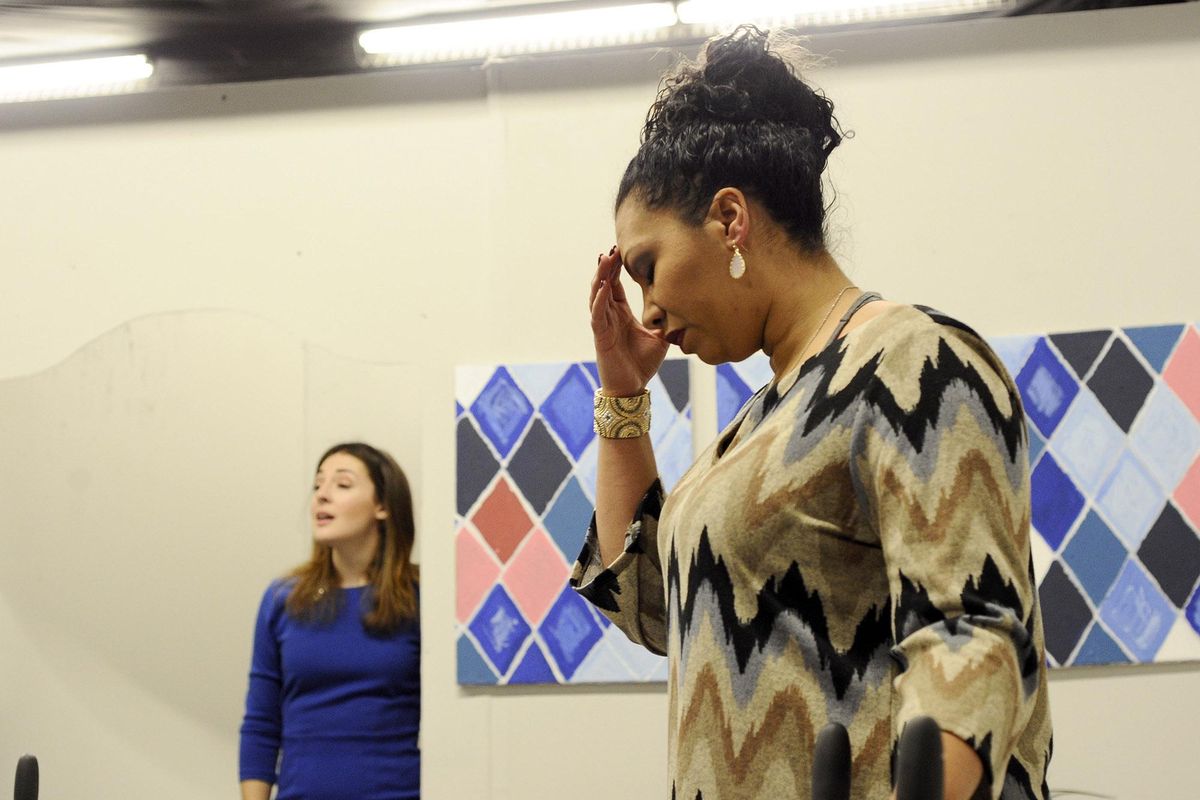 Alyssa Jordan (Jory, right) and Aubrey Shimek Davis (Emicy) rehearse a scene from "Disgraced," which opens Jan. 13 at Stage Left. (Special to The Spokesman-Review / James Snook)
It sounds like the setup for a cheap joke.
A white woman, a black woman, a lapsed Muslim man and a Jewish man, all wealthy and opinionated, go to a dinner party. The booze starts to flow, the conversation veers into religion and politics and a pleasant evening becomes an ideological minefield.
But this isn't some dumb gag: It's the plot of Ayad Akhtar's Pulitzer Prize-winning play "Disgraced," opening Friday at Stage Left Theater. Its premise and tone recall the acidic domestic comedy "God of Carnage" (also a Pulitzer winner), in which a seemingly civil meeting between upper crust parents devolves into a drunken shouting match. This show, however, goes after much bigger, more complex targets: You may want to back silently out of the room, or you won't be able to look away.
"It comes at you like a train," said the show's director, Lance Babbitt. "But I don't want to frighten people away, because it's amazingly funny. … There are moments in the show where you will be laughing, and then the next moment you'll be sitting there with your mouth hanging open, shocked at what you just heard."
The show is set in the Upper East Side apartment of Amir (Joe Mazzie), a mergers and acquisitions lawyer who has rejected his Muslim upbringing. His WASPy wife, Emily (Aubrey Shimek Davis), is an artist, and her work is inspired by the Islamic traditions her husband has turned his back on.
Their guests for the evening are Jory (Alyssa Jordan), an African-American woman who is a colleague of Amir's, and her husband Isaac (Robert John Hodge), a Jewish art dealer who works closely with Emily.
This quartet might seem like they're merely defined by their respective ethnicities, but Akhtar has a few tricks up his sleeve. Over the course of the play's terse 85 minutes, the characters discuss privilege, racial profiling and terrorism, and as they debate the supposed contradictions of one another's individual religious beliefs, they reveal themselves to be remarkably closed-minded.
But it's not a judgmental show, really: We're all guilty, Babbitt said, of some of the prejudices these characters exhibit.
"We all have those hidden, shameful things we're bigoted about," Babbitt said, "and until they come into the light, they're never addressed. In a very funny way, (this show) addresses that issue."
"Disgraced" opened off-Broadway in 2012, but Babbitt says its examination of 21st-century social ills (particularly its take on Islamophobia) make it even more timely now than when it premiered. It's a darkly comic character study that digs into themes that aren't comedic at all, and it's bound to spark conversations that are hopefully more civil than the one in the show.
"We all need to be more openhearted about things we might find strange or off-putting," Babbitt said. "That sense of fear is what will destroy us. … I don't want anyone to come away from it with a set, fixed idea. I want you to come away from it talking about what that made you feel."
Local journalism is essential.
Give directly to The Spokesman-Review's Northwest Passages community forums series -- which helps to offset the costs of several reporter and editor positions at the newspaper -- by using the easy options below. Gifts processed in this system are not tax deductible, but are predominately used to help meet the local financial requirements needed to receive national matching-grant funds.
Subscribe to the Spokane7 email newsletter
Get the day's top entertainment headlines delivered to your inbox every morning.
---