Sports
Pirates' toughness rewarded with multiple free throws in win over Puget Sound
Jan. 13, 2017 Updated Fri., Jan. 13, 2017 at 11:44 p.m.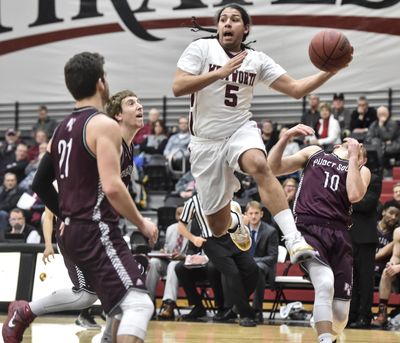 Whitworth's toughness was tested again Friday night, but the Pirates found the path to another win.
It ended at the foul line, where eighth-ranked Whitworth made 29 of 37 free throws in a 77-65 Northwest Conference win over Puget Sound at the Fieldhouse.
"Coming into the game, we worked on our intensity all week, and it paid off," said senior guard Kenny Love, who was 10 for 10 at the line and finished with 21 points
Home for the third straight game, but only a week removed from a two-point loss to Pacific, the Pirates made all the big plays down the stretch to claim their 18th straight win over UPS.
Winning its eighth game in the last nine, Whitworth improved to 12-2 overall and 3-2 in the NWC – two behind Whitman – going into Saturday's home game against Pacific Lutheran.
It wasn't easy.
With the Pirates clinging to a 64-61 lead with 3 minutes left, Christian Jurlina hit a short jumper to stretch the lead to five.
Then Kyle Roach took over the game, drawing a foul after a fast break and then hitting a layup to make it 72-63 with just more than a minute to play. Roach finished with a game-high 22 points on 8-for-15 shooting.
The turning point came midway through the second half. Trailing 45-38 with 14:26 left and big men Drew Sears and Ben Bishop in the training room, the Pirates finally got their shooting untracked.
Love hit a 3-pointer and a free throw, sparking a rally that gave Whitworth its first lead, 46-45, on another 3-pointer from Love with 12:33 left.
"We were aggressive and we were able to capitalize on that," Pirates coach Matt Logie said. "Kenny's second half really spurred us on and gave us momentum."
A driving layup by Derek Isaak give Whitworth a 58-52 advantage, and the lead was still seven when Whitworth missed two layups with a chance to go up nine.
The Loggers chipped away to cut the lead to three before Jurlina began Whitworth's closing drive.
The Pirates got off to a slow start that lasted almost the entire first half. After trailing 9-2, they got a layup from Bishop that cut the deficit to 9-7, but went 7 minutes, 19 seconds without a field goal.
That drought ended with Roach's layup to trim the UPS lead to 15-11.
However, the Loggers embarked on a 15-4 run highlighted by a charging foul on Christian Jurlina that drew a protest from Logie – and a technical foul.
Andre Lewis' layup gave UPS its biggest lead, 30-15 with 5:15 left in the half, but Whitworth chipped away in the final minutes to trail 34-28.
"We wanted to have that defensive intensity from the beginning," Love said. "That took away from our offense a little bit, but we were making a lot of those hustle plays and getting into the bonus."
To that point, the Pirates were shooting just 9 for 23 from the field and 1 for 6 from beyond the arc.
Held to just 10 field goals after 24 minutes, Whitworth stayed in the game by getting to the free-throw line. With the Pirates trailing 41-34, Ben Bishop drew a foul that sent the Pirates to the line for the 16th time compared to five for the Loggers.
UPS fell to 9-5 overall and 2-3 in the NWC.
Bishop returned to the game and finished with seven points. Sears' status for Saturday is uncertain.
Local journalism is essential.
Give directly to The Spokesman-Review's Northwest Passages community forums series -- which helps to offset the costs of several reporter and editor positions at the newspaper -- by using the easy options below. Gifts processed in this system are not tax deductible, but are predominately used to help meet the local financial requirements needed to receive national matching-grant funds.
Subscribe to the sports newsletter
Get the day's top sports headlines and breaking news delivered to your inbox by subscribing here.
---