Sports > Gonzaga basketball
Kennel ready to roar again: Dorms open early so Gonzaga students can bring it for Saint Mary's game
Sat., Jan. 14, 2017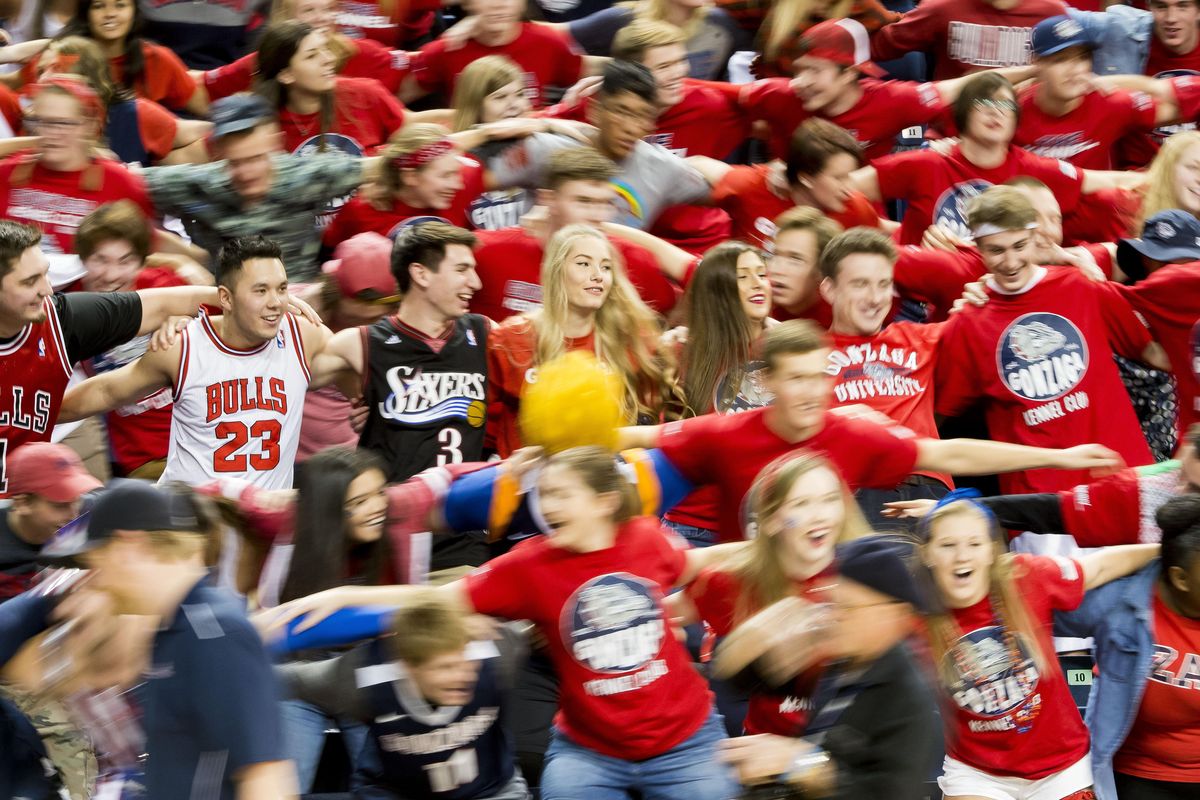 Gonzaga fans link arms before the game with Bryant, Friday, Nov. 18, 2016, at the McCarthey Athletic Center. (Colin Mulvany / The Spokesman-Review)
When it comes to Zags basketball, the McCarthey Athletic Center is the ultimate home-court advantage. That's not an opinion given by die-hard fans or moaned about by opposing coaches.
It's just math. And the math says there is no other college venue in the world that an opposing team is more likely to lose in than the Kennel.
Since opening in November 2004, McCarthey has seen 116 Bulldog wins and just eight losses. That's a winning percentage of .935 and easily rivals basketball royalties like Kentucky's Rupp Arena (.889), UCLA's Pauley Pavilion (.865) and the Dean Dome (.850) at North Carolina. Even Kansas' fabled Allen Fieldhouse (.864) can't compete with the Kennel.
A huge part of what creates what national television announcers often tell viewers is one of the great atmospheres in all of collegiate athletics is a loud, creative and often wildly dressed student section that covers an entire side of the court.
Yet, despite the Bulldogs' status as the nation's last unbeaten team, one thing has been abundantly clear over the last two home games: The place just isn't the same when the students are on break.
During Thursday's 93-55 beatdown of Loyola-Marymount, former Gonzaga star Dan Dickau – and current game-day broadcaster – had heard enough. Or, more to the point, hadn't heard nearly enough from the hometown faithful.
There were numerous references to just how quiet the place was. There were comparisons to golf claps. There were all sorts of words used that aren't typically used to describe a Gonzaga basketball game played in Spokane.
This is normally not a huge deal. Happens every year at this time. The students go home for the holidays and the Zags keep on winning … if only in a much-quieter venue.
Until today. Today, this is a very big deal.
Tonight's game against Saint Mary's is easily one of the biggest ever played at the Kennel. The next closest was probably back in 2004 when the Bulldogs beat the No. 14 Huskies, 99-87, in a game with all sorts of postseason implications, not to mention the bragging rights for claiming the State of Washington Basketball Championship.
On Friday, ESPN posted a story about all of this weekend's amazing college hoops match-ups.
No. 7 Duke at No. 14 Louisville.
No. 9 Florida State at No. 11 North Carolina.
No. 15 Xavier at No. 12 Butler.
No. 1 Baylor at No. 25 Kansas State.
"And none of them is Saturday's best," wrote ESPN's Eamonn Brennan. "That honor goes to one of the last games of the day: No. 21 Saint Mary's at No. 5 Gonzaga … a game featuring just about every positive quality one can ask for from a two-hour viewing investment."
Brennan then outlines why, in great detail, this is such a special game. (His best line is calling Przemek Karnowski a "planet-sized human with the feather-light touch.")
Yet, none of this is why this game matters in the home of the largest urban falls in the country.
The Zags have yet to lose this season, despite an impressively strong nonconference schedule. So, yes, there's the legacy-making opportunity of joining Kentucky and Wichita State as one of the only teams to ever run the regular-season schedule without a loss.
More importantly, there's the matter of that amazing home-court winning percentage. And who last beat the Bulldogs in the Kennel? Yep, you guessed it. The Gaels. That was last year and it still stings.
So, that brings us back to that famed Zags student section, it's choreographed dances, raucous singing voices and mysterious love of gigantic heads.
You see, Gonzaga students wouldn't typically be back from their winter break yet. Classes resume on Wednesday. The dorms would normally open on Sunday. And, even then, most students wouldn't be moving back until closer to midweek.
But when an extraordinary season is unfolding, you do extraordinary things. That means you make sure those students are there to ensure the Kennel's awesome power is in full force.
Gonzaga Athletic Director Mike Roth had to figure out how to get those students back to Spokane before ESPN's cameras turn on at 7 for tonight's nationally televised game.
Luckily, Gonzaga's Vice President for Student Development Judi Biggs Garbuio knows a thing or two about not only how a magical team can unite a community, but what it means to the overall college-student experience. Before coming to Gonzaga, she held a similar role at Southern California.
Biggs Garbuio also could get the dormitories opened a day earlier.
"The athletic department reached out to our team to see if this was possible," she said.
It was.
As ecstatic as Roth and the athletic department were about this news, others were even more excited: Gonzaga students.
"Our students were so thrilled," she said. "The athletic department was thrilled. The community was thrilled. But this was really about our students.
"It's going to be such a great game and everyone wants to experience that and be a part of something special like this – especially our students."
Big-time athletic directors rarely go on record to thank those who help run a college's dorms. Roth easily will.
"This is such a tremendous service for our students," Roth said on Friday. "And for our team."
The sheer volume and excitement that's been missing from the last couple of Gonzaga home games will be back. That's because the math proving that the Kennel is the hardest place in America to play a game now includes those 1,200 students.
And Roth has Biggs Garbuio to thank for that. "We can't thank Judi and her team enough."
Local journalism is essential.
Give directly to The Spokesman-Review's Northwest Passages community forums series -- which helps to offset the costs of several reporter and editor positions at the newspaper -- by using the easy options below. Gifts processed in this system are not tax deductible, but are predominately used to help meet the local financial requirements needed to receive national matching-grant funds.
Follow along with the Zags
Subscribe to our Gonzaga Basketball newsletter to stay up with the latest news.
---