Sports > Outdoors
Montana bull elk in running for world record
Sat., Jan. 14, 2017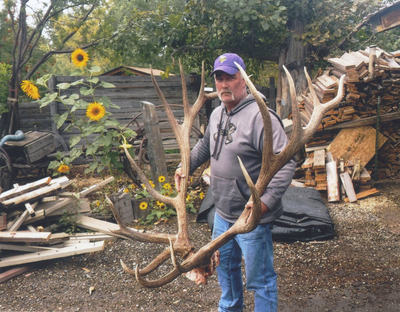 HUNTING – An bull elk killed by a Montana bowhunter in September is a state record, the largest recorded in the U.S. in 48 years – and in the running to be a world record.
The bull was taken on Sept. 10 by Steve Felix of Seeley Lake while bowhunting on public land in Powder River County, Montana.
After 60-days of drying, it was scored a 430 by the Boone and Crockett Club and Pope and Young Club, the groups that have been keeping world hunting records since the 19th century.
The current archery world record typical elk was killed in Arizona in 2005 and scored 412 1/8.
The current world record typical American elk taken with a rifle scored 442 5/8. The second and third largest elk were both taken prior to the year 1900.
"History was made right here in Montana," said Justin Spring, Boone and Crockett's director of big game records.
Felix brought his kill to the attention of the Boone and Crockett Club in Missoula, and preliminary measurements were announced in September. But the antlers needed to complete a 60-day drying period before they could be scored officially, as racks shrink slightly.
Animal trophies are scored based on the distances between key points on the rack as well as the number of points on each antler.
"Typical" American elk have symmetrical racks. The clubs also keep records for "non-typical" elk with more oddly shaped antlers.
When the preliminary measurements were announced, Joe Bell, executive director of Pope & Young, emphasized that game animals scored by the clubs are taken in an ethical, sportsmanlike manner.
The last step for Felix's elk in the world record-certification process is another set of measurements, which will be taken just before Pope & Young's biennial awards ceremony in St. Louis in early April, where the animal will be displayed.
The existence of such a large elk in a modern world is a testament to wildlife management strategies across the country, Spring said.
"Animals of this size do not happen by chance," he said. "It takes the combined commitment of wildlife managers and biologists, landowners, sportsmen and, above all else, it takes the best habitats we can set aside for elk in elk country."
Montana's general archery seasons runs from Sept. 3 to Oct. 16.
Local journalism is essential.
Give directly to The Spokesman-Review's Northwest Passages community forums series -- which helps to offset the costs of several reporter and editor positions at the newspaper -- by using the easy options below. Gifts processed in this system are not tax deductible, but are predominately used to help meet the local financial requirements needed to receive national matching-grant funds.
Subscribe to the sports newsletter
Get the day's top sports headlines and breaking news delivered to your inbox by subscribing here.
---