News > Spokane
On Track Academy students – some foster kids themselves – create comfort blankets for children entering foster care
Sat., Jan. 14, 2017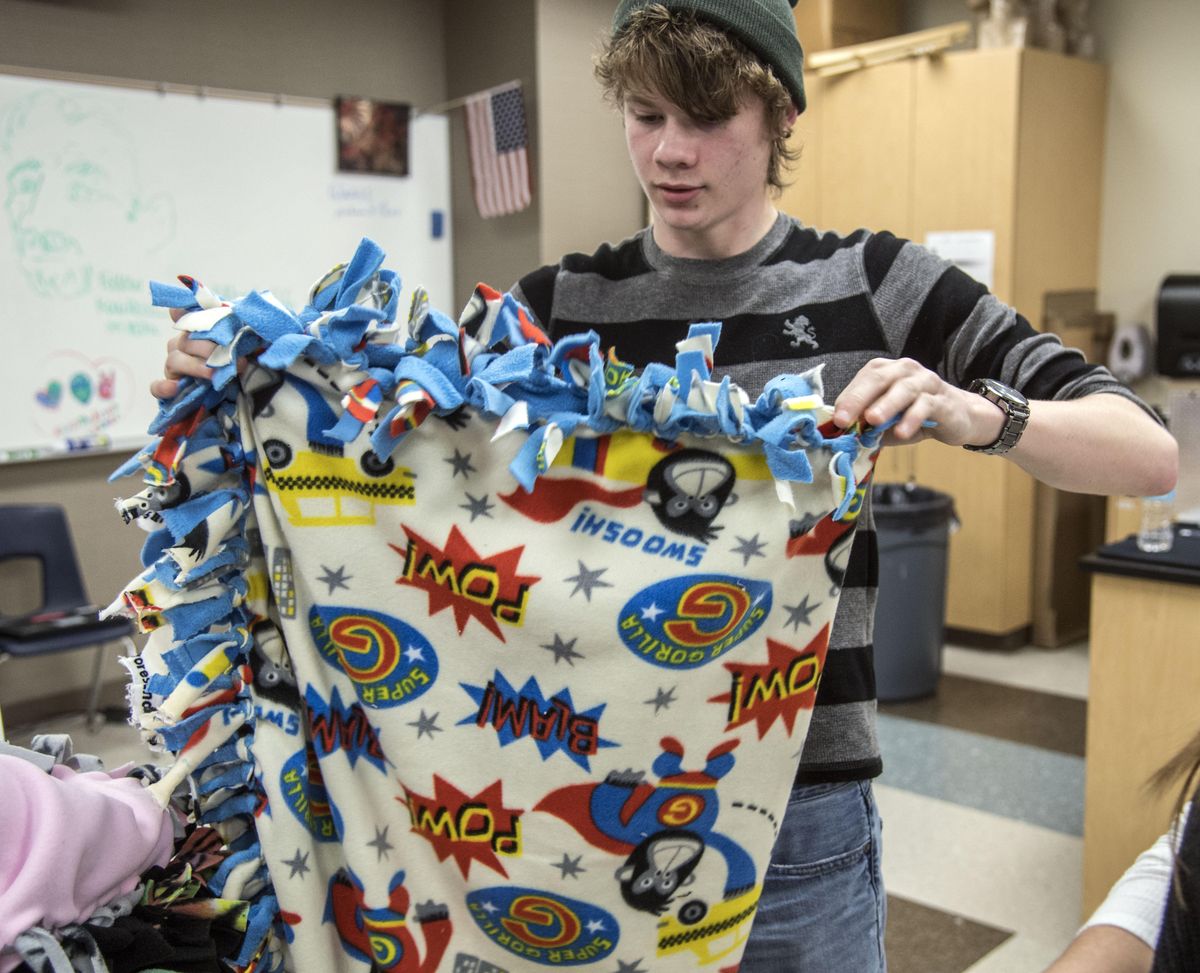 On Track Academy student Jonathan Beach folds a blanket he helped create, Jan. 11, 2017. The blanket will go to CASA (Court Appointed Special Advocate) for children whose families are in crisis. Beach himself had received quilts when he was a child in foster care. (Dan Pelle / The Spokesman-Review)
Jonathan Beach was 2 1/2 years old the first time he went into foster care.
He doesn't remember much back then.
But he does recall the red and blue fleece blanket, not unlike the ones he and his classmates helped make this past week, that he now keeps in a box of "past memories."
"It was what you'd call a 'baby blanket,' " the 16-year-old said Wednesday as a dozen of his classmates cut and tied together layers of fleece a few feet away. "It's all I had. It's one of those sentimental things that I'll probably have forever."
Beach has been in and out of different foster homes for pretty much his whole life. Both of his parents were heavy drug users, and since he was taken away at a young age, he's spent large chunks of time in multiple homes. In fact, he moved just last week into a home with seven other kids.
He still remembers what's it like to have nothing but the clothes on his back and a blanket covering him at night.
So when he heard his classmates at On Track Academy, a project-based alternative school for about 350 high schoolers in the Spokane area, were creating blankets for foster children, he knew he had to help.
"There are a lot of kids out there going through the same thing who would like to just have something," he said. "And it's not a bad thing that they're put in this situation. It's just a way of getting through life."
The students hope to present 50 blankets – double what they made last year – to Spokane County's dependency court, which determines guardianship of minors. The blankets will be given to children separated from their birth families while moving into foster care.
Each child is assigned a Court Appointed Special Advocate (CASA), a volunteer who helps look after the child's needs on behalf of the state.
The blankets, along with books and personal hygiene items, will get stuffed into backpacks and given to each of the children looked after by CASA volunteers.
On average, the CASA and Guardian Ad Litem program sees about 51 children going into foster care a month, and has about 964 kids in care at any one time, said Pat Donahue, CASA and Guardian Ad Litem program coordinator. Donahue said the average age of children in the program is around 5 or 6.
Beach's classmate, Sendal Hudson, was put into foster care when she was about 9 or 10. Shortly after, she received a handmade quilt from two older girls, with a note of encouragement.
"It was kind of cool getting something from older kids that I would look up to," the 17-year-old senior said while carefully tying corners of a blanket. "It said something like, 'It's not going to be that hard,' and 'There's still people out there who care …' It was just more of telling me to keep my head up."
Hudson's blanket, too, was put away in a box.
"I have a blanket collection," she admitted. "I love blankets."
Donahue said blankets can make a world of difference for kids going through a "major disruption that's often traumatizing" at such a young age.
"A blanket to a lot of people is a sense of security, and covering and warmth," he said. "A blanket to these children who've lived through this disruption means a lot."
Local journalism is essential.
Give directly to The Spokesman-Review's Northwest Passages community forums series -- which helps to offset the costs of several reporter and editor positions at the newspaper -- by using the easy options below. Gifts processed in this system are not tax deductible, but are predominately used to help meet the local financial requirements needed to receive national matching-grant funds.
Subscribe now to get breaking news alerts in your email inbox
Get breaking news delivered to your inbox as it happens.
---