Sports > Gonzaga basketball
TV Take: Gonzaga's unexpected rout of Saint Mary's gives ESPN announcers time to debate merits of Zags being No. 1
Jan. 14, 2017 Updated Sun., Jan. 15, 2017 at 2:50 a.m.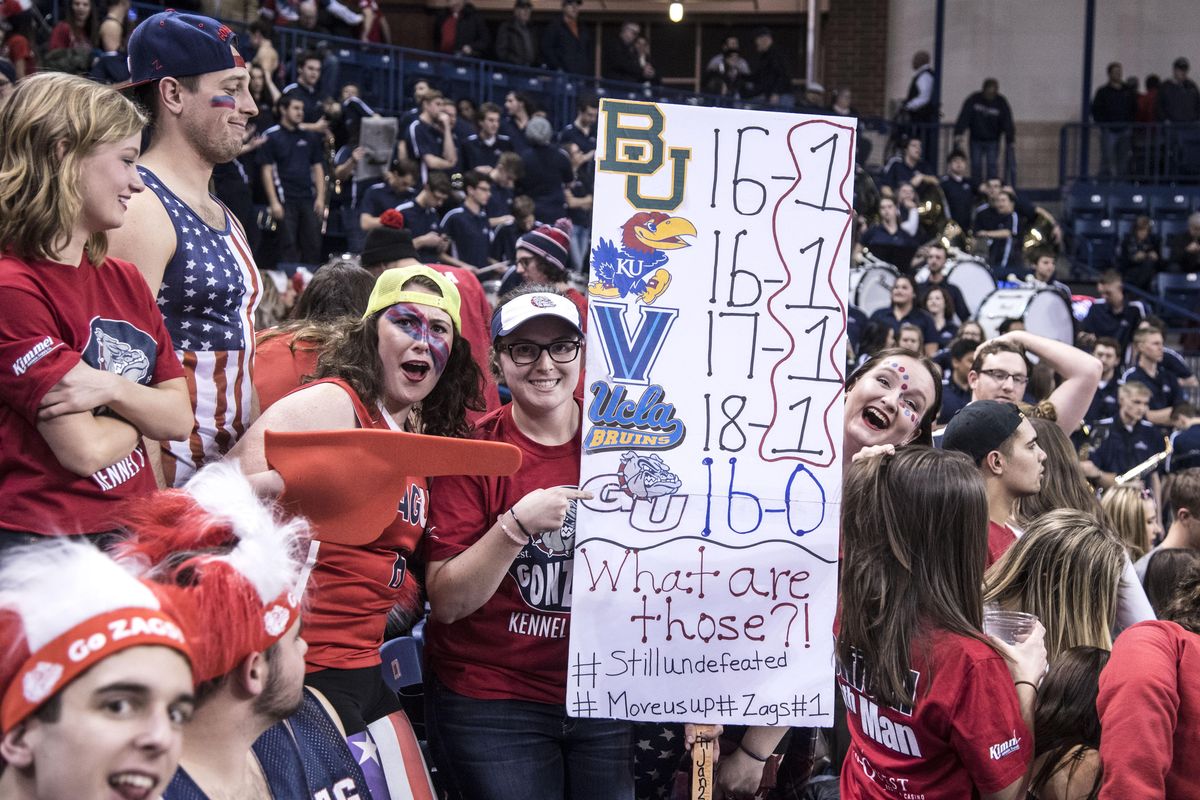 Gonzaga Kennel Club members post a win-loss record sign before the start of the Gonzaga-Saint Mary's game, Saturday, Jan. 14, 2017, at the McCarthey Athletic Center in Spokane. (Dan Pelle / The Spokesman-Review)
It was supposed to be the showdown of the early season, the best game of the day, college basketball's mano-a-mano battle in Spokane.
Instead it turned out to be just another Gonzaga rout in the McCarthey Athletic Center.
Well, not exactly.
The Bulldogs' surprisingly easy 79-56 West Coast Conference victory against rival Saint Mary's on Saturday night still included just about everything a rivalry game should have.
There was blood all over center Przemek Karnowski's jersey. There were a couple thousand students in full throat and mugging for the ESPN cameras. And there was an announcing team ready to explain just about all of it to those of us stuck at home.
The ESPN2 crew, play-by-play man Dave Pasch and analyst Sean Farnham, are not strangers to Spokane, especially not Farnham, the former UCLA player.
He's spent enough nights at The Davenport to earn free soft peanut brittle for life – and to become the downtown hotel's unpaid pitchman.
He's also been in the Kennel often enough to compare the atmosphere to the best college basketball venues in the nation.
But that intimacy with the community, and the Zags, also make him uniquely qualified to call their best win of the year, considering the circumstances.
Farnham understands what Randy Bennett and the 21st-ranked Gaels did to GU last season – winning both WCC regular season contests – and, more importantly for a man in his courtside seat, how they did it.
"Defending the pick and roll and ball screens is going to be key for both teams," Farnham stated early, when the Gaels were sticking around and actually led, the last time at 32-31 with 4 minutes, 37 seconds before halftime.
"In the history of this rivalry, you often see (Saint Mary's coach) Randy Bennett … bring the big away, and the Gonzaga big away, from the basket and look to attack with a smaller player. Gonzaga will do the same thing."
He and Pasch were fixated on the teams' biggest players – Karnowski and Saint Mary's Jock Landale – at that point, though neither did much before halftime.
Karnowski, the 7-foot senior had one shot before intermission. And Landale played just 6 minutes.
Why was Saint Mary's leading scorer and rebounder nowhere to be found?
Simple. The refereeing trio of Kevin Brill, Final Four veteran Verne Harris and Bill Vinovich, who had the weekend off from his usual NFL referee duties, seemed to be lenient on their calls, except in Landale's case.
Two early quick whistles and Landale watched for the final 14:24 until the half.
Still the Gaels hung around, with Pasch and Farnham appropriately impressed. Just as they were when the Zags went on a 12-2 run to close out the final 4:37. They led 43-34 at intermission.
Landale returned to start the second half, and so did the Gaels' pick-and-roll game, with a bit of a twist.
Bennett isolated guard Joe Rahon and Landale on the left side, forcing Nigel Williams-Goss and Karnowski to guard in space. It worked. For a while.
Gonzaga adjusted the defensive rotations, put Landale in some tough situations on the defensive end and the 6-11 junior center was cited for two more poor-judgment fouls.
Without his presence in the middle, Saint Mary's defense was nearly non-existent, as Gonzaga shot 64.7 percent from the floor and scored more points than any Gael opponent this season.
"You have to be smarter than that," Farnham opined after Landale picked up his fourth foul 20 feet from the rim with almost 11 minutes left.
And when he fouled out with 3:26 left, on a call away from the ball, Farnham went even deeper into his point.
"His last three fouls have all been careless fouls," Farnham said, pointing out Landale picked up fouls aggressively showing on ball screens well away from the rim. "He's gotta learn and he's gotta get better at it because, otherwise, if I'm an opponent in the WCC … you're going to have to learn how to play when teams (put you into pick and rolls)."
As the fifth-ranked Zags put together a 21-4 run over the last 8:35 to ice it, Farnham and Pasch talked about whether the nation's last undefeated team should be ranked No. 1 this week. After all, previously top-ranked Baylor lost.
Farnham wasn't having it. Though he has picked Gonzaga to go to the Final Four this season, a point he reiterated Saturday, he still doesn't believe the Zags' schedule has earned them the top ranking.
But that doesn't mean he wasn't a little awestruck by their performance.
"This is impressive," he said with a little more than 2 minutes left. "This is just an impressive performance by a team that is just flat out one of the best in the country."
Not to be outdone, Pasch, a Syracuse grad, put the denouement on the blowout as the clock ran down.
"Death, taxes, the Patriots in the AFC championship game and Gonzaga atop the WCC standings," he said.
That was just another thing Saint Mary's couldn't stop.
Local journalism is essential.
Give directly to The Spokesman-Review's Northwest Passages community forums series -- which helps to offset the costs of several reporter and editor positions at the newspaper -- by using the easy options below. Gifts processed in this system are not tax deductible, but are predominately used to help meet the local financial requirements needed to receive national matching-grant funds.
Follow along with the Zags
Subscribe to our Gonzaga Basketball newsletter to stay up with the latest news.
---