News > Spokane
An uncertain, and sometimes grim, future awaits Washington's aging Hispanic farmworkers
Sun., Jan. 15, 2017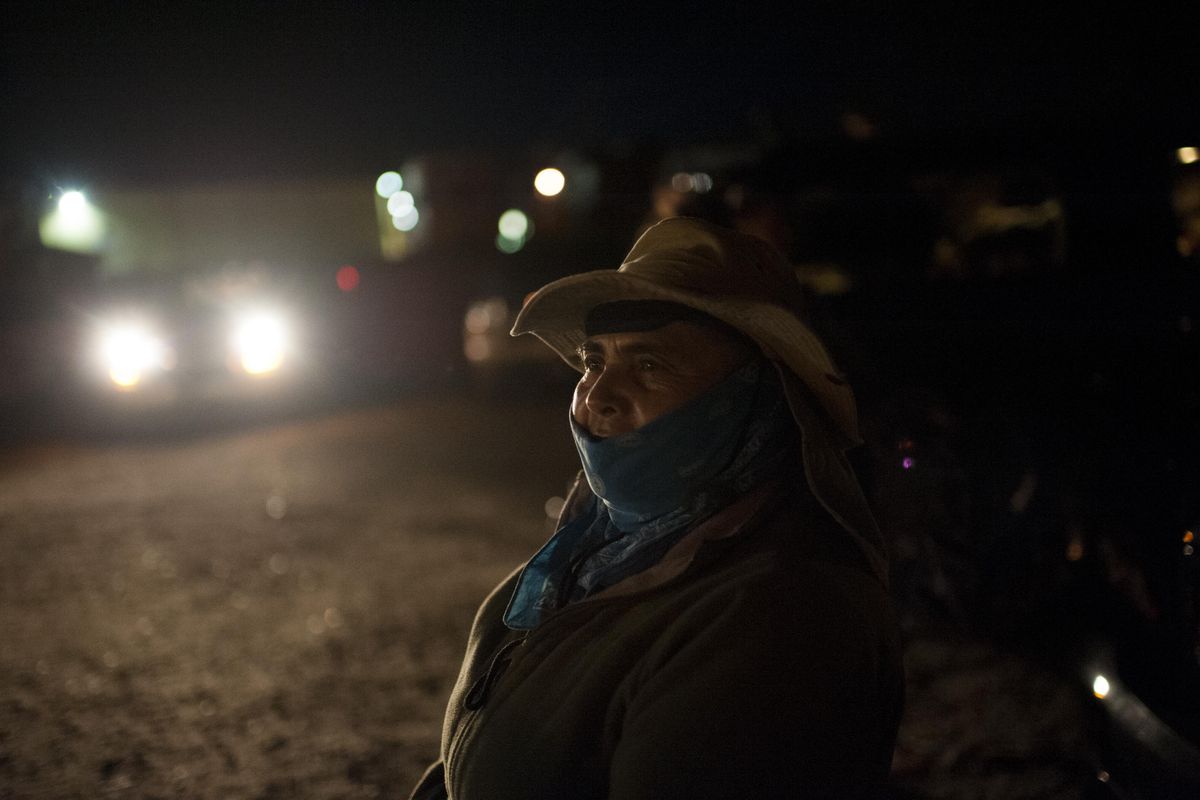 Isabel Vega waits for a van to take her and her daughter Irene Vega, to an Orchard north of Wenatchee -- near Chelan, Wash -- to work on Friday, July 15, 2016, in Wenatchee, Wash. (Tyler Tjomsland / The Spokesman-Review)
CHELAN COUNTY, Wash. – Isabel Vega stands on an aluminum ladder and works with an economy of movement that betrays her 65 years. Each snip with her pruning sheers and every swipe of her hand is exact, a precision forged from decades of repetition.
As she reaches for an apple, the ladder she stands on suddenly shifts its weight. She counters, forcing her legs against the ladder's inertia. It complies, settling into the soft soil.
Vega, Hispanic, is part of a population that the U.S. Census Bureau anticipates to more than quadruple by 2050, to 13.8 million from 2.9 million in 2010.
A 2009 AARP study says Hispanics could account for nearly a quarter of the population aged 50-64 by the year 2050. The 2.7 million immigrants, mostly farmworkers, who gained amnesty when President Ronald Reagan signed the 1986 Immigration Reform and Control Act, are rapidly aging out of the workforce; their median age is 49.
As a Hispanic farmworker, Vega is also part of a demographic at the forefront of recent political discourse and complicated cultural and medical concerns.
Studies show that Hispanic farmworkers are likely to be injured on the job, and as they age, suffer from overuse injuries and long-term illnesses linked to working in the fields.
But few of those who are in the United States legally have investments for retirement and most face looming medical costs.
Undocumented workers who are aging out of the workforce have even fewer options.
"These guys are working for years, living on little and retiring with almost nothing," said Mary Jo Ybarra-Vega, a social worker at the Quincy Community Health Center, in Quincy, Washington, who's also Isabel Vega's daughter-in-law. "By the time they are old, they're caught between having nothing in the U.S. and having even less in Mexico."
Orchard work some of the most dangerous in agriculture
At barely 5 a.m. the pre-dawn light bathed the orchard's trees in pastel hues. Drops of lingering dew caught the warm light peeking from behind the mountains.
The air was surprisingly brisk for July.
Some workers brought radios and hung them to their ladders; festive Latin music floated through the apple trees. The day was new and the mood was light. A distant worker's tenor voice drifted slightly out of time from the song's chorus.
Vega worked quietly.
"People see beauty here," Vega said later through a translator. "I see work. But in my life I have worked to live."
Across the row of trees, her youngest daughter, Irene Vega, 27, stood atop an identical ladder locked into the same repetitive task of clipping branches. Irene Vega chatted with a younger woman working near her.
Statistically, orchard work is some of the most dangerous labor in agriculture.
On April 8, 2014, in a cherry orchard north of Orondo, Washington, Isabel Vega and 19 other Hispanic farmworkers were tying the branches of cherry trees to trellises to maximize fruit growth. Vega was working on her ladder downwind from the majority of the group when she noticed a strong odor. A knife-twist of panic went through her as she looked up to see her cohorts jumping from their ladders and running toward her.
Her lips went numb, she felt dizzy, nauseated.
Pesticides from two Wenatchee-based Dovex Fruit Co. tractors spraying a neighboring pear orchard had drifted to Vega's worksite.
"Some of the other workers were throwing up," Vega said. "We knew we were sprayed; we know the danger, there's no way you can't not know when an ambulance shows up."
Contact with pesticides is often unavoidable in the fields. Vega said she taught her children to remove their field clothes before entering their home. She and others often wear bandanas over their noses and mouths while they work.
Following that 2014 pesticide release in Orondo, a representative of the Washington Department of Health told state legislators that DOH had seen a sharp rise in pesticide drift cases.
Chaz Webberly, a physician assistant at the Quincy Community Health Center who works mostly with farmworkers, said pesticides "cause all kinds of havoc" in the body. "In a cumulative sense, those things build up in the body, but it's hard to predict what they will do down the road," he said.
Vega and nine of the workers involved in the pesticide-drift case were awarded $180,000 in a settlement from Dovex Fruit Co. in 2015, but Vega worries about the consequences.
"Yes, yes, working and making money are important, but your health to enjoy it with your children are most important," said Vega, who laughed and added that she eats a mostly vegetarian diet.
In 2007 Vega's husband, Antonio Vega, was diagnosed with Hodgkin's lymphoma, a cancer of the immune system's lymph nodes. He died from complications of the illness in 2008. She wonders about pesticides or "whatever they spray out there," and if it played any role in her husband's health.
Other injuries from farmwork include repetitive strain, and eye problems caused by longtime exposure to sun and dust, Webberly said.
Even falling off a ladder can become a complex health issue as bodies age.
"Unless injuries are symptomatic, a lot of people won't seek treatment," he said. "It's frustrating sometimes, because everything revolves around being able to work."
Consequently, many workers end up aging out of the fields due to injury sooner than they thought they would.
"Many men from our village come to America for opportunities," said Vega. "They think 'I'll come back rich,' but end up broken skeletons."
Grant County crops lead state in market value
In late October Ybarra-Vega drove from the Quincy Community Health Center toward the town of George, Washington. The barren, post-harvest landscape contrasted sharply with the land's economic bounty.
According to the 2012 USDA Census of Agriculture, the market value of crops produced in Grant County led the state in 2012 with a value of $1.76 billion spread over 1,552 farms. The leading crop produced was apples.
Ybarra-Vega's car stopped at a small building, a series of ramshackle apartments mashed together in a row. It's hard to tell where one begins and other ends.
"Ah, there's his shopping cart. He uses it as a walker," said Ybarra-Vega.
Minutes passed after Ybarra-Vega's knock. When she raised her hand again the door creaked open and a large man greeted her with soft eyes and giant, calloused hands the size of splitting mauls. He offered a soft handshake, his eyes squinting from the daylight pouring in the doorway. Retreating into his dark apartment his joints snapped and creaked; he moved slowly, hunched over.
Genaro Valenzuela, 67, said he came to America looking for opportunity. He knew he'd be making more in the U.S. for the same work he was doing in Mexico.
"I doubt I'd do it again," he said, laughing. "I doubt I could jump the wire now."
After five years of working in George, he rose to the level of cuadrillero – a field manager where he was in charge of about 25 people.
"I would do the labor and manage the workers," Valenzuela said. "Sometimes you'd have problems between workers, sometimes you'd have to teach them, sometimes orders would come and you'd have to do them yourself."
He lived hard, often in ways he didn't realize. He'd hydrate during work with colas and unwind afterward with sugary foods. Patterns developed and so did type 2 diabetes, high cholesterol, high blood pressure, "and who knows what else," Valenzuela said.
Said Webberly, "Diabetes, especially type 2, is by far the most terrible thing we deal with here, there's a high hereditary component to it. Workers will just completely forgo treatment because the season has kicked up and they need to be in the orchard."
Things snowballed and began to affect Valenzuela's work. The final straw came when his crew boss told him to take an ax and break up stumps to clear room for an orchard tractor.
"My body hurt so bad, I would cry out in pain," Valenzuela said. "But you can either work or you can't. I couldn't anymore."
Valenzuela is in a tough spot. He's out of work, has next to nothing in savings and, as of October, four months behind on the rent.
"The bosses don't care about your welfare, they care only for money," he said. "A boss takes better care of his trees because it makes him money. A boss sees men as tools. When you break, you are not worth anything."
He joked with Ybarra-Vega that he may have to find a hole in an orchard to wait out the winter if things didn't improve.
A mouse scurried across the kitchen floor.
"I've lived in this apartment for 18 years and now I have missed four months rent," he said to Ybarra-Vega. "It's embarrassing."
When asked about retirement, he laughed. "I thought retirement was going home to Mexico," he said.
Returning to Mexico, while once Valenzuela's goal, now seems a distant finish line. It would take money he doesn't have and he guesses the Mexican health care system wouldn't be able to do much for him.
Valenzuela has residency and a Social Security number. But he's not able to claim Medicare, the housing options through the clinic and other social services he's paid into for years as a taxpayer until he can get a reissued copy of his residency card. He lost track of the original in his divorce.
In his situation, a simple document is likely the difference between life and death.
'That money gave us opportunity'
Isabel Vega and her son and daughter-in-law, Toño Vega and Mary Jo Ybarra-Vega, gathered after dinner in the living room of Vega's home. The harvest was over and it was a rare moment of relaxation for Isabel Vega. She leaned back in her large leather sofa under a big-box store painting of a Western landscape and listened to her grandchildren play in the next room.
Aside from that painting and another of a Paris street scene, Vega's home was sparsely decorated – and immaculately clean. A large television occupied one end of the room surrounded by neatly ordered toys for her grandchildren. A massive trampoline dominated her front yard and under it the grass was clipped short and watered.
It's the functional home of someone who takes pride in ownership, but doesn't plan to stay in the neighborhood.
The trio chatted as the silent flat-screen television flashed through images of then-candidate Donald Trump.
"I wonder what would happen if Trump kicked out all the Mexicans?" mused Toño Vega. "What average American would want to work for nothing, and if not, could the ranchers afford to pay?"
"Eight dollar tomatoes," answered his wife.
Mexican workers began coming to the United States during World War II under the Bracero program. From 1942 to 1964, the program allowed over 4 million guest workers to come in from rural, poor areas in Mexico because of agricultural worker shortages in the United States.
In 1964, the H2 Temporary Guest Worker program replaced the Bracero program. The H2A designation covered agricultural workers and H2B covered nonagricultural workers. In 2010, the U.S. Department of State granted 55,921 H2A visas.
When she was 30, Isabel Vega's younger brother got an H2A work visa.
"I remember when he came back from the states, he brought a big box of second-hand clothing. I had never seen wealth like that," she said.
Eastern Washington farmers and ranchers have long depended on the labor of Hispanic workers. Orchard work in particular requires a large and skilled seasonal workforce to maintain and harvest crops.
"It's a business," said Isabel Vega. "There's a saying, you can't have the rich without the poor."
The agricultural business model in the years following World War II came to depend on Hispanic labor, because it was cheaper and logistically made sense: a large group of workers could come into small farming communities and help with harvest. The wages H2A workers make in a six-month period in the United States could total several years of productive harvests in Mexico.
"Part of me, I really want him (Trump) to win, toss all the Mexicans out and we'll find out if we're really that important to the U.S. and its economy," said Isabel Vega.
Ybarra-Vega said the problem with the H2A program – and with undocumented labor – is that workers don't have the same rights as U.S. citizens. This can lead to exploitation in terms of wages and health care.
"My mother-in-law, she survived because she is a smart businesswoman," Ybarra-Vega said. "The Vegas are entrepreneurs."
Isabel Vega's husband, Antonio Vega, left his Michoacán ranch in the 1980s, at age 45, for the lure of higher wages in the United States. Money he could invest into the ranch and possible amnesty for his family were a magnetic draw pulling him north.
His oldest son, Antonio Jr., or "Toño" as his family calls him, was left to take care of the family.
"I was the man of the house, but my mother held us together and my uncles were there to help out," Toño Vega said.
Gradually Isabel's sons began leaving to head north, crossing the border illegally with the help of "coyotes," men who work as guides to lead Mexicans over the border. Toño Vega said he traveled with friends from the rancho, heading to Livingston, California, for work, then further to Wenatchee where his father was.
"Sometimes money can do damage; when Antonio came back there was more drinking," said Isabel Vega. "But also money, and that money gave us opportunity."
In Wenatchee, Toño Vega met and married Mary Jo Ybarra-Vega, the granddaughter of an early Bracero worker who stayed to work in Quincy after he became a citizen. The couple had one son and plan to stay stateside.
After Antonio Sr. was granted amnesty, Isabel and five of the couple's children became permanent residents. Some of the children returned to Mexico to work on the family ranch, leaving the Vega clan split between countries.
There's a way, if she squints, that the Eastern Washington landscape near Wenatchee reminds Isabel Vega of her home in Michoacán, Mexico – mountainous and rugged.
That vision is fleeting though, and sometimes, as her family grows in both places, it's hard for her to decide whether the U.S. or Mexico is home.
"The rancho is where I am happiest, but much of my family is here and so is my work," she said. "It's like I am living on a teeter-totter. When I'm home I want to be here working, and when I'm here, I want to be home."
Ybarra-Vega noted that she sees a lot of workers returning to Mexico, only to find the home of their memories no longer exists or seems hollow.
Isabel Vega mused that if she was younger and could do it over again she'd probably stay in Mexico. On the other hand, Vega can say she chased the idea of the American dream and did better than most. She owns her home in Wenatchee and has invested money she made working stateside in her ranch in Michoacán. She planned to take several suitcases back to Mexico on her next visit, one for her and the rest stuffed with clothes for her family and friends.
As for retiring?
"I think I'll just keep working until the crew manager or my body tells me I can't," she said, laughing. "We'll see what happens."
Spokesman-Review photojournalist Tyler Tjomsland wrote this story with support from the Journalists in Aging Fellows Program of the Gerontological Society of America and New America Media, sponsored by the SCAN Foundation.
Local journalism is essential.
Give directly to The Spokesman-Review's Northwest Passages community forums series -- which helps to offset the costs of several reporter and editor positions at the newspaper -- by using the easy options below. Gifts processed in this system are not tax deductible, but are predominately used to help meet the local financial requirements needed to receive national matching-grant funds.
Subscribe now to get breaking news alerts in your email inbox
Get breaking news delivered to your inbox as it happens.
---