News > Spokane
Man shot, killed by Spokane police officer on lower South Hill
Jan. 15, 2017 Updated Sun., Jan. 15, 2017 at 11:34 p.m.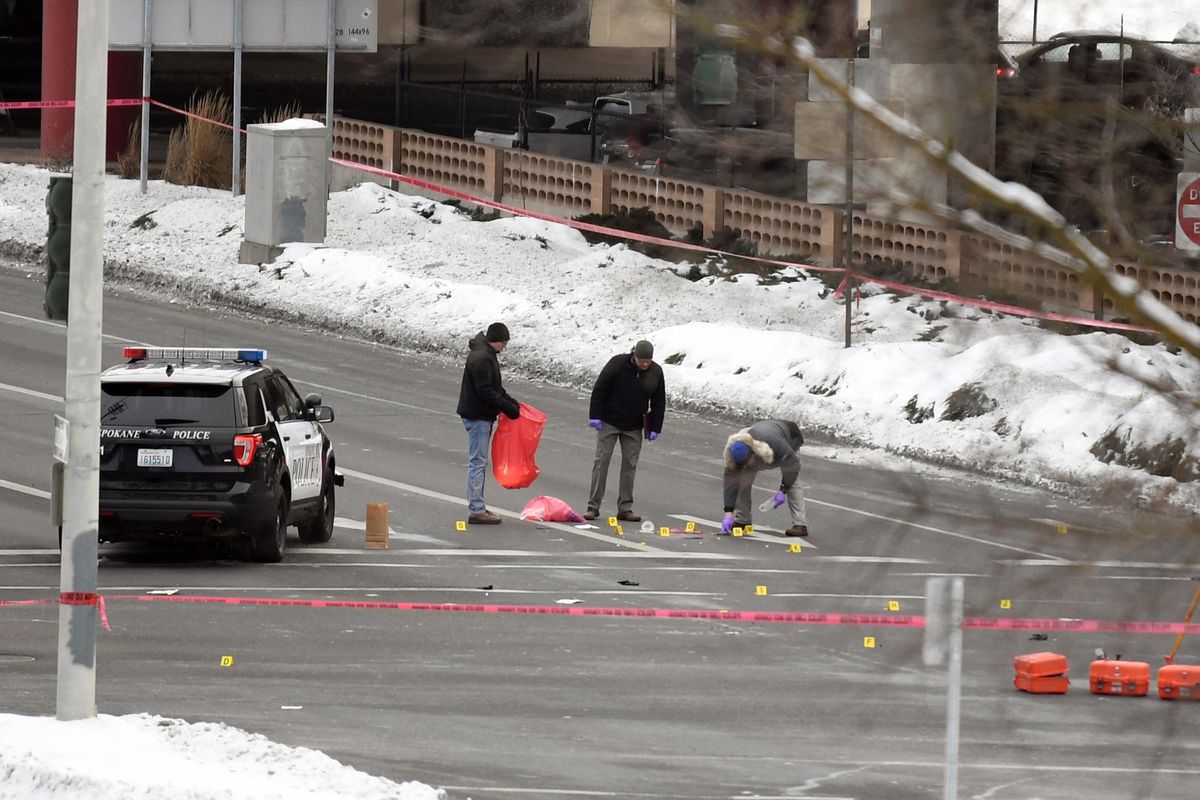 Investigators examine the scene of a police-involved shooting, Sunday, Jan. 15, 2017, at Fifth Avenue and Walnut Street in downtown Spokane. (Jesse Tinsley / The Spokesman-Review)
A man was shot and killed by a Spokane police officer early Sunday after the man had brandished a knife at an officer earlier.
According to a news release, an officer stopped "a suspicious suspect" near Ninth Avenue and Adams Street at about 12:30 a.m.
"Shortly after stopping the subject, the officer notified responding backup officers the subject had pulled a knife on him and was fleeing on foot," the release said.
The foot chase ended at Fifth Avenue and Walnut Street, where multiple officers used their Tasers, but "they were ineffective," the release said.
"One officer fired at the subject, striking him," it said. A SWAT officer provided emergency medical care, but the man was pronounced dead at the scene.
Neither the dead man's identity nor that of the officer who shot him has been released.
Jim Drury, who lives on the corner of Fifth Avenue and Cedar Street, said he heard police chasing a man down the street around 1 a.m.
"They had three or four police chasing him," he said. "They had their guns and Tasers out as they were running down the road."
Drury followed the commotion to the intersection where the man was shot.
"There were cops everywhere," he said.
Drury said he saw one officer leading another officer who was "clearly distraught" into a parked SUV. He said he then heard paramedics asking officials if CPR had been performed, to which they responded, "no one had."
Tonya Newman, a resident of an apartment building on the corner of Sixth Avenue and Maple Street, a block away from where the shooting took place, said she heard three or four shots outside. She said her bedroom window was wide open.
"It scared the crap out of me," she said. "They were close and really loud. I was pretty sure they were shots."
The officers on scene were wearing body cameras, and that footage will be reviewed during the investigation. The Spokane County Sheriff's Office is leading the investigation under the Spokane Investigative Regional Response protocol, the release said. That protocol calls for multiple law enforcement agencies in Eastern Washington to investigate officer-involved shootings.
The incident is the first officer-involved killing in the Spokane area since April.
Early Sunday afternoon, a police spokesman said sections of Fifth Avenue and Walnut Street would be closed for "several hours" while police collected evidence and inspected the scene.
Local journalism is essential.
Give directly to The Spokesman-Review's Northwest Passages community forums series -- which helps to offset the costs of several reporter and editor positions at the newspaper -- by using the easy options below. Gifts processed in this system are not tax deductible, but are predominately used to help meet the local financial requirements needed to receive national matching-grant funds.
Subscribe now to get breaking news alerts in your email inbox
Get breaking news delivered to your inbox as it happens.
---